Volatile soybean oil market: Supply crunch still on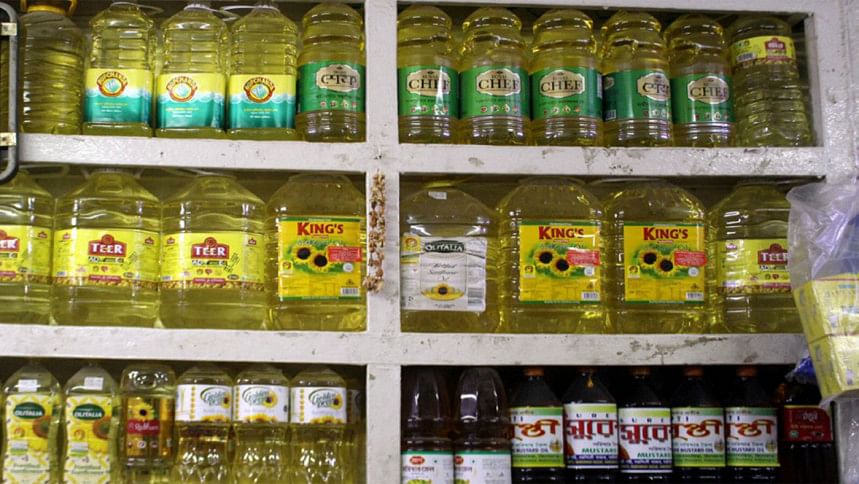 Bottled and non-bottled soybean oil, which went out of stock at most shops about a week ago, remained unavailable in almost all the grocery stores yesterday, a day after the price of the essential cooking ingredient saw a record hike.
Only a few shops were selling the edible oil, but they took advantage of the crisis and charged more than the price the government had fixed, dealing another blow to the consumers who have been facing an unprecedented situation.
At kitchen markets in several districts, The Daily Star correspondents yesterday saw consumers going from one store to another in search of soybean oil. Very few could get it.
On Thursday, the government fixed the price of a litre of bottled soybean oil at Tk 198, a 23.75 percent hike from the previous price of Tk 160; a litre of non-bottled soybean oil at Tk 180, an increase of 32.35 percent from Tk 136; and a five-litre container at Tk 985, up 29.60 percent from Tk 760.
Many consumers believe that the retailers and wholesalers hoarded soybean oil to put pressure on the government. Now that the prices have increased, they would gradually start selling the oil.
In Chattogram, correspondents of this newspaper failed to find soybean oil in Kazir Dewri, Andarkillah, Chawkbazar, Aturar Depot, and Hamzarbagh kitchen markets and three outlets of Shwapno.
Kafil Ahmed, a resident of Momenbagh, said, "I had no edible oil in my house in the last three days. I failed to find it today as well."
Mamun Ahmed, manager of Jonayed Departmental Store at Hamzarbagh, said, "We contacted the dealers after the government hiked the prices. They told us they would supply oil on Sunday or Monday."In the capital's Kawran Bazar, Anwar Hossain, manager of Prantika Traders, said, "I got a box of nine two-litre bottles in the morning. They were sold in just an hour."
The supply of soybean oil suffered major hiccups after Russia's invasion of Ukraine. But the situation took a turn for the worse on April 28 when Indonesia, the biggest shipper of edible oil, imposed a ban on palm oil exports to protect its domestic market.
The acute supply crunch perhaps reached its peak when cooking oil disappeared from many retail shops across the country in the run-up to Eid, when demand usually goes up.
In Dinajpur, a five-litre container of soybean oil was sold for Tk 1,000 and a one-litre bottle at Tk 200 at Bahadur Bazar kitchen market. 
Earlier on Thursday, Shafiul Ather Taslim, director (finance and operations) at TK Group, one of the largest cooking oil processors, said that it would take three to four days for the supply of the product to return to normal.
Meanwhile, Road Transport and Bridges Minister Obaidul Quader told reporters in Narayanganj yesterday that the price hike was an effect of the Ukraine-Russia war and that nothing could be done about this.
BNP Secretary General Mirza Fakhrul Islam Alamgir said the price hike was the result of an anti-people policy of the government.
"Disappearance of oil from the market before Eid and yesterday's [Thursday's] price hike is a unique and unprecedented incident which left people to suffer enormously," he said in a statement.