Transport strike over fuel price hike: As always commuters bear the brunt
A nationwide transport strike began this morning to protest the price hike of diesel and kerosene.
In Manikganj, no buses or goods-laden trucks were seen operating on the Dhaka-Aricha highway. The movement of other diesel-powered vehicles was also halted at the time in the area.
Many commuters were facing difficulties due to the lack of public transport. Most of them said they were not aware of the strike, reports our Manikganj correspondent.
Sathi Akhter, a student from the Jagir area in the district said she had a job interview in Dhaka today but could not manage any vehicle even after waiting for four hours at the bus stand.
"I have been waiting since 6 am. I need the job. Who will compensate for my loss?" she said while talking to our correspondent.
Abdur Razzak of Manikganj city said he and his wife had been waiting to go to Savar since early morning. But there was no transport available.
However, there was no bar in the operation of private cars, CNG-run autorickshaws, motorcycles, rickshaws and vans on the roads.
A similar situation prevailed in Cumilla. Trucks and buses were not operated in the district. Transport movement on the Dhaka-Chattogram highway remained halted, reports our local correspondent.
The District Road Transport Owners' Group in a press briefing yesterday, announced the transport strike on the highways.
In Chattogram, commuters were seen at different bus stoppages in the city waiting since morning. However, not a single bus was seen to appear to board them, reports our staff correspondent.
Tamalika Mitra and her younger brother Shyamal Mitra came to visit their aunt's house at the city's Jamal Khan area from their village at Hathazari upazila yesterday to celebrate the Dipaboli festival.
"We have been waiting here for an hour but no bus is there," said Tamalika while waiting at the Muradpur but stop.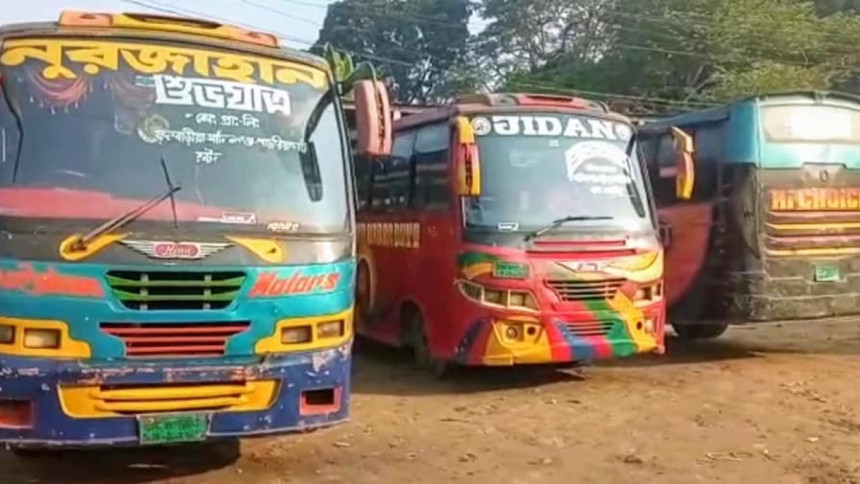 "We need to go back today as my brother, an eighth-grader, has to take preparation for his school final examination," she said.
Due to lack of public transports, rickshaws and CNG-run-auto rickshaws were seen charging passengers double the usual fare.
Many commuters expressed anger for their sufferings.
Contacted, Ali Hossain, deputy commissioner of Chattogram Metropolitan Police (traffic), north zone, said legal action would be taken against the drivers who would realise additional fare from the passengers. "Our officials are working in different areas to look into it," he said.
Meanwhile, commuters of Savar in the outskirts of Dhaka were also paying the price of the ongoing strike.
Several passengers complained that public transport workers were demanding excess fare from them on the regular route, reports our Savar correspondent
Ashikur Rahman, a passenger was able to get on a bus to Gabtoli after waiting for more than an hour at the Savar Bus Stand around 9 am.
He had to pay TK 100 for the route which is usually TK 35 on normal days, Ashikur said.
Commuters travelling to Paturia were also seen waiting for a long time at the Nabinagar Bus Stand.