Zirabo-Bishmail Road in Savar
Is it ever going to be repaired?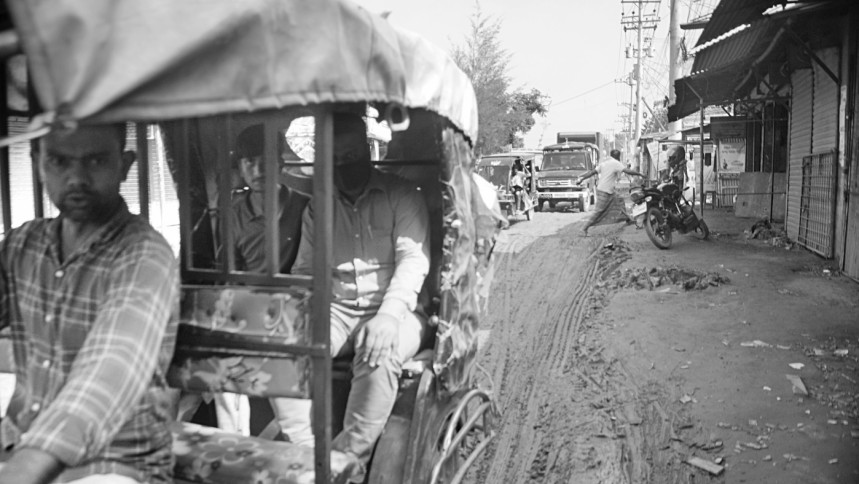 The pothole ridden Zirabo-Bishmail road in Ashulia, Savar is in an extremely poor shape, causing immense suffering to the commuters.
The road connects two major highways -- Dhaka-Aricha and Tongi-Ashulia DEPZ. Besides, around 100 RMG factories and more than 500 small and big businesses are established on both sides of the road. Thousands of heavy vehicles go over the road all day and night.
Due to lack of repairs in last two years, the road's state has dilapidated. This correspondent recently visited the road and talked to pedestrians, drivers, and businessmen who use the road and they shared their sufferings.
Rafiqul Amin, a private car driver, who commutes on the road regularly, said although the road is unsuitable for private cars, owing to his employer's job at a garments factory next to the road, he has to use it.
"I have to wait long hours while passing from Zirabo to Amtola area due to tailback created for the road's horrible conditions," said Amin.
Shamsul Haque, a furniture trader at Kuturia, said, "If the road isn't repaired as soon as possible, we'll face major losses in our businesses as this affects the shipment costs."
Arzina Akter, a garment worker in a nearby factory, said, "I have to go to factory on foot, as rickshaws and small vehicles don't take this road due to its bad condition. It's extremely perilous for me as I live almost one kilometre away from the factory."
Contacted, Saleh Hasan Pramanik, engineer of Savar's Local Government Engineering Department (LGED), said they've already selected a construction firm via tender and the repairs for the 3,600-metre road will soon start.