Railway e-ticket vendors asked to introduce new app before Eid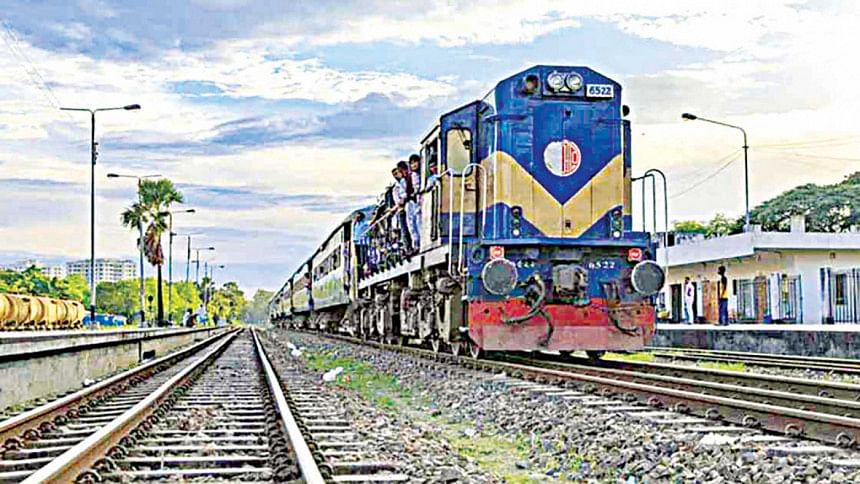 Railway authorities have directed its vendor that handles online-ticketing services to deploy a new app before Eid-ul-Azha to improve the service.
They also asked the Shohoz-led joint venture firm to further improve their system to provide smooth services during huge rush, especially ahead of Eid. Officials of Bangladesh Railway (BR) were also asked to start preparing for the next Eid, to be celebrated in early July.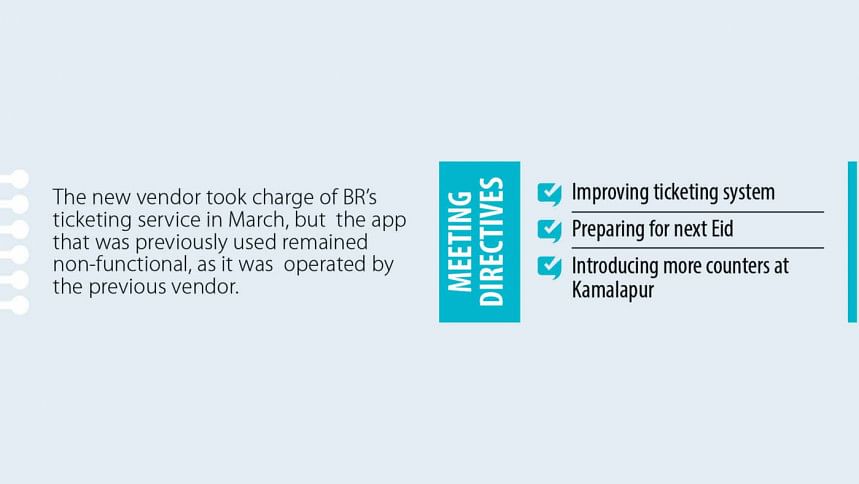 All these directives were given at a meeting held yesterday to evaluate BR and its vendor's performance centring Eid. Railways Minister Nurul Islam Sujan presided over the lengthy meeting held at Rail Bhaban. It was participated by top officials of the ministry, BR and the vendor firm.
The Daily Star came to know about the development after talking to at least three meeting participants.
The journey home and return via train went quite smoothly this Eid. However, like previous years, hundreds of people thronged Kamalapur and other stations to buy train tickets in advance ahead of Eid. Many spent sleepless nights to buy tickets, while others complained about the online service.
The new vendor took charge of BR's ticketing service in March, but the app that was previously used remained non-functional, as it was operated by the previous vendor.
Currently, 50 percent of the total tickets are being sold through a website, while rest from counters, where the vendor has a role to play.
In this situation, the minister asked Shohoz to deploy the app as soon as possible.
Officials of the vendor said they are developing the app and taking time to avoid any problem once it comes into action.
In reply, the minister asked them to place the app before authorities within the middle of next month to check different aspects.
The incident of an employee of the vendor being arrested ahead of Eid for selling train tickets in black market was also raised at the meeting.
When it was mentioned that the arrestee also worked for previous vendor, the current vendor was asked why it is hiring employees of previous vendor. The previous one did not hand over documents and data properly, and that's why it was forced to hire them, said an official of the new vendor.
Some other problems regarding online-ticketing services were also discussed at the meeting, and authorities asked the new vendor to update its service further.
The issue of huge crowds at Kamalapur station was also discussed, and it was decided that more spots and counters are to be introduced ahead of Eid. Some officials said as they have to take standing passengers in many trains despite a ban, it is better to re-introduce the system on some scale.
The meeting, however, did not give any concrete decision about the percentage of such tickets, a participant said.
BR's Director General Dhirendra Nath Mazumder could not be reached for comments over phone, even after sending messages.
Contacted, Maliha M Quadir, managing director of Shohoz, said in absence of a proper handover of previous software, they had no choice but to deploy their own solution within 21 business days. "With this software, we gave a mobile responsive website, and railway has been using this software successfully since then," she said.
The website is also being used by millions to purchase tickets using both phones and desktop, she added. "We had been working on an app in parallel and will be launching it before next Eid," she told The Daily Star last night.