Decision to cancel China's funding for railway project may 'damage relations', ERD warns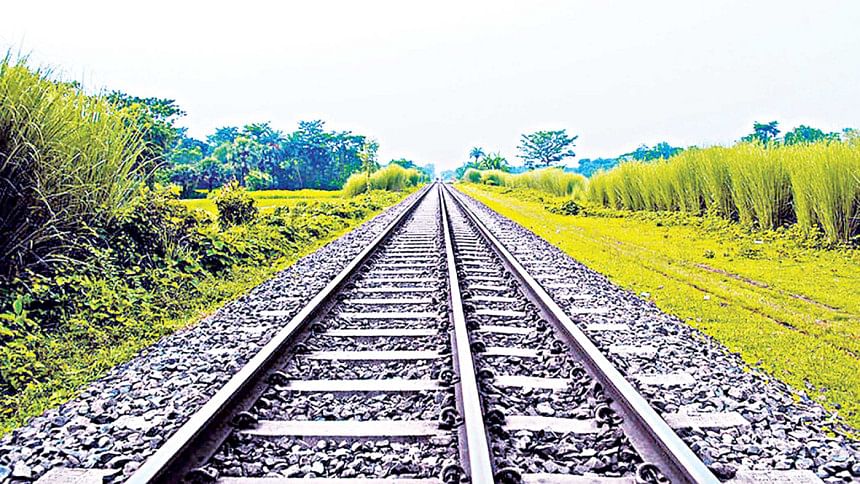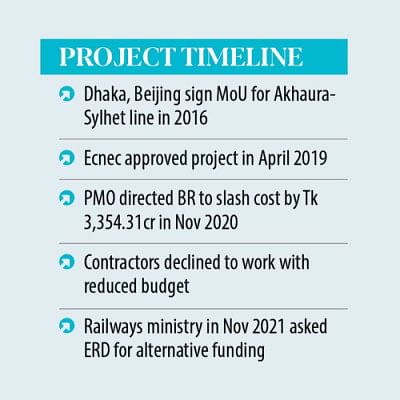 The finance ministry's Economic Relations Division (ERD) has warned the railways ministry that a "unilateral" decision to cancel China's funding for a Bangladesh Railway (BR) project may deteriorate bilateral relations between the two countries.
The move to find an alternative financier for the project, for converting the existing Akhaura-Sylhet metre-gauge (MG) railroad into a dual-gauge (DG) one, may also create problems in the future, when trying to undertake projects with Chinese funds, it said.
ERD, which deals with foreign-funding related issues on behalf of the government -- in a letter to the railways ministry on April 26 -- also mentioned that the Chinese embassy in Dhaka had expressed concerns over the project on several occasions.
ERD's letter came around two weeks after the Chinese Ambassador to Bangladesh Li Jiming wrote to the finance minister to revive negotiations between BR and the selected Chinese company for signing a commercial deal for early commencement of the Tk 16,104.45-crore project.
Akhaura-Sylhet project was among those projects for which Dhaka and Beijing signed a memorandum of understanding -- during Chinese President Xi Jinping's Dhaka visit in October 2016 -- for implementing them with Chinese assistance.
Ecnec in April 2019 approved the project to convert the 225-km MG line into a 239-km DG line by June 2025, to improve rail link between the capital and Sylhet.
China is supposed to finance 66.16 percent of the total project cost, and China Railway Construction Bridge Engineering Bureau Group Co Ltd (CRBG) was appointed as the contractor to implement the project.
But, the Prime Minister's Office (PMO) in October 2020 had formed a committee to review the negotiated contract prices of the three projects involving China, which included the Akhaura-Sylhet one.
The two other projects are Joydebpur-Ishwardi Double Line and Joydebpur-Mymensingh-Jamalpur DG Conversion. Ecnec approved the Tk 14,250.61-crore project in November 2018 to make Joydebpur-Ishwardi section a DG double line. The third project has not been approved.
In November that year, PMO directed BR to slash the cost of Akhaura-Sylhet project by Tk 3,354.31 crore, 20.8 percent of the total outlay.
PMO also directed to slash the cost of two other projects. But contractors of all three projects declined to work with the reduced budget, BR document shows.
Meanwhile, the Chinese government in early last year informed Bangladesh that it would not fund the Joydebpur-Ishwardi project for a "lack of in-depth preliminary work and insufficient feasibility study".
China declined to review the decision following Bangladesh's request.
In this situation, the railways ministry in November last year wrote to ERD, asking it to search for alternative funding for Akhaura-Sylhet and Joydebpur-Ishwardi projects, following the directives of Prime Minister Sheikh Hasina, officials said.
CHINESE EMBASSY'S STATEMENTS
On April 10, the Chinese ambassador sent a letter to Finance Minister AHM Mustafa Kamal, and  copies to Railways Minister Nurul Islam Sujan and ERD Secretary Fatima Yasmin.
The letter said the construction prospects and costs, and Akhaura-Sylhet project's implementation plan have already been reviewed and approved by both countries' governments.
Postponing the implementation or seeking alternative funding for the project may lead to substantial increase in construction costs and time, which is undesirable for both sides, it mentioned.
Considering the particular geopolitical conditions and surrounding environment of this project, both sides believe that the cost was reasonable and competitive with similar railway projects, reads the letter.
BR and CRBG could sit together to negotiate the commercial contract signing directly for early commencement of the project and to prevent re-examination and approval by Chinese authorities due to major changes in scale, content and contract value, it added.
ERD STATEMENTS
In its letter, ERD said it has sought clarification from the railways ministry on whether it has informed the Chinese contractors about the PMO decision to reduce costs and whether they informed railway about their decision.
But the railways ministry did not reply, rather it sent the revised pre-development project proposal to ERD in February this year, seeking alternative funding for the project.
ERD said the China-funding for Akhaura-Sylhet project is still set, and taking steps for alternative funding without discussing with China may deteriorate existing bilateral relations, the letter stated.
Besides, the decision to cancel Chinese funding unilaterally may also create problems while taking projects with Chinese funds in the future. Despite repeated attempts, this correspondent could not get in touch with the railway high-ups for comments.