We won't back down
Says Fakhrul about BNP's movement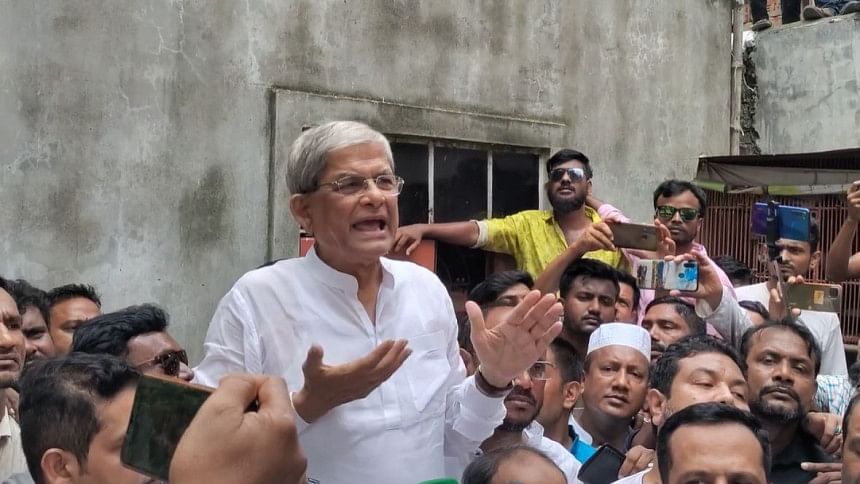 BNP Secretary General Mirza Fakhrul Islam Alamgir yesterday said their party will not get defeated in any way this time as they will make their movement a success by braving all obstacles.
Speaking at a discussion, he also warned the BNP leaders and activists to remain alert so that the ruling party does not get any scope to put them in danger.
"We can't let the sacrifices of Noor-e-Alam, Abdur Rahim, Shaon Pradhan go in vain."
Bangladesh Chhatra Forum and Uttaranchal Chhatra Forum organised the discussion at Dhaka Reporters' Unity, marking the 16th anniversary of the release of BNP's acting chairman Tarique Rahman from jail. Fakhrul said the government is trying to suppress BNP as the party leaders and activists have started waking up across the country. He said the government is attacking BNP leaders and activists as they are protesting against the increase in the prices of oil, pulses, salt and fuel. 
Fakhrul also said the global community is now not paying heed to Awami League's propaganda against BNP.
Referring to a newspaper report, Fakhrul said police inspector Kanak fired at BNP leaders and activists in Naryaanganj by "illegally" collecting a Chinese Rifle though he was not authorised to use that gun.
About the Narayanganj SP's comment that Shaon did not have involvement with BNP's politics, Fakhrul said, "We would like to clearly say that it's not important which party he belonged to. The important thing is that he was a worker and he was shot dead though there was no such situation there to open fire."