Quit, pave way for free, fair election: BNP asks govt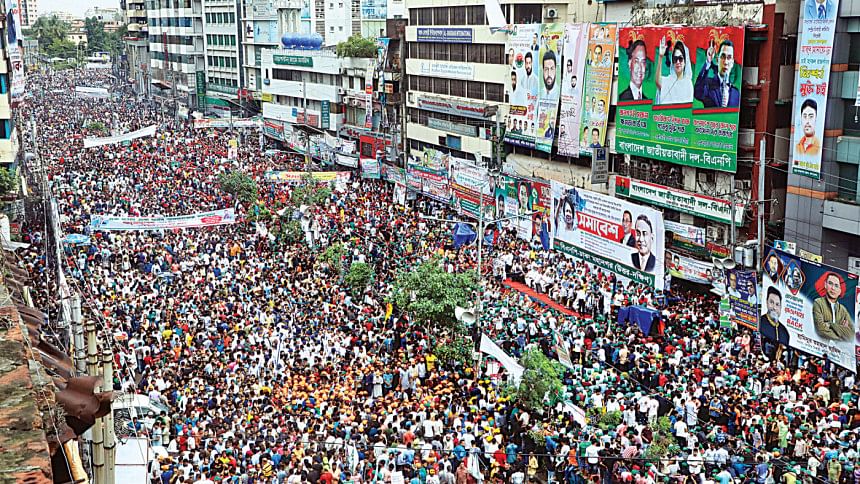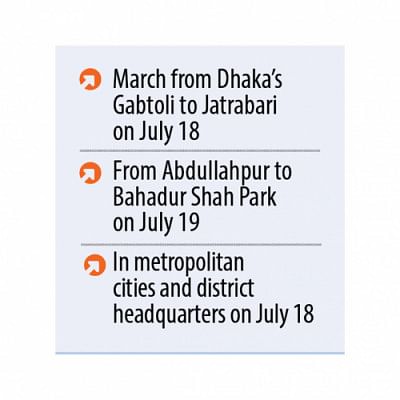 Announcing a one-point movement for polls under a non-party interim government, the BNP yesterday asked the government to step down right away and pave the way for conducting the election freely and fairly.
The party declared it will hold marches in all city and district headquarters on July 18 and July 19 in the first programme as part of the one-point movement.
Apart from the BNP, 36 like-minded political parties also announced a one-point movement to press home the same demand.
"There is no more demand. The only demand is resignation of the government, dissolution of parliament, and an election under a non-party interim administration…" said Mirza Fakhrul Islam Alamgir, secretary general of BNP.
He was addressing a massive rally, organised by the BNP's Dhaka north and south units, in front of the party's Nayapaltan central office.
"I am announcing the programme, on behalf of BNP acting chairman Tarique Rahman, to free the nation [from misrule]. It's a historic moment as other political parties who are with us in the movement are also making similar announcements."
Fakhrul said the BNP and like-minded parties, who are carrying out an anti-government movement, have unanimously decided to make a joint declaration on a simultaneous one-point movement from their respective positions.
He called upon all other democratic political parties to come forward so they, together with the people, can wage an irresistible movement to establish a government of the people by unseating the "fascist and autocratic" government.
Urging the government to step down immediately, he warned that if it didn't do so, it would not manage to have any escape route.
The BNP leader said they announced the initial programme of their one-point movement and that they will come up with fresh programmes in line with people's expectations if the government does not quit.
"We will topple this fascist and illegitimate government and establish one of people through an election under a non-party government. We must be victorious."
Fakhrul urged the law enforcers and the government employees to discharge their duties neutrally upholding their oath of office. "Otherwise, you will be accused of breaching oaths."
He alleged that the government has been indulging in unbridled corruption and misdeeds as it has no accountability to the people.
The government tried to obstruct party leaders and activists from joining the rally by creating obstacles in different areas, he added.
The BNP secretary general remembered those leaders and activists who have been "disappeared forcefully" and killed during the anti-government movement.
Standing committee member Mirza Abbas slammed the Awami League for holding a "counter rally" in the capital in the name of a "peace rally".
"Their programme did not draw public support as they are holding the 'peace rally' keeping the country's people unhappy…" he said.
BNP leaders and activists from different parts of Dhaka and adjacent districts started pouring into the rally venue with processions since 8:00am. They carried banners, festoons, placards, and portraits of the top party leaders.
A stage was set up on several trucks parked side by side. More than 100 loudspeakers were used at the rally which began around 2:00pm. Some CCTV cameras were installed near the stage.
Senior BNP leaders also spoke at the meeting, conducted by Dhaka north city BNP Member Secretary Aminul Huq and acting president of Dhaka south city BNP Tanvir Ahmed Robin.
Amanullah Aman, convener of Dhaka north city BNP, led the party men take an oath that they would not return home without ousting the government.
Mobile internet services (3G and 4G) were snapped in the rally venue area during the meeting.
A large number of law enforcers were deployed at Nayapaltan  to maintain law and order.
A fewer number of public transport plied the city streets throughout the day yesterday.
PASSENGERS SUFFER
Dhaka-bound passengers endured immense sufferings on the Dhaka-Aricha highway in Savar's Aminbazar area yesterday as police set up checkposts there.
Police searched a large number of vehicles and frisked passengers and pedestrians at the checkposts which were operated from 8:00am to 3:00pm. Law enforcers were also seen checking mobile phones of many.
Shahidul Islam, additional superintendent of police (Savar circle), however, denied the allegation of checking mobile phones.
Meanwhile, Savar police in the morning intercepted 40 microbuses in Jahangirnagar Society Gate area. The vehicles were rented for carrying local BNP leaders and activists to the rally venue in the capital.
Khorshed Alam, former joint secretary of Dhaka district BNP, said they hired 70 microbuses to transport party men to the capital. A team of Savar police, led by Inspector (investigation) Abdur Rashid, intercepted 40 of those around 10:00am, he alleged.
OC Depok Chandra Saha of Savar Police Station claimed that they didn't detain anyone or intercept any vehicle bound for the BNP's rally.
The BNP announced a 10-point demand from its rally in the capital on December 10 last year. The party and its allies launched a simultaneous movement from December 24 to press home the 10-point demand.
After observing different programmes for seven months, the party yesterday announced the one-point movement.
Our Savar correspondent also contributed to this report.