BCC polls: Sadiq's men may decide his successor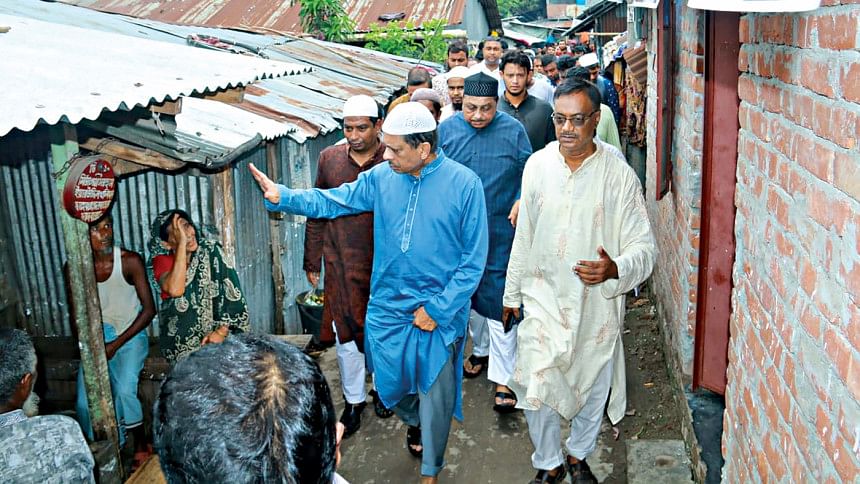 With only two days until Barishal city goes to polls, the division in the ruling Awami League is still the talk of the town.
Many do not know if supporters of incumbent Mayor Serniabat Sadiq Abdullah will vote for the AL nominee.
During his five-year tenure, Sadiq organised the ward committees of AL with his loyalists.
He also has influence in the city committee as well as over 15 councillor candidates out of 30. The 15 councillor hopefuls have their personal vote banks, said AL insiders and locals.
For this, votes from Sadiq's supporters could be a deciding factor for electing the BCC mayor, they added.
Sources said his supporters are under intense pressure, from AL mayor candidate Abul Khair Abdullah's followers and the law enforcers.
Sources in the city AL said steps would be taken to keep those, who do not wholeheartedly back Khair, on the sidelines.
Some supporters of Sadiq alleged that they are facing police harassment.
"Some intelligence officials are trying to put pressure and giving directives by calling our men at their workplaces. All they want is the favour for the ruling party candidate," a close aide to Sadiq told The Daily Star.
"For that reason, some might vote for the ruling party candidate. While some are planning to abstain or not even go to the polling centres."
The Daily Star spoke to one such leader who claimed to have been approached by intelligence men.  
Md Saiful Islam, commissioner of Barishal Metropolitan Police, dismissed the allegation and said they are not harassing anyone. "We are only taking legal actions against those wanted in criminal cases."
Tarun Chanda, vice-president of the district AL, said Sadiq's supporters are dissatisfied with the nomination of Khair. "But they have no alternative to voting for the boat."
In the absence of Sadiq's support, Khair has to rely mainly on leaders, who are not of Barishal, for his campaign. Those who did not get any party posts during Sadiq's rule have also joined the electioneering of Khair.
For instance, Md Jashimuddin, former Barishal city unit Chhatra League president, and Moin Tushar, former VP of Government BM College, are lead campaigners of Khair.
Chaitali Chakrabarty, a member of the Swechchhasebak League central committee, said she came to Barishal from Dhaka along with 17 other leaders and activists to campaign for Khair.
To pacify the conflict between Sadiq and Khair, some central AL leaders visited Barishal and even some of them are staying there . The leaders include AL presidium members Abdur Rahman and Jahangir Kabir Nanak, Joint Secretary AFM Bahauddin Nasim and Organising Secretary Afzal Hossain.
But they failed to address the rift and launch a united campaign.
Al Nahian Khan Joy, former president of Chhatra League, said he has been in Barishal for the last two days to campaign for Khair.
When unknown faces are campaigning for Khair, many AL leaders became nonchalant.   
Afjal Hossain, election agent of Khair, told this newspaper that the central leaders are taking part in the campaign following the electoral code of conduct.
He, however, declined to comment when asked about the absence of district committee leaders and activists in the campaign.
Meanwhile, councillor aspirants in most words are seeking votes for boat, electoral symbol of AL, first and then for themselves, said locals.
Abdul Haye Mahabub, general secretary of Jatiya Samajtantrik Dal of Barishal city unit, said Joynal Abedin and ATM Shahidullah Kabir are contesting for the councillor post in ward-10. "When we talked to them during a visit to the ward recently, both of them were seen seeking votes for the ruling party mayor candidate first and then for the councillor post."
POLLS CODE
Khair yesterday offered Juma prayers at Markaj Mosque in the city's Choumatha area.
After the prayers, his supporters were seen distributing leaflets. They entered the mosque compound and sought votes for boat, which is a violation of section 20 of the electoral code of conduct.
Khair, however, did not take part in the campaign.
Md Humayun Kabir, returning officer of the BCC election, told The Daily Star that "the majority of our magistrates offered Juma prayers in different mosques in the city. They did not allow any candidates campaign in mosques."
Asked about circulating leaflets, he said he did not get any complaints regarding this. "If we receive any complaint, we will definitely take action."