Who's to blame for Helena's death?
Emergency patients of Fulchhari union suffer due to lack of medical facility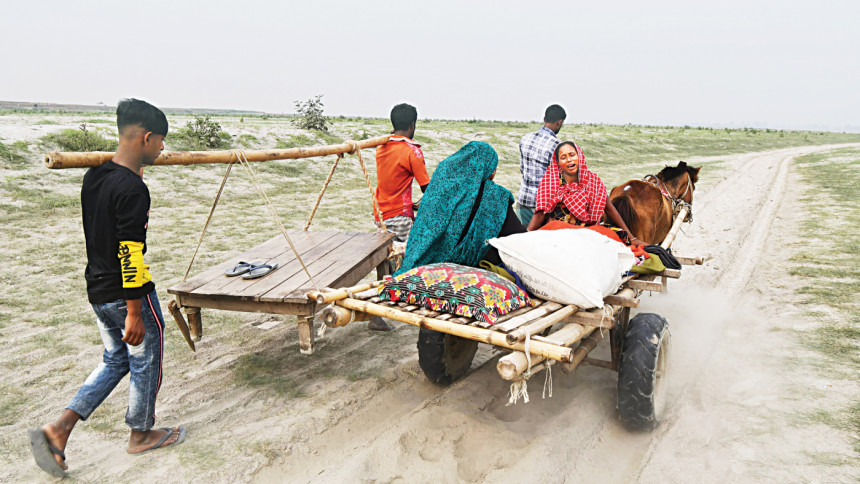 Helena Khatun, 25, was about to give birth to her third child.
Due to sudden bleeding around 9:00am yesterday, she needed emergency care at a hospital.
Her husband Suja Mandal and nephew Asadul arranged "Jalchouki", wooden planks held up by ropes and carried on the shoulders, and placed her on it. They then started towards the hospital on foot from their home in the remote Kalurpara Char in the Jamuna in Gaibandha's Fulchhari upazila.
However, as the nearest medical facility -- Fulchhari Upazila Health Complex -- was almost 40km away, Helena ultimately bled to death by the time she could reach Fulchhari launch terminal (30km from the complex) around 1:00pm.
Kalurpara Char is located around 10km off the bank of the mighty Jamuna.
As four hours had passed for Helena to be carried to mainland, they took her to a "pharmacy doctor" at the Fulchhari terminal.
There, Helena and her unborn baby were both declared dead.
Suja, distraught after the loss of his wife and child, still had to manage a horse cart from the local bazar to carry her body back to the char for burial.
"With no roads or vehicles to commute from the mainland to the char, I had to arrange the horse cart. When that was not available earlier to carry her to a hospital, I had to manage the Jalchouki," he said.
On their way back to the char, Helena's sisters-in-law Taslima Khatun and Sonabhan Begum were seen wailing next to her idle body.
Sonabhan said, "Only if there was a hospital, clinic or even a doctor in the char,  Helena and her child could live. Like many other women of our locality, she died because there are no facilities for emergency patients."
Her sister Taslima added, "The women in char areas are unfortunate and have to go through normal deliveries as there is no scope for hospital treatment."
Abdul Hannan Mandal, chairman of Fulchhari Union Parishad, told The Daily Star Kalurpara Char falls under the Fulchhari union.
"It is almost impossible to provide proper treatment to pregnant women in case of emergencies. The whole union parishad is located on the chars in the Jamuna.
"It is like a different planet here and we have seen no development for us."
Contacted, GM Selim Parvez, chairman of Fulchhari Upazila Parishad and president of Fulchhari Awami League, said, "Around 70 percent of Fulchhari upazila's more than 1.5 lakh people live on chars. There is no road, no doctor, no clinic and hospital in any of those areas and during dry seasons, patients have to be carried on foot."
Dr Md Rafikuzzaman, Fulchhari Upazila Health and Family planning officer, said, "This is indeed a pathetic situation. We have no sub-health stations in the Fulchhari union. However, we do have community skilled birth attendance [CSBA] in the chars. If Helena's family had taken her there, she could have survived."
However, upon asking locals of the char areas, this correspondent came to know that none were aware of the existence of any CSBA there.
While many such incidents have gone unreported, around two years ago, Taslima Nasrin, 23, died after giving birth through normal delivery while she was on her way to the health complex from her home on Char Kochkhali in Gaibandha's Sadar upazila. She too died of excessive bleeding and no medical help.