Unstoppable doctor
Vows to carry on treating patients despite challenges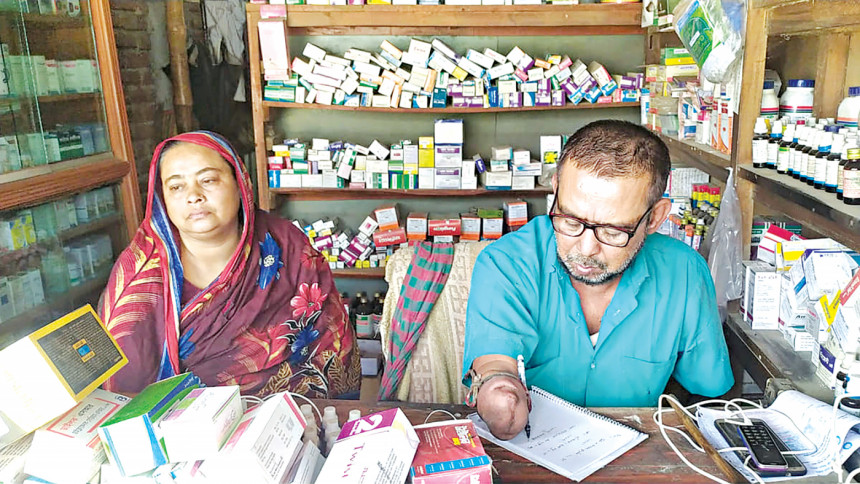 Things were going alright for Jabbar Howladar but fate followed with less rewarding things as his both hands and legs had to be amputated due to gangrene infection.
Jabbar, 59, a resident of Korara village under Azimnagar union of Bhanga upazila in Faridpur, had go to undergo surgery 21 times for gangrene.
But an ever resilient Jabbar didn't lose hopes and continues to serve the villagers.
Jabbar is locally known as a village doctor and he also runs a pharmacy in Shimulbazar area of the same upazila, one kilometre away from his house. Every day he goes to the pharmacy by a rickshaw with the help of his wife.
Locals come to Jabbar to get free treatment of minor health problems like fever, cold, headaches and stomach ache. Jabbar does not take any fees from his patients. Besides, the patients can buy medicines from his shop at a cheaper rate.
Jabbar's wife Helena Begum, 52, helps him running his medical practice. She also nurses him, feeds him and helps him move.
The couple has three daughters and a son. Two elder daughters have been married off. His son Sohel Rana, 15, is a ninth grader at a local school and the youngest daughter Subarna Aktar, 6, is a first grader.
Jabbar completed his SSC in science group from Pulia High School in 1984. He accidentally cut a small part of finger while making a bird cage for his younger brother in 1986.
Later, the finger got infected. After that he met a doctor at Mitford Hospital (now Sir Salimullah Medical College Hospital) in Dhaka. The doctor gave him some medicines. But the medicines did not work. Consequently, doctors amputated three fingers of his right leg in 1987 after a year of his marriage.
However, the infection could not be contained. Since 1986, infections have spread to different toes of one foot after another and the toes have been surgically removed.
The gangrene infection could not be reversed even after surgeries.
Jabbar said, "My treatment cost near about Tk 13 lakhs. On the other hand, I have been disabled forever. But I did not want any help from anyone. I always try to stand my own feet even though I have no feet."
"To be self-employed, I started learning how to sell drugs sitting at Al-Amin Pharmacy, owned by one Rokon Akand in Pulia bazar. I garnered the idea about the names of drugs, purchase and sale of medicines till 2009. In 2002, I passed LMAF (Local Medical Assistant and Family) from the Local Health and People's Development Society in Jatrabari area of ​​Dhaka. When Rokon Akand left his drug business, I started my own business in 2009," he said,
"I started my medicine business with Tk 50,000. Now, I have medicines worth Tk one lakh fifty thousand in my shop. I married off two of my daughters and built a one-storied house from this business. Every day I attend 50-60 patients," he added.
Helena Begum said, "I married Jabbar when he was a fit man. It is an irony of fate that his both legs and hands had to be amputated for gangrene. We have passed very hard time after his surgery. We have had to sell our four bighas of land. But now we are happy."