Chotomoni Nibas takes Trishal miracle baby's responsibility
Elder sister names her Fatima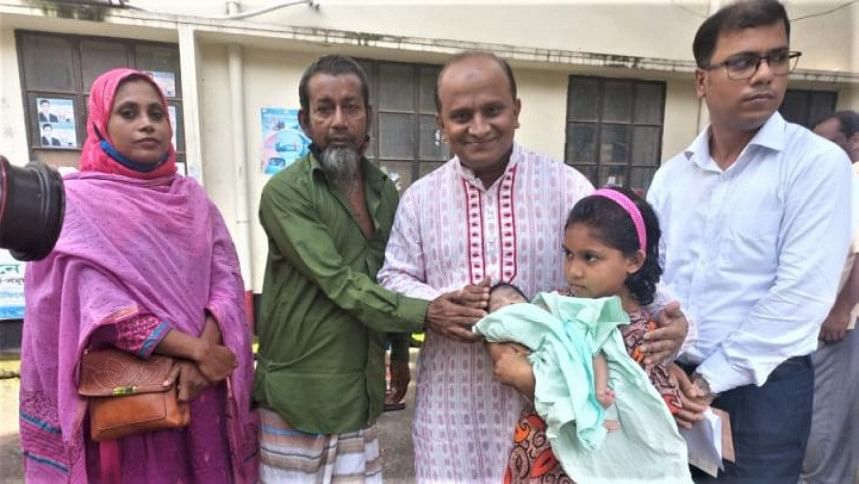 The miracle baby girl, who was born just before the death of her mother in a truck accident at Trishal upazila of Mymensingh on July 16, 2022, was handed over to Chotomoni Nibas, a shelter for the unfortunate and abandoned children, in Dhaka's Azimpur.
Md Kamrul Islam Chowdhury, director (institution) of the Department of Social Services and Jubli Ranu, superintendent of Chhotomoni Nibas, received the infant this (July 29, 2022) afternoon, reports our Mymensingh correspondent.
Talking to The Daily Star, Kamrul said the infant's elder sister Jannatul, her grandfather Mostafizur Rahman and a social service officer from Mymensingh reached the Chotomoni Nibas around 3:00 pm.
Jannatul has named her Fatima, added Kamrul.
Before the baby was handed over to the children's shelter, she was under the care of Mymensingh Medical College Hospital. 
Abu Abdullah Md Wali Ullah, deputy director of the Department Of Social Services in Mymensingh, said a meeting was held with the Child Welfare Board in Mymensingh on July 27, 2022, where the child's grandfather Mostafizur Rahman and other relatives were present.
At the time, the relatives told the meeting that they lacked the ideal environment and necessary manpower to take care of the baby, he said.
Later, it was decided to send the infant to Chotomoni Nibas in Dhaka with their (relatives) opinion, added Abu.
Mymensingh Deputy Commissioner Mohammad Enamul Haque, who is also the district's Child Welfare Board president said the decision was taken considering the future of the infant child.