They grow up so fast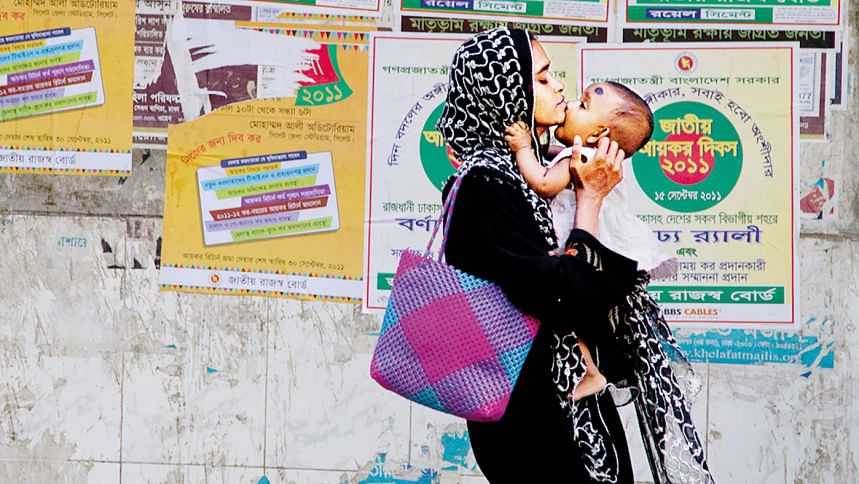 Sometimes an ordinary event triggers an extraordinary flood of memory.
Recently one morning the lift stopped at my floor. The door opened to let me out. Outside a father was holding his school-age daughter's hand, taking her to school. As I exited and they entered the lift we nodded at each other.
This was the flat we had moved to in 2005 when we returned to Bangladesh from abroad. Our son, then thirteen, and daughter, then eight, attended a nearby school. My son - big guy - went alone. But I took my daughter to school every day. I too had held her hand as we entered the lift every morning on our way to school. Walking to school we discussed names of roadside trees: koros, bot, mahogany.
Perhaps I should have stopped the father and asked him to relish every second with his daughter, because she would grow up in the blink of an eye just like my children had. He would have those memories to savour when his daughter grew up, just like I have of my children.
Our son was a happy baby virtually from the day he was born, smiling away at the world. But he disliked wearing protective mittens after birth, contorting his face with irritation and throwing punches into the air.
Our daughter, the younger sibling, sometimes fixed me with a stare. I could not look away from her eyes. She had soft curly hair that you wanted to reach out and touch.
I remember the look of abrupt shock on their face – followed by tears – when they got their first vaccination. Both times, only their mother could soothe away the tears.
Raising children is hard. But somehow the hard work is filtered away from these memories. What remain are the sweet impressions and flashes of memories.
Our son hated going barefoot in the grass, saying his feet tickled. Our daughter didn't mind the grass but she ran whenever I watered the lawn, disagreeing with the cold water. Neither was overly fond of animals – even the ducks in the nearby pond froze them.
The parade of memory continues relentless: of cradling my one-year-old daughter in my arms and rocking her to sleep every night on a rocking chair; of watching "Babylon 5" with my four-year-old son who eagerly called out the name of each alien character as it appeared, rolling with laughter at the ridiculous-looking aliens; of feeding them both their favourite foods (Gerber and daal-bhat respectively) and subsequently changing their diapers.
There were books and homework every night, poems to memorize and math problems to solve, swimming, violin and piano, basketballs to throw, soccer balls to kick. I remembered my son at eight working with his mother on Hamlet's soliloquy, and my daughter, then only three, mimicking her brother: "thadeees da quash-shun!"
I remember two magical moments – five years apart - when each of them balanced on their bicycle and rode on two wheels for the first time without my help.
And so spins the circle of life.
.facebook.com/ikabirphotographs or follow ihtishamkabir on Instagram.