The tale of holiday sufferings
Patients in peril as pathology service at govt hospitals closed for Eid holidays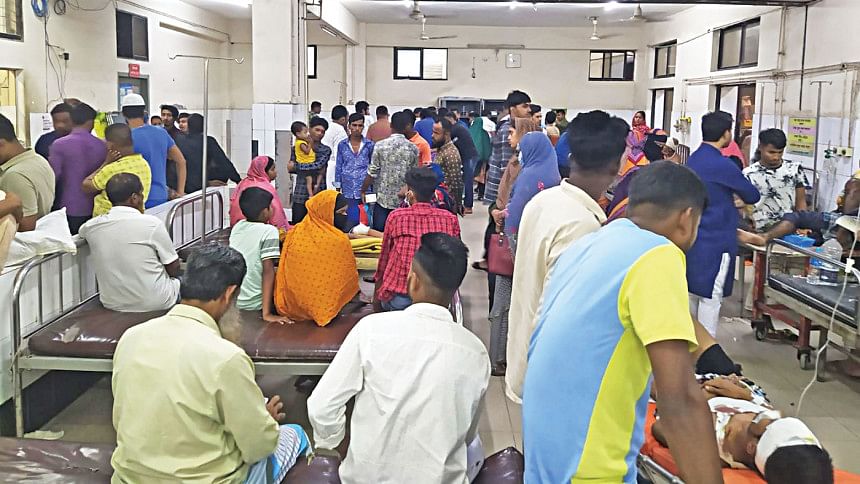 Sixty-five-year-old Mohammad Siraj had to seek medical attention for severe abdominal pain and other physical illnesses on Sunday at Shaheed Suhrawardy Medical College.
While taking treatment, the on-duty doctor in the emergency section suggested he had to conduct some 10 tests.
However, when he heard about such a long list of tests, he became hesitant and skeptical, because he knew that he would have to go to private centres for the tests, as the government pathology service was closed for the Eid holidays.
Siraj, who came from the Geneva camp area of Mohammadpur in the capital, later went to Popular Diagnostic Centre in Shyamoli. He was charged Tk 6,160 for his tests.
Unfortunately, he was not able to pay the full amount of the bill. He was able to manage Tk 4,700. The centre authorities billed him at a discounted rate for the remaining amount.
While visiting some government hospitals, this newspaper found that many patients, like Siraj, were compelled to go to private diagnostic centres and spent extra money, due to pathology services at government hospitals services being closed for the Eid holidays.
Rita, another patient who went to the Suhrawardy hospital, was also suggested for two tests. She had to rush to a private diagnostic centre and spent Tk 2,740 for her tests.
Talking to The Daily Star, her son expressed his frustration, stating that the same ultrasonography would have cost only Tk 210 at the government hospital.
Hridoy Rajbangshi, Rita's son, said it would be helpful if government hospitals kept their services open on a limited scale during holidays, especially for emergency cases.
During a visit to the National Institute of Traumatology & Orthopaedic Rehabilitation (NITOR), this reporter witnessed a huge rush of patients in different sections of the hospital.
Md Imam Hossain, a 37-year-old CNG driver, was admitted to the hospital with a broken leg after an accident on Eid day.
When he was taken to the emergency section, the authorities suggested a digital X-ray. They demanded Tk 350 instead of the regular charge of Tk 250, claiming it as an Eid bonus.
Additionally, Imam was forced to buy bandages from the hospital, which cost him Tk 1,500. He also had to spend Tk 700 as a trolley fee to move between different wards.
Another patient Jamal Sarker, from Shibpur in the Narsingdi area, came to the hospital on Friday, a day before Eid day. The on-duty doctor suggested he take an ECG test, but the service was closed at the hospital for the holiday.
So he had to go to a nearby private diagnostic centre to take the test. The test only cost Tk 100, but they had to spend Tk 1,000 to hire an ambulance to transport Jamal to the centre, said Md Ibrahim, Jamal's nephew.
Expressing frustration, he said, "We did not have to spend much money but it was an additional hassle transporting an injured patient."
At National Institute of Cardiovascular Diseases, ticketing master Kutubul Alam reported an increased number of patients after Ramadan compared to other Eid holidays. "In the first 10 hours of the day, we admitted some 106 patients, while 165 patients took treatment during this period," he said.
Nazrul Islam, 55, who has been taking treatment at the hospital since last month, said, "Other times, doctors visit us regularly. However, during Eid, we could not consult any doctors. I only wonder what would have happened if my condition was more critical."
Contacted, Assistant Director of Dhaka Medical College Hospital Ashraful Alam said, "All emergency services were kept open during holidays and we did not receive any complaints regarding their services."
They also distributed special food for the patients on the occasion of Eid, he said.
Prof Abdul Goni Molla, director of NITOR, said, "We had a huge rush of patients, but we kept the hospital open with a limited number of staffers. We tried our best to provide services to the patients."
When asked about other complaints, he said, "We will look into the matter."