"Sitrang creates favorable condition for hilsa breeding"
Experts say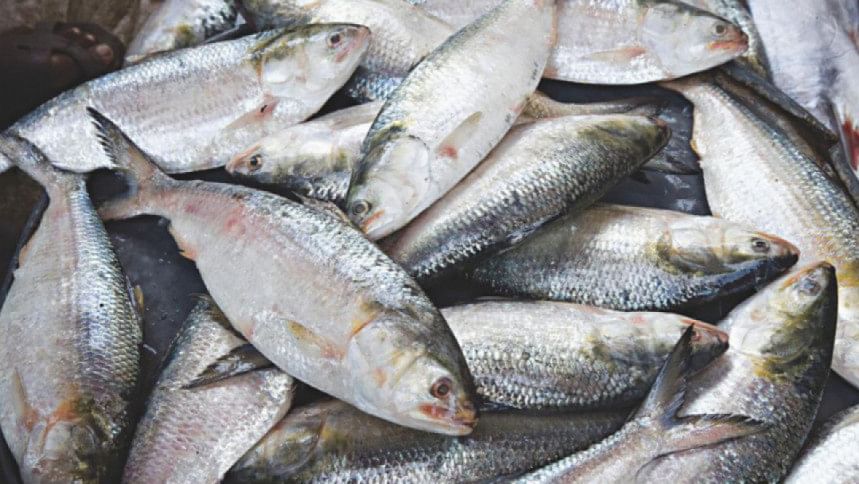 Hilsa experts have said that cyclone Sitrang has created a safe environment for the propagation of the fish even though it has caused heavy destruction in the coastal areas.
According to them, Sitrang has created a "favorable" environment for hilsa breeding. As a result, there is now a possibility of increase in its hatching and production.
Anisur Rahman, chief scientific officer of Bangladesh River Research Institute (BFRI), said the water quality has changed for the better due to heavy rains. As a result, an environment conducive to laying eggs has been created, due to which hilsa has released a lot of eggs.
He said that fish lay eggs around the time of new moon and full moon. This time, during the new moon, there was a lot of rain, also lots of water and currents in the river. At the same time, due to the necessary levels of dissolved oxygen and other elements in the water, hilsa fish got a favorable environment to lay eggs.
The hilsa researcher said the 22-day ban from October 7 will end on October 28, after which the rate of egg laying can be truly determined.
However, it can be said that because the fishes can grow in this favourable environment, the quality and quantity of eggs will increase.
He said there was no fishermen and boats in the river and estuary during the three days before and after Sitrang due to the cyclone, which also created an unhindered environment for hilsa fishes to lay eggs.
Barisal Divisional Fisheries Officer Anisur Rahman Talukder said most of the fish laid eggs this time due to the favorable environment. As a result, we think that the rate of egg laying will be 51.8 percent more than last year.
"But now the challenge is to allow the eggs to be hached and turned into big fishes. This time, due to the strict operation, the fishermen could hardly go into the river. As a result, the production target of hilsa is more than six lakh metric tonnes," he added.
Barisal Fisheries Officer, Ilish Bimal Chandra Das, said most of the hilsa fish have already laid eggs. Eggs were also found after examining the captured fishes.
"The quality of eggs is also good, I think more fish are going to lay eggs than before," he said.
A total of 22 restrictions came into effect from October 7 on catching, selling, storing and transporting hilsa in 37 districts and six sanctuaries, including the coast.
During this period, a large number of hilsa fish lay eggs around the full moon and new moon, which plays a huge role in the production of hilsa.