Single Exchange Rate: Fitch keeping tabs on its rollout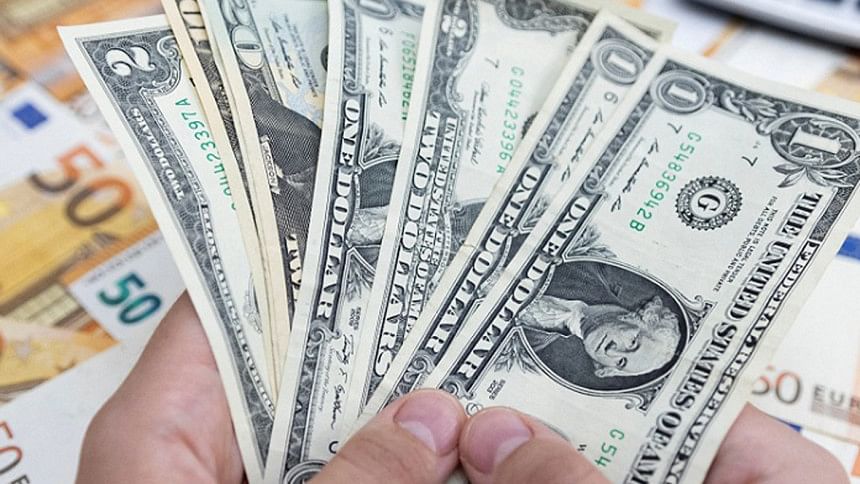 The central bank's planned move to a single, more market-determined, exchange rate would be central towards stabilising the precarious foreign exchange reserves and reducing external imbalances, said global ratings agency Fitch yesterday.
"Bangladesh's external finances, particularly foreign-exchange reserves, have been under pressure since early 2022," said Fitch's report titled "Bangladesh: Twin Deficit Pressures to Ease".
While the reserves now are roughly around pre-Covid levels, they are lower as a percentage of current account payments, it said.
"Current account pressures have eased somewhat recently, due to resilient exports, moderation in commodity prices and lower imports on account of various import control measures. We expect the current account deficit to remain well below the average for 2021 and 2022 of 3.2 percent of GDP."
However, upside pressure on the current account deficit is likely to remain as import restrictions are lifted gradually and global uncertainties could weigh on export performance.
"The planned move to a single, more market-determined, exchange rate would likely to be central towards stabilising the foreign exchange reserves and reducing external imbalances," said the report, which was categorised a 'non-rating action commentary'.
With the view to safeguarding the strained dollar stockpile, the Bangladesh Bank introduced two exchange rates: one for export proceeds and remittances and another for import payments.
For exporters and remitters, the exchange rate is Tk 104.5 per dollar. Importers buy greenbacks based on the weighted average exchange rate plus Tk 1. The average rate is derived from the rates paid to exporters and exchange houses.
Thanks to this multiple exchange rate system, there has been a diversion of dollars to the illegal channels, with the official reserves continuing to drain.
As of May 2, official gross reserves stood at $30.99 billion, down 29.7 percent from a year earlier, according to BB's latest published data.
In the past year, the taka depreciated 23.7 percent against the dollar.
Subsequently, the government committed to adopting a market-determined exchange rate for all foreign exchange transactions by June as part of the International Monetary Fund's $4.7 billion loan programme.
This is one of the eight reform actions the government has pledged to take before the IMF staff mission sits down to review the programme and take a call on whether to authorise the next instalment of the loan.
Risks of a further deterioration in credit metrics remain "significant", but the implementation of the IMF programme and reforms should help alleviate pressures under Fitch Ratings' baseline, the report said.
Bangladesh's external debt repayment profile remains manageable, it said, adding that the government debt-GDP ratio will stabilise.
Earlier on September 29 last year, Fitch continued with its 'BB-' rating with a 'Stable' outlook for Bangladesh despite heightened external and macro challenges. There has been no rating update since.
Fitch's global peer Moody's on December 9 placed Bangladesh's long-held credit rating of Ba3 on review for downgrade.