Sampans passed through here once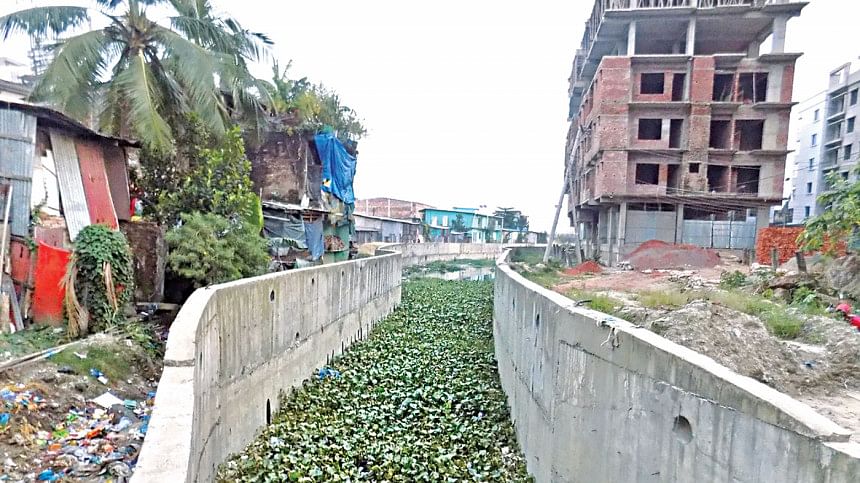 Not too long ago, only about 15 years, Chattogram's Manaharkhali canal could let sampans (traditional wooden boats) pass through. But due to rampant encroachment, today it has become little more than a drain that can barely let water pass, let alone boats.
The grabbers are mostly the same people who live beside the canal. Over the years, they've constructed numerous multi-storey buildings grabbing the bank of the canal.
Fifteen years ago, the canal stood at a whole kilometre in length. "We used to see sampans move through it back in the days," said Titu Das, an inhabitant of the area.
During a recent visit to the canal, that starts from Chattogram town's Kolabagicha area and runs all the way into the Karnafuli river, this correspondent was left wondering where the glory days have gone.
Talking to The Daily Star, local ward commissioner Pulok Khastogir said, "There are around 2,500 voters in the canal area. We can't just evict them overnight as they've been living here for a long time."
However, Humayun Kabir, a local trader, told this correspondent that not everyone of its 2,500 inhabitants are connected with the grabbing.
"It's the influential people of the area. They filled up the canal and then constructed houses and other structures on it first. Later on, the Chattogram Development Authority (CDA) came in to construct walls on both sides and turned it into a drain."
CDA's intervention has become a particular case of contention among city officials and environmental activists, who also dispute the actual number of canals in the city.
Md Abu Issa Anshary, deputy chief town planner of CDA, said "According to a 1995 drainage master plan survey, there were 57 canals in Chattogram town, but this has now come down to only 36."
"This leads to waterlogging in the city. So when you trace the source of the problem, you see how encroachment and land grabbing is one of main reasons," he said.
"According to CDA's Detail Area Plan, no structure can be set up at least 12 feet from the borders of a canal," said Anshary.
Chattogramer Nodi o Khal Rokkha Andolon's Aliur Rahman, also general secretary of Bangladesh Paribesh Forum, puts the numbers even higher. "There were 71 canals in Chattogram in the 1968-69 master plan."
However, Mohammed Ariful Islam, superintending engineer (planning and construction) of Chattogram Wasa claimed that there's 57 canals in the port city.
City residents looked towards the end of their waterlogging woes by the end of 2020, as the deadline of a canal re-excavation, renovation, and expansion mega project approached. However, this is yet to come to fruit.
"Tk 5,616 crore was approved by the Executive Committee for National Economic Council (Ecnec) in August 2017 to solve waterlogging in Chattogram," said Ahmed Moinuddin, executive engineer and project director of CDA.
"Under the project, we are re-excavating 36 canals of Chattogram city", he said.
Aliur Rahman, general secretary, Bangladesh Paribesh Forum and Chattogramer Nodi o Khal Rokkha Andolon, alleged, "In the name of re-excavation, CDA is destroying the canals of Chattogram, constructing walls to narrow the canal. This is only going to increase everyone's sufferings."
"Rather than recovering the canals, CDA is only creating hindrance in the flow of the canals in the name of development," the activist said.  Denying the allegation, CDA's Ahmed Moinuddin said "The canals are being walled as part of our effort to solve waterlogging."
Contacted, Anowar Hossain, superintending engineer of Chattogram City Corporation, said, "We have ran several drives across different canal areas to evict grabbers, but they [encroachers] come back and occupy the canals a few days after we leave."
"We don't know how CDA is constructing walls in the canal without any proper demarcation of the canals", said engineer Anowar.