Saidpur admin grabbing martyred FF's land: Family
Houses under Ashrayan-2 project being built occupying 1.22 acres of land belonging to the FF's family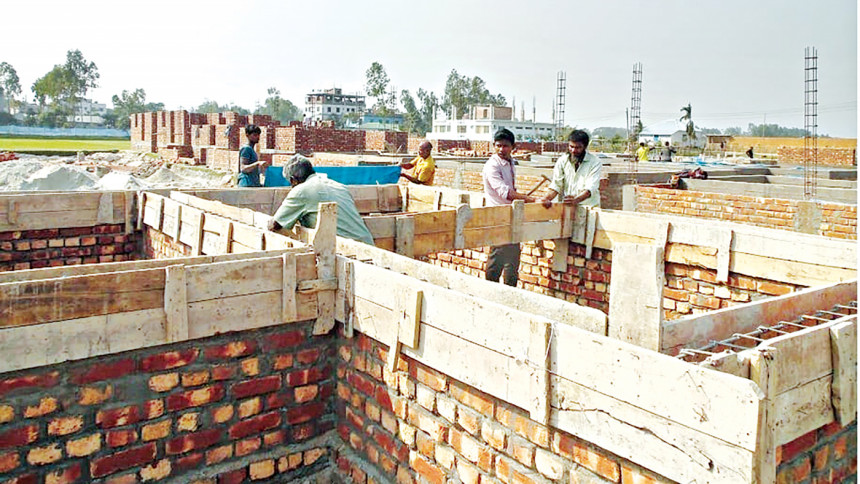 Saidpur upazila administration has been building new houses under Ashrayan-2 project allegedly occupying land belonging to martyred freedom fighter Solaiman Kha's family at Laxsmanpur Charakpara village.
Following the development, Lutfar Rahman Kha, the eldest son of the martyr, moved a petition to the court seeking an injunction on the work and held a press conference at his residence recently to draw the attention of the prime minister.
Talking to this correspondent, Lutfor Rahman said 1.22 acres of land belong to their family and showed the valid documents including the latest Bangladesh survey (BS) in favour of his claim.
He also said that they would regularly pay land revenue but in 2013, when they went to pay the tax, the then assistant land officer of the concerned Bangalipur union land office refused to receive the taxes claiming that the land was abandoned property.
Lutfar Rahman then applied to the deputy commissioner (DC) urging to exclude the land from the abandoned property list as it was a mistake of the field level land officials.
Accordingly, the then DC directed Saidpur upazila administration to investigate and file a report.
The then UNO Md Shafiqul Islam in his investigation report filed on May 16 in 2013 mentioned that the particular land was neither abandoned nor vested or khas property but belonged to the martyr's family which was also under their possession.
Ignoring the report, the authority did not exclude the land from the list and Lutfar Rahman filed a case with the Judge court against the DC and others which is now under trial, the litigant said.
Though the case is under trial now, the Saidpur UNO, AC Land, project implementation officer (PIO) and others trespassed the land on February 17 and erected red flag threatening owners of dire consequences if an attempt was taken to hinder the government work, he alleged.
Finding no way, the family prayed to the same court on February 19 for a temporary injunction to prevent construction work and ensure justice as the land is the only means of sustenance of the family.
Visiting the site recently, this correspondent found that construction work was going on very fast as 45 houses were scheduled to be completed on the land before March 26 under the third phase of Ashrayan-2 project.
Contacted, UNO of Saidpur Shamim Hussain said the claim that the land is an individual property is baseless and the houses are being built on the land under Ashrayan- 2 project following all rules and regulations.