Roaring nation and the slogans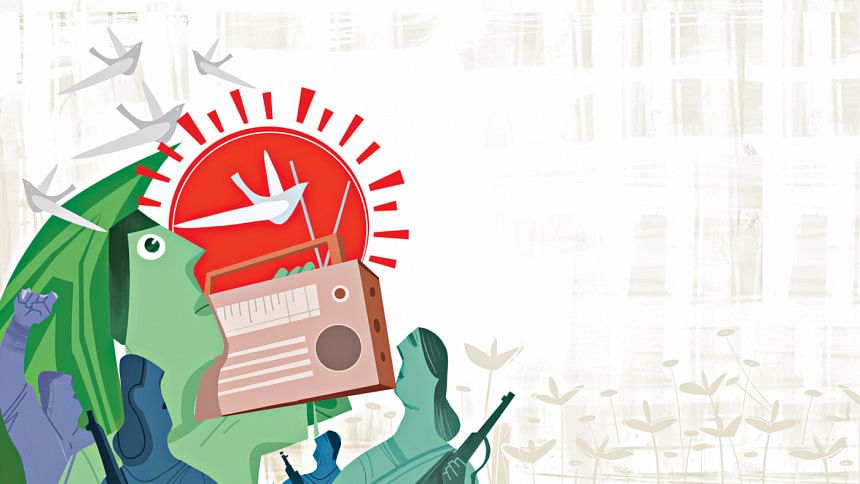 No uprising is imaginable without slogans -- be it in our country or elsewhere in the world.  
The thunderous chorus of thousands chanting slogans on the streets were at the heart of the nation's struggle for liberation.
Many slogans became immensely popular during the movements between 1948 and 1971, as they were the rallying cries of the masses, expressing their patriotism, bravery and spontaneity.
The zeal for Bangalees' self-determination and independence were translated into these slogans, also representing the anger and fightback of East Pakistan against blatant exploitation, injustice and discrimination of West Pakistan rulers.
"Slogans were an integral part of the liberation struggle. They not only grabbed the attention of the mass people but also encouraged them to swing into action," said Liberation War researcher and historian Muntassir Mamoon.
Another important aspect of the slogans is their creativity and rhythm. They have literary value, he said.
"Slogane Slogane Rajniti", a book by valiant freedom fighter, journalist Abu Sayeed Khan, published recently, described how historical events were documented in such slogans. 
"Slogans are integral to politics. They reflect the demands and political aims of certain groups and parties. Slogans indicate identities of political parties as well as characteristics of movements," Sayeed says.
Sayeed's book and "Bangladesher Gano Andolone Slogan, Placard O Poster" by Siddiqur Rahman Shapan compiled many slogans that were in use during the liberation struggle and other movements.
According to the books, during the Mass Upsurge in January, 1969, students, under the banner of Sarbadaliya Chhatra Sangram Parishad (All Student Parties Resistance Council), started chanting the slogan Joy Bangla (Victory to Bengal).
Sayeed wrote in his book that the slogan was first introduced by a Chhatra League activist in a meeting of the student organisation on September 15, 1969.
It became popular and was adopted by Bangabandhu Sheikh Mujibur Rahman. Later, it turned into a battle cry during the Liberation War in 1971, said Sayeed, now working as an advisory editor of the Samakal, a Bangla daily.
Joy Bangla was not merely a political slogan. It became a declaration of commitment to the motherland and a symbol of the national spirit and patriotism. Inevitably, it became the national slogan of Bangladesh.
"Students started to use the Joy Bangla slogan in 1969. But it became a popular slogan of the country during the Liberation War. It was also used to greet others at that time," Muntassir Mamoon said.
The slogan united the Bangalees to fight the Pakistani regime, he added.
Siddiqur in his book said during the Mass Upsurge the uniqueness of the Bangalees became more evident. Slogans like Pakistan Zindabad (Long Live Pakistan) started to lose appeal.
During that period, slogans, such as Tomar Desh Amar Desh Bangladesh, Bangladesh (your country, my country, Bangladesh, Bangladesh), Tumi ke Ami Ke, Bangalee Bangalee (Who are you, who am I, we are Bangalee), were chanted frequently.
The Mass Upsurge started with the student's unrest against the tyrannical rule of Ayub Khan. Peasants, artisans, and workers joined the movement, which followed another massive protest against the Pakistani rulers following the Agartala Conspiracy Case against Awami League chief Sheikh Mujibur Rahman and others.
In an interview, Sayeed recalled the days saying that general people as well as members of the nationalist and left-leaning political parties gave slogans like Jago Jago Bangalee Jago (Bangalees, rise up), Tomar Amar Thikana Padma Meghna Jamuna (Padma, Meghna, Jamuna are our address), Tomar Amar Thikana Khet Khamar Karkhana (Field, farms and mills are our address), Joy Janata (Victory to the people), and many others.
He said left-leaning parties widely used the slogan Keu Khabe to Keu Khabe Na Ta Hobe Na Ta Hobe Na (Some will eat while others will go hungry -- this won't be accepted) during the Mass Upsurge. Nationalistic parties later used the slogan.
Following the Mass Upsurge, the Awami League won an absolute majority in the 1970 General Elections, but the Pakistani rulers declined to hand over power, triggering a massive protest known as the Non-Cooperation Movement.
It intensified during the month of March in 1971 when the Pakistani rulers postponed the session of the National Assembly.
During the Non-Cooperation Movement, slogans like Bir Bangalee Ostro Dhoro Bangladesh Swadhin Koro (Valiant Bangalees, take up arms and free Bangladesh), Swadhin Koro Swadhin Koro Bangladesh Swadhin Koro (Liberate Bangladesh), Aposh Na Sangram Sangram Sangram (No compromise, only struggle, struggle and struggle), Joy Bangla, Joy Bangabandhu, Tomar Neta, Amar Neta, Sheikh Mujib, Sheikh Mujib (Victory to Bengal, Victory to Bangabandhu! Your leader, my leader, Sheikh Mujib, Sheikh Mujib!) and others, resonated across the country.
Earlier, Sheikh Mujibur Rahman's Six-Point Programme in 1966 for regional autonomy brought an important turn in the nation's politics, Sayeed said.
During that period, Bangalees chanted the slogans Jago Bangalee Jago (Rise up Bangalees, rise up), Pindi na Dhaka? Dhaka Dhaka (Dhaka or Pindi? Dhaka, Dhaka), Punjab Na Bangla, Bangla Bangla (Bangla or Punjab? Bangla, Bangla).
"These slogans highlighted the fact that Bangladesh was different from Pakistan geographically, politically and socially. They also highlighted that the Bangalees, as a nation, were different from the Pakistanis," Sayeed explained.
Looking back to the history of the movements of Bangladesh, Sayeed said "Rashtro Bhasha Bangla Chai" was the first slogan that was imbued with the spirit of nationalism that was based on the Bangla language.
During the Language Movement, Bangalees burst into protests uttering slogans like Rashtro Bhasha Bangla Chai (We want Bangla as the state language), Postcard, Stamper Lekha Bangla Chai (We want writings on postcards and stamps in Bangla).
On February 21, 1952, the Pakistani rulers imposed Section 144. Police opened fire on unarmed students, both male and female, who defied the section that day.
The protestors chanted slogans, such as Rashtro Bhasha Bangla Chai, 144 Dhara Manbo Na (We want Bangla as the state language, we won't abide by [Section] 144), Cholo Cholo Assembly Cholo (Let's go to Assembly).
In 1954, Awami League, Krishak Sramik Party, Nizam-e-Islam and Ganatantri Dal formed the United Front, for the elections to the East Bengal Legislative Assembly.
During the battle of ballots, there were battles of slogans as well. Among the slogans used by Muslim league supporters were Noukai Vote Dile Bibi Talak Hoe Jabe (If you cast vote for Boat, you will get divorced), Huq, Bhashani Hindustaner Dalal (Huq and Bhashani are agents of India). United Front workers roared Purba Bangla Shayottoshashon Kayem Koro (Establish autonomy of East Bengal), Bichar Bibagh Prithak Koro (Separate the judiciary), Bhashani Bhashaichhe Nouka Haq Shaheb Tar Majhi (Bhashani has set the Boat floating, Haq is the boatman), League Shashoner Durgati, Dui Anay Matchbati (The miserable state of the League is evident because a matchbox costs two annas).
The Kagmari Conference convened by Maulana Bhashani in 1957, witnessed slogans carrying anti-West sentiments like Ingo-Markin Shamrajyobaad Dhongsho Hok Nipat Jaak (Down with US and UK imperialism) and Seato Cento Tyag Koro (Leave the Seato and Cento pacts).
Democracy-loving Bangalees took to the streets immediately after the 1958 coup d'état. They uttered Samarik Ain Manina (We don't accept martial law), Ganotantrik Sarkar Chai (We want democratic government), Ayub Shahi Dangsho Hok (Down with Ayub) and others.
Students waged a movement against an education commission known as Sharif Commission in the early 1960s, chanting slogans such as Shikkha Bay Komate Hobe (Education costs should be reduced), Shikkha Khetre Baishamya Cholbe Na (There will be no discrimination in education), Roman Harafe Bangla Lekha Cholbe na (Bangla cannot be written in Roman letters).
Students uttered slogans in favour of a democratic system as well as press freedom. They raised slogans like Ganatantrik Babostha Kayem Koro (Establish democratic system), Sangbadpatrer Swadhinata Dite Hobe (Freedom of newspapers must be ensured).
Siddiqur Rahman in his book said that a widely-used slogan Jalo Jalo Agun Jalo (light the fire, light the fire), a translation of a Hungarian slogan, was introduced during the anti-Sharif Commission protests.
People of Bangladesh chanted slogans against communalism when communal riots hit Dhaka and its adjacent areas in 1964. Slogans have been in the soul of the Bangalees for centuries, manifesting their bold, rebellious spirit against oppression and injustice.