Red Munia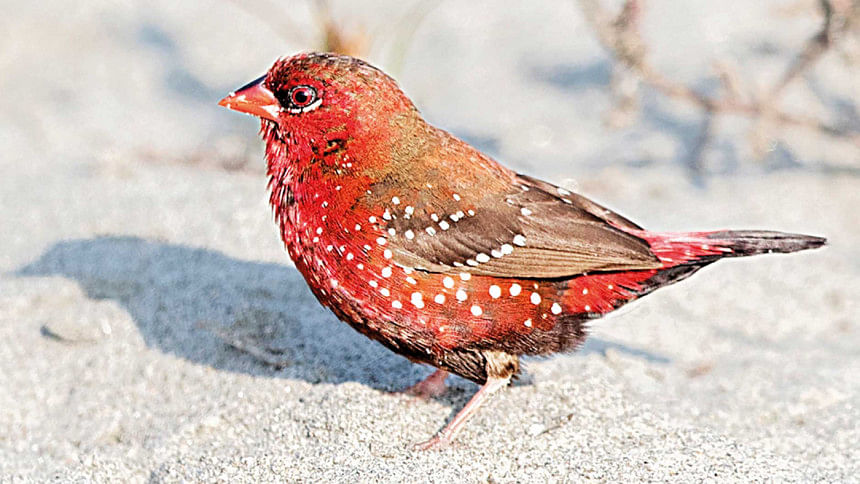 The Red Munia entered my childhood through a story about the Creator painting birds after creating them. However, one fidgety bird has flown off before being painted and returns just when He finishes. There are a few drops of paint remaining with which He splatters this bird. And so this exquisite bird was created with spots of white sprinkled on red.
When I came to birding I saw pictures of the Red Munia and connected it with my childhood story. But, while I found and photographed our other munia species, this bird eluded me. In the fields of Purbachol before it was developed, I observed numerous munias in the tall grass, making clumpy nests among the reeds and busily finding seeds and eating them. Four of our five munias were in attendance: Silverbill, Tricoloured, Scaly-breasted and Chestnut Munias. But the Red Munia never showed up.
On two other occasions I saw it fleetingly. Once, in the Padma chars of Rajshahi, it flew in and perched momentarily on an Akond branch before taking off – just enough time for a glimpse but not for a photograph. Later, while birding in Australia's Northern Territory, I found it among other finches. I got a distant photograph, but the flock flew away as I came closer for a better shot.
Recently, however, my luck with Red Munias changed when friends showed me a spot in Dhaka's Aftab Nagar. At the far edges of this housing development there remains some intact grassland with tall kash grass.  In this patch, which is next to a beel, reside many munias, including red ones. I was able to spend some time with these birds.
What a memorable time it was. The males were in their breeding plumage. They had a brownish head, black tail, and dark brown wings. But you did not really notice any of that – all your attention went to the body covered in bright red with white dots. Females were grey with a red tail and white spots on the wings. Flocks flew in, landed on the ground, and immediately set about stripping off seeds from grass blades using their strong beaks. On cold mornings they sometimes warmed themselves, perching on a thin reed with their back to the sun. Couples huddled together, often helping preen each other's feathers.
An interaction among them caught my eye. Three Red Munias were perched on the thinnest of reeds: a cozy couple on the right and a single male on the left. The couple's male dozed off and the female started eyeing the single male. At one point she jumped to sit close to her single neighbour. But it did not work – the single male shooed her off instantly, as if rebuking her for leaving her mate. The couple was back together. The episode was so fast that you would have missed it had you blinked.
Incidentally, the Latin Name for Red Munia is Amandava amandava – meaning "a bird of Ahmedabad." It is also known as Red Avadavat, "Avadavat" being a colonial British distortion of "Ahmedabad."
facebook.com/ikabirphotographs or follow ihtishamkabir on Instagram.