Primates of Bangladesh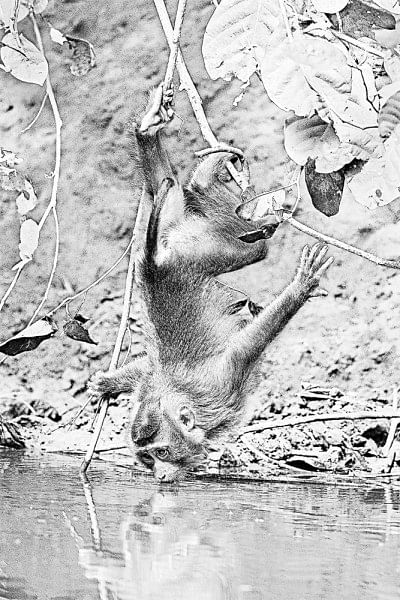 On a summer morning several years ago I climbed up the watchtower in Satchori National Park looking for birds. In two hours I saw little. I was about to call it a day when, across the field below, I saw a troop of monkeys making its way through adjoining trees. The dark, close-cropped hair on their forehead marked them as Northern Pig-tailed Macaques. As I watched, a fight broke out between two youngsters. They started out making faces and were soon swinging towards each other like Tarzan, shouting and baring their teeth. The quarrel lasted only two minutes before the troop disappeared into the jungle.
These macaques are one of nine non-human primate species listed in Dr. Monirul Khan's Photographic Guide to the Wildlife of Bangladesh. The other primates found in Bangladesh are Bengal Slow Loris, Assamese Macaque, Long-tailed Macaque, Rhesus Macaque, Northern Plains Langur, Phayre's Langur, Capped Langur and Western Hoolock Gibbon.
Where does one look for them?
The easiest to see is the Rhesus Macaque, our common Bandor. It is found in many places including old Dhaka. It has adapted only too well to humans. 
On the other hand, Long-tailed Macaque and Plains Macaque are rare and hard to find. The Bengal Slow Loris, being nocturnal, is also elusive.
The remaining primates can be seen in our protected forests with some effort and guidance.
The Hoolock Gibbon has the distinction of being the only ape in South Asia. It is classified as a "small ape" as opposed to "great apes" like gorillas, chimpanzees, orang-utans and humans. Its call is unmistakeable: a sonorous uuuaa-uuuaa-uuua that echoes through the forest. These loud calls come during the day, often in a duet or chorus, to communicate among the group. When I was tracking Hoolock Gibbons in Lawacherra National Park with a guide, these calls helped me find them – creatures with long arms, white bands over the eyes, and missing tails.
At a pond in Satchori, I observed groups of Pig-tailed Macaques as they came to drink water. They drank in two styles. Most of them crouched low to reach the water. But young athletic ones preferred to hang upside down from overhanging branches to reach the water. Groups sometimes broke out in fights, usually more violent than the one I observed from the tower.
Capped Langurs are, in my observation, more sedate than the other primates. They often sit still on high branches, their extraordinary long tail hanging below them, as they watch the world below go by. When you notice them, they can startle you with their appearance: a deep black face with large black eyes and a sober expression set against a beige-orange body. In motion through the forest they are just as agile as other monkeys, using their tails for balance and steering as they jump from tree to tall tree.
Phayre's Langurs are black or dark-grey. They have white rings around their eyes which look like spectacles – hence their Bangla name Choshma Bandor. Their social organization is complex. Parents take turns caring for the young, and youngsters become jealous when a sibling gets more attention from the parents. Infants are born pale orange; as they grow older black spots appear on their body until the entire body turns black.
I discovered that finding and observing our primates was an exciting experience. They are well worth our attention and conservation efforts.
facebook.com/ikabirphotographs or follow ihtishamkabir on Instagram.