Poor data frustrates road safety measures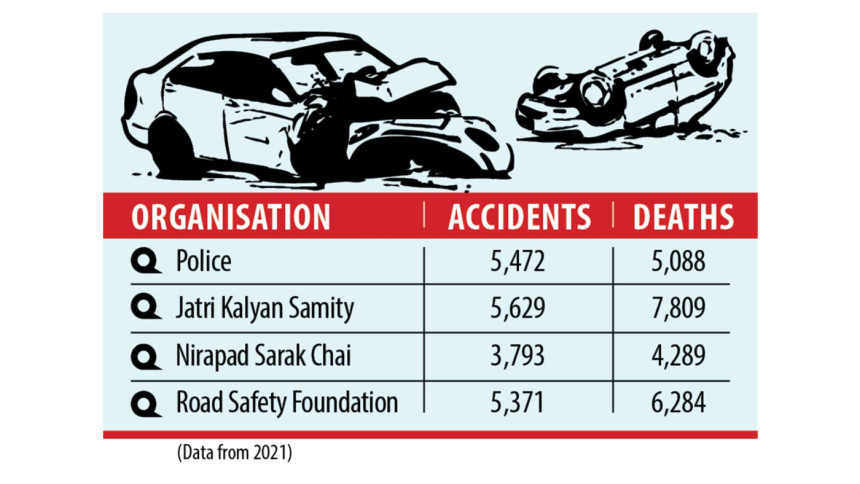 Every January, non-government organisations working on road safety publish reports on the number of road accidents and causalities and so does the police.
While road-safety campaigners prepare reports based on media reports, the police solely rely on first information reports or general dairies.
These reports show a trend but many accidents remain unrecorded and the numbers in the reports vary significantly.
Transport experts said the lack of proper data on road accidents is a drawback in making informed decisions to solve the problem.
"Poor quality and unreliable data on crashes, deaths, and injuries impede proper road safety management," the World Bank observed in an appraisal report prepared for financing a road safety project in Bangladesh.
"The current system of recording, analysing, and reporting crashes in Bangladesh is cumbersome, error-prone, time-consuming, and unfit for analysis and benchmarking," read the report.
"... This database [with data from police] is the only source of crash fatality data; however, it shows irregular and unreliable year-on-year changes, indicating incompleteness and a lack of consistent procedures," it said.
It said a comparison of the recorded fatalities with the WHO's estimated fatalities from 2010-2015 shows a discrepancy of more than 90 percent.
At least 24,954 people were killed in road crashes in the country in 2016, says the WHO report. The number is almost 10 times the one given by police, which was 2,463.
Prof Hadiuzzaman, director of Accident Research Institute at Buet, said many accidents happen in rural areas and go unreported. Those who succumb to injuries also go unreported, he said, adding that damage to properties is also not reported.
In the absence of credible and proper data, decisions of policymakers are unlikely to be appropriate, he told The Daily Star.
He said in developed countries, all vehicles are insured. The government should make insurance mandatory for all vehicles and make it truly effective.
Mahbub-E-Rabbani, director (road safety) of BRTA, however, yesterday said governments across the world rely on police data. "Yes, police data in our country may not be cent percent accurate but it's the most reliable data."