Nightmare on Doyaganj road
Potholes, waterlogging make commuters' journey unbearable while authorities play the blame game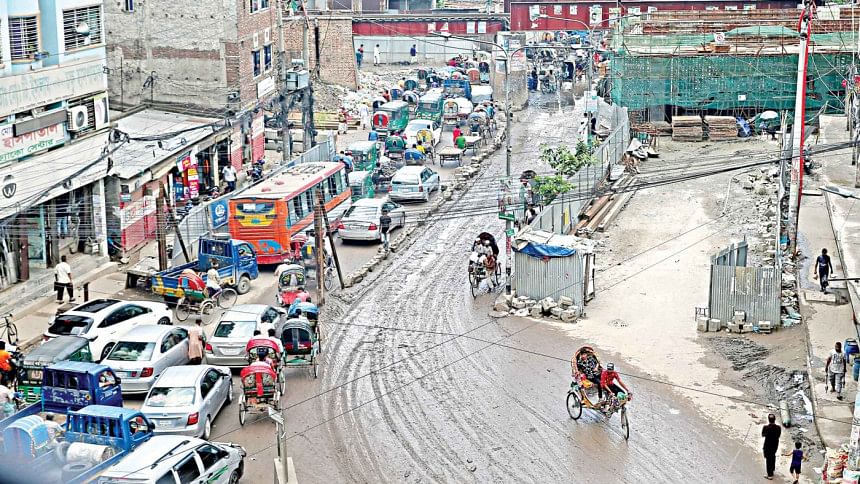 "It feels like I'm going to throw up anytime now."
This is how Mahbuba Sikder described her experience when travelling on the capital's Doyaganj Road.
A resident of Jatrabari, she takes her daughter to classes every day.
"The jumps and bumps while moving through the road often become unbearable," Mahbuba told this correspondent recently.
"The alternative routes are blocked, and so, we are forced to use this road only," she explained.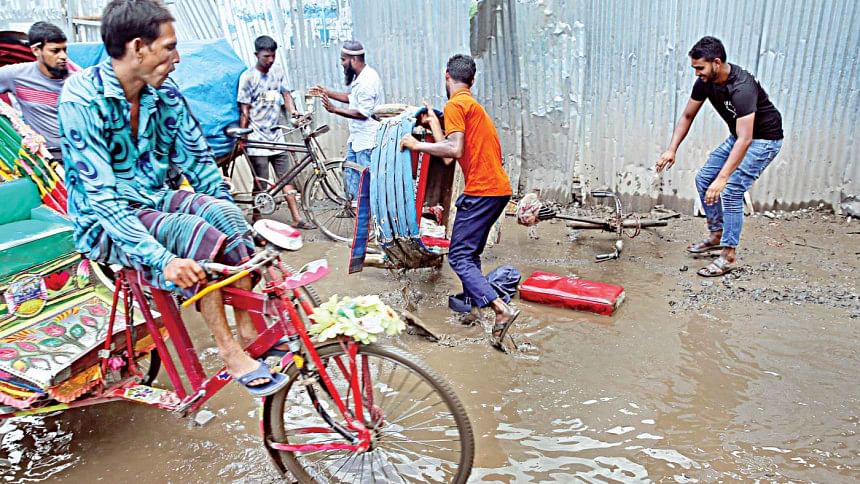 Under the Padma Bridge Rail Link Project, Bangladesh Railway is erecting an overhead rail bridge, completely blocking a lane of the road.
Another lane, on which people commute, has turned into a small ditch, due to waterlogging.
And so, the pathway has remained in this condition for the last four to five months.
While commuters are in great misery, officials are blaming each other for the problem, instead of finding a solution.
Dhaka South City Corporation (DSCC) officials and locals blame indifference and slow pace of project work, while authorities of the project blame both locals and DSCC.
For local and inter-district, goods-laden vehicles, Doyaganj Road, which connects four areas -- Dholaikhal, Tikatuli, Dholaipar and Jatrabari -- is an important juncture of their journey.
Its significance has jumped up as a vital connecting road after the inauguration of Mawa-Bhanga expressway, according to locals.
"Every day, one or two goods-laden vans or rickshaws almost topple over," said Akram Hossain, an on-duty police officer.
Adjacent to the road are two diagnostic centres, where many patients visit. These people go through immense distress on the bumpy road.
"My mother and I fell on the muddy road, as the rickshaw's wheel broke after hitting a pothole," said Shoaib Ahmed, who went there to take his mother to a diagnostic centre.
To avoid accidents, all vehicles go slowly while crossing the area, which creates long     tailbacks.
Contacted, traffic inspector Alamgir Hossain said they have been struggling to manage traffic on the road.
"People blame us, but we're helpless. After moderate rainfall, the road becomes even more dangerous for commuters," Hossain added.
At the monthly coordination meeting of Dhaka Metropolitan Police on June 23, the situation of the dilapidated road and public sufferings were discussed.
On June 26, DSCC Executive Engineer (Zone-5) Saiful Islam Joy, in a letter, requested the rail link project's director to take measures to repair the road on the eve of Ratha Yatra.
Contacted, Saiful said project authorities are building infrastructure by blocking all drains and have not kept any channel for water to pass.
"Due to their indifference and slow pace of work, people are suffering," he said.
The Daily Star tried to reach the director for comments over phone, but he did not pick up. He texted back, saying "I'll call you back", but did not.
Al-Amin, land acquisition officer of the project, said they are taking measures to resolve the issues.
He, however, blamed city corporations for blocking drains and locals for throwing waste. These cause waterlogging, he mentioned.