New chiefs of police, Rab take charge Sept 30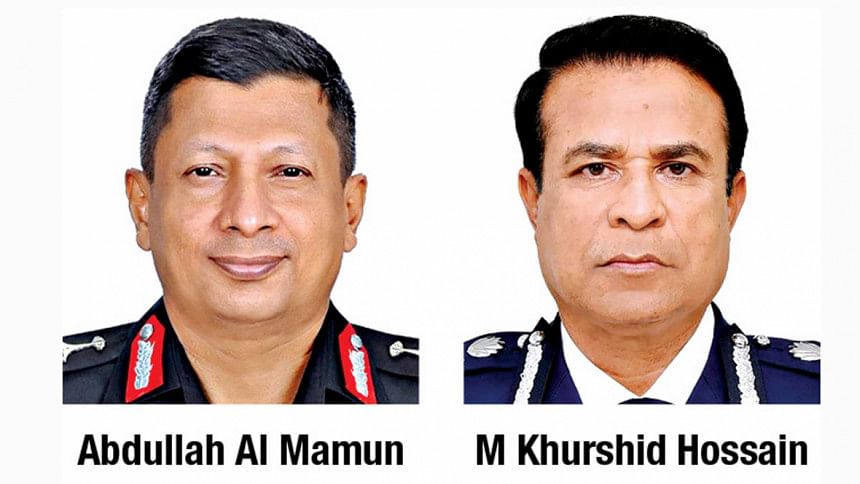 The government yesterday appointed Chowdhury Abdullah Al Mamun, director general of Rapid Action Battalion, as the new Inspector General of Police.
He will replace incumbent police chief Benazir Ahmed, who is going to retire on September 30.
In a home ministry circular yesterday, the government also made M Khurshid Hossain, additional IGP, the new Rab DG.
The appointments will be effective from September 30, read the circular.
There was a discussion in and outside the police whether the tenure of IGP Benazir will be extended until the next general elections under contract.
Over alleged violations of human rights, the US imposed sanctions on Rab and its seven current and former officials, including Benazir, a former DG of Rab, and Mamun, in December last year.
Benazir was made the IGP in April 2020 and took the charge in May that year.
The newly appointed IGP Mamun is scheduled to retire on January 11 next year.
The new IGP joined Bangladesh Police as an assistant superintendent of police in 1989.
Born in Srihail village of Sunamganj's Shalla on January 12, 1964, Mamun obtained honours and master's degrees from social science department of Chattogram University, according to Police News, news portal of PHQ.
He served different police units, peacekeeping missions, and at the PHQ in various positions.
Before becoming the Rab DG, Mamun served as the chief of the Criminal Investigation Department.
Newly appointed Rab DG Khurshid was born in Kashiani, Gopalganj.
Khurshid will retire on June 4 next year.