Muezzin's magic in ornamental fish farming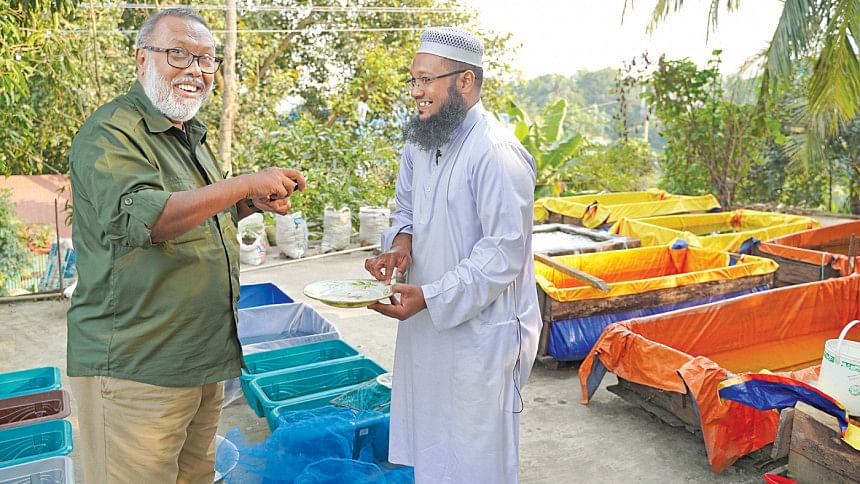 In the first week of January, I went to Narayanganj's Araihazar upazila, where fish farmer Mokbul Mollah is doing ornamental fish, also known as colourful fish, farming. Those who watch my television programmes may remember Mokbul, who started fish farming in the early 90s and changed his fortune at a young age. Having an experience of more than 25 years, he is going very well and has become a successful fish farmer. Mokbul has mastered the market need and demand by applying different methods of fish farming, though he remains quite busy with fish feed. Alongside Saifullah Gazi of Satkhira and Mridul Rahman of Rangpur, Mokbul is one of the pioneer ornamental fish farmers in Bangladesh. Now colourful fish farming is going on in ponds and even on the rooftops in different parts of the country. Even a small roof can be used for commercial and ornamental fish farming with little investment. 
Mokbul is cultivating ornamental fish in two ponds on five acres of land and earning a yearly Tk 18 lakh (About USD 21,000). Then, I talked to a man who was standing beside Mokbul's ornamental fish pond. I found the youth, aged around 26 years, to be very modest and wanted to know more about him. He is Zahidul Islam, a muezzin at a mosque in Rupganj upazila. Born in Barishal's Bhandaria upazila, he now lives in Pashchimgaon area in Rupganj, and started small-scale commercial fish farming on the roof of his rented house. I was curious to hear from him about his initiative and he gladly welcomed me when I wanted to visit his farm. I reached his house in half an hour. Agriculture has become universal and diversified, and Zahidul can be an excellent example of an agricultural entrepreneur. He has built a remarkable ornamental fish shade on his rooftop, which is absolutely a commercial venture. He is raising ornamental fish on a basin, using a wooden structure. He is also producing fingerlings of ornamental fish.
"My interest in farming was always there and when I saw your rooftop farming episode, I really got into this. And by watching Mridul's episode on ornamental fish, I thought why not start it on my rooftop," Zahidul said, adding that, "I got more and more interested to it as everything was happening so fast. Now I am doing well, if not that huge, but pretty well."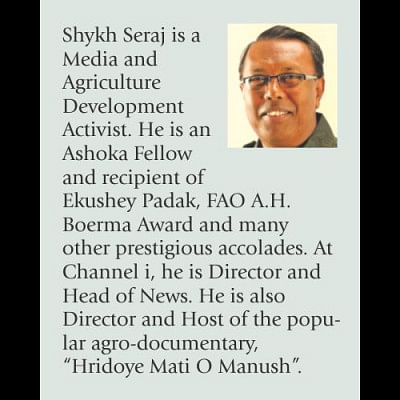 He has spent a total of Tk 10,000 (About USD 116) for seven basins, one of which is a concrete one. He has kept working so diligently with utmost devotion that he now can sell ornamental fish worth Tk 12,000 (About USD 139) every month. He wants to expand his farm as there is a huge demand for colourful fish, Zahidul said. Apart from his job as a muezzin, this extra money is really supporting his family. Zahidul showed me different fishes and said, "Each yellow Guppies cost Tk 50 (About USD 0.58), mixed Guppies Tk 100 (About USD 1.2) per piece, red Masco Tk 250 (About USD 2.9) each pair, and each pair red tail Platinum is Tk 300 (Abut USD 3.5)." I felt good to know that he has learned so much about the ornamental fish market by this time.
I was impressed by Zahidul's initiative, which can be called a cottage industry of ornamental fish. This initiative of his alternative financial resource is certainly commendable. An initiative that many can take with devotion. It is possible to bring commercial success in a short time and enrich the production of ornamental fish. Through this, the willingness to raise colourful fish at home can also increase as trading of ornamental fish will definitely increase in the near future.