Teen living in shelter for sex workers' children sits for SSC exams, makes his 'ammu' proud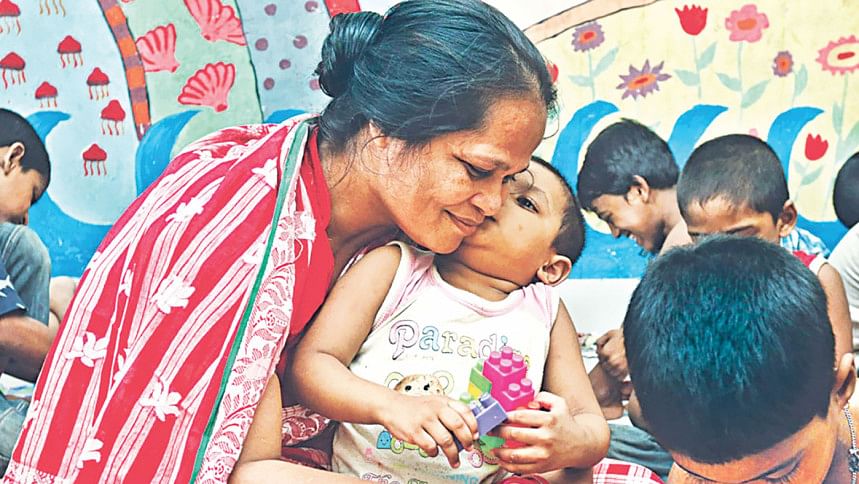 Hazera Begum never got married or had any biological children. Yet, she is the "ammu" (mother) to 40 children, who once struggled for their identities, for what their biological mothers do for a living.
Today, she is immensely proud as her 40 children are growing up  gradually, studying and crossing milestones one after another, and doing  great in life.
For instance, this year, one of her sons, Shimul* is appearing for the SSC exams from business studies. He was studying at a private school in Adabor.
One of her daughters, Falguni* has also started her undergraduate studies after passing the HSC exams this year. Another two children have just started eleventh grade, while a few have been studying in different schools in the capital.
Hazera, the founding president of "Shishuder Jonno Amra" (We are for the children), a shelter for the children of sex workers, started the organisation in 2010, initially with 25 children.
I don't have many wants. I just want to make sure my daughters never end up in the sex trade, while my boys live a life away from drugs and extortion.
Working as a sex worker in the brothels and on the streets until she was 23, Hazera started working with "Durjoy Shishu Nibash" run by CARE Bangladesh in 2000 for the children of sex workers.
In 2008, when the centre was closed due to a fund crisis, Hazera,  with her life-long savings and assistance from the humanitarian people,  started her shelter at Savar in 2010. It was later shifted to Adabar in 2011.
Shimul's mother brought him to "Durjoy Nibash" when he was around one and a half years old.
"I still remember, he was an underweight baby, all skin and bones, used to get sick all the time, and needed to be hospitalised on and off," said Hazera.
"His mother left him to me, as she was going through a tough time raising him. Her husband had left her. She wasn't being able to feed him well, and was mostly feeding rice water," recalled Hazera.
Shimul's mother had left her profession soon after we took his responsibility," she added.
"Doctors were available only once a month at Durjoy, so we had to take him to the Shishu hospital almost every week, wrapping him in a sari," she added.
When Durjoy was closed, he was with his mother for some days, but as soon as Hazera started Shishuder Jonno Amra, his mother sent him to Hazera's shelter again.
"I tried my best to look after this shy son of mine, provide him with proper education and tuition. Today, he's 16-year-old and has become a healthy boy," laughed Hazera.
"Shimul's mother, who currently works at an insurance company, comes to meet him once or twice a year. Shimul doesn't care about her mother's past (profession)," she added.
Shimul is the only SSC examinee at the shelter this year.
"So far, the exams went well. I'm hoping for the best," he said, adding, "Everything was possible for ammu." 
When asked about his aim in life, he said he wants to be a banker.
Although Hazera's finances never allowed her to complete her education, she always dreams that her children will be educated and live a life full of dignity.
Hazera has also been planning to involve her four sons to work, as they are comparatively older, and took vocational training.
At present, however, Hazera dreams of a permanent building for the shelter, as the number of children keeps increasing.
"My daughters are growing up, so I had to shift my older sons to different places. Some of them had to be returned to their mothers. But the kids want to be together," said Hazera.
"If we could have separate floors for boys and girls, it would be great," she added.
"Besides, I always wanted to turn my shelter into a home for underprivileged children, which won't be limited to the children of sex workers only," she said.
"I don't have many wants. I just want to make sure my daughters never end up in the sex trade, while my boys live a life away from drugs and extortion," Hazera added.
*Names of all the children have been changed to protect their privacy.