Killings of Journalists: Justice a mirage as impunity prevails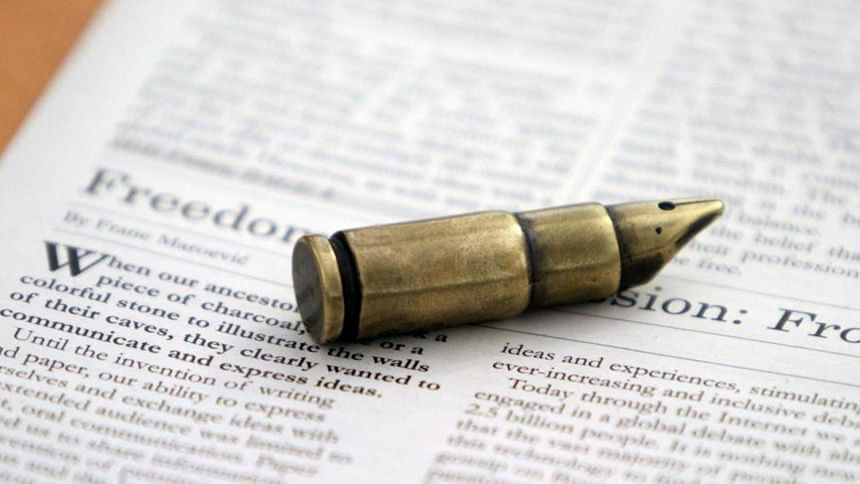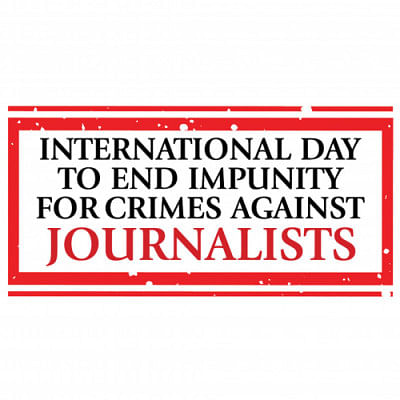 Some of them were murdered a decade ago, some in the early 2000s or even earlier. There is, however, a striking similarity: justice has not been done to them as impunity prevails. 
They are journalists killed for performing their duties.
In fact, in the last two and a half decades, cases filed over the murders of at least 13 journalists have apparently got lost in the annals of time.
The stories are the same for all of them -- investigations navigating through a labyrinthine judicial mess, never-ending probes and traceless culprits -- all in all, complete impunity.
The family members, in most of the cases, are the only ones seeking justice, but they feel frustrated and dejected.
"The government does not care about justice, that's all I can say," said an upset Bokul, brother of Shamsur Rahman, a former special correspondent of the Dainik Janakantha.
Shamsur was killed in 2000 in Jashore when two armed men entered his office and opened fire at point-blank range. The case has not been solved in the last 21 years, despite the fact that the Speedy Trial Tribunal of Khulna dealt with the case.
"The trial has not even begun yet," said Bokul, adding that it is because one of the accused got a stay order from the Appellate Division of the Supreme Court, halting the case proceedings.
Experts believe a culture of impunity for violence and killings of media workers remains a serious threat to press freedom and the people's access to information.
Since 1992, at least 23 journalists have been killed in Bangladesh, according to the Committee to Protect Journalists.
Verdicts have been delivered only in a few of the cases.
Against such a backdrop, the International Day to End Impunity for Crimes against Journalists, declared by the UN General Assembly, is being observed today.
In a statement issued on the occasion, UN Secretary-General Antonio Guterres said, "Impunity for killing journalists is extremely high. According to UNESCO, almost nine out of 10 cases go unpunished."
Over 1,200 journalists have been killed across the globe between 2006 and 2020 for reporting and bringing information to the public.
"Ending impunity for crimes against journalists is one of the most pressing issues to guarantee freedom of expression and access to information for all citizens," the UN secretary-general said in the statement issued yesterday.
NO PROGRESS IN MOST CASES
Among the journalists killed in the country, the murders of journalist couple Sagar Sarowar and Meherun Runi are much talked about.
Hours after the gruesome murders in 2012, the then home minister Sahara Khatun announced the killers would be arrested in 48 hours.
Nine years have passed, justice still remains a far cry for the couple's families. So far, investigators have been asked at least 82 times to submit the probe reports, but they could not make any headway in the sensational case.
Sagar, news editor at private TV channel Maasranga, and Runi, a senior reporter at ATN Bangla, were brutally murdered in the early hours of February 11, 2012, at their rented flat in the capital's West Rajabazar.
In the latest development, a High Court bench once again asked Rab to submit the probe report by November 24.
Talking to The Daily Star, Faruq Faisel, regional director of Article 19 of South Asia, called upon the government to investigate the case with utmost priority.
While Sagar and Runi became household names, a few might know that Dipankar Chaktraborty suffered a similar fate.
The editor of the Bogura-based daily the Durjoy Bangla and former vice-president of Bangladesh Federal Union of Journalists was hacked and decapitated on October 3, 2004.
At least nine investigation officers dealt with the case and the police submitted final reports at least four times, but the family declined all of them alleging that the actual culprits are not being charged.
Last month, Dipankar's son Aniruddha told a memorial, organised in his father's memory, that an accused in the Holey Artisan attack case, and four other dead men were named as his father's murderers.
Syed Farroque Ahmed of Sreemangal too is fading away from public memory.
"The murder case was filed by the police and they never pursued it," Sreemangal Press Club President Bishwajyoti Chowdhury told our Sylhet correspondent.
The editor of "Pubali Barta" was killed in a gruesome manner on August 3, 2002. His mutilated and dismembered body was found in a decomposed state by the police.
Reporters Without Borders said the body was found on rail tracks and that he had been missing for two months.
Mohammad Quamruzzaman, a reporter for "Neel Sagor" in Nilphamari, was shot dead on February 19, 1996.
According to documentation by the Committee to Protect Journalists, he "was fatally shot by security officers while covering their crackdown on a violent protest against election results".
No trial ever happened, reported our correspondent in the district, quoting family members.
On the other hand, the trial in the case over the murder of Saiful Alam Mukul, editor of the Jashore-based the Daily Runner, has been going on for 23 years. He was killed after a handmade bomb thrown at him exploded on the night of August 30, 1998.
The case was once thrown out by a court. The High Court then revived it in 2005, but to no avail.
"Former minister and BNP standing committee member Tariqul Islam was one of the accused. But then, one of the accused got a stay order from the High Court and the case has been at a stalemate ever since," said Jashore Press Club President SM Tauhidul Rahman.
Rangpur-based journalist Mashiur Rahman Utsho used to work at the Daily Juger Alo.
"It has been six years since he was killed, but not even his lawyer knows the case's status. I could not find the lawyer prosecuting his case, I could not find his case number at the court and nobody lets me know when the hearing dates are. I myself don't know what is happening at court," said his sister Morsheda Begum.
Utsho was hacked to death by a nexus of drug dealers.
While most might be racking their brains to remember all those whose pens were stopped decades ago, the murder of 21-year-old Ihsan Ibn Reza Fagun might still be raw in public memory, his name still cutting fresh wounds in the heart of his father, Kakon Reza.
Fagun was a sub-editor of Priyo.com and the trial of his murder is yet to begin.
His body was found beside the Jamalpur-Mymensingh highway on May 22, 2019.
"His shirt was tucked in, he was strangled, but they had taken away all of his identification documents. This was a planned murder, but the police have not been able to arrest four of the five accused. The main accused is still on the run. They are stalling the investigation," Kakon said.
CASES THROWN OUT OR ACCUSED ACQUITTED
Deceased journalist Nahor Ali's wife Asmani Begum did not even clearly remember when her husband's case was thrown out by the court.
"Let's see… he died in 2001, and the case went on for two years. But then there was this doctor who told the court that he died in an accident and so the case got disposed of," said Asmani.
"All four of his limbs were broken as 30-40 men attacked him. How could this have been an accident?"
The case of Sheikh Harunur Rashid who was shot at point-blank in his chest on March 2, 2002, was dismissed in court, while that of Shukur Hossain, also shot, saw no convictions.
Cases of only four journalists could be tracked as having received some form of justice -- and that came after many excruciating years.
Humayun Kabir Balu, editor of the Daily Janmabhumi, was killed in 2004. His family received a verdict only this year.
Again, it took 13 years for the court to deliver a verdict in the case over the murder of Manik Chandra Saha, Ekushey Padak winning journalist of the New Age.
This trend bears bleak tidings for the family of journalist Borhanuddin Muzakkir who was shot dead during clashes between two groups of Awami League men on February 19 this year.
According to our correspondents' reports, 24 people have been arrested so far, but the pattern of yesteryears begs the question: Will Muzakkir ever get justice?
When the court read out verdicts over the murders of Faisal Arefin Dipan, Avijit Roy and Xulhaz Mannan this year, the esteemed judges made a common observation in all three cases -- They were killed for having the audacity to exercise their freedom of expression.
What the court pointed out is this -- when all is stripped away, the crux of the conclusion is that journalists are killed for speaking truth to power. Impunity for those killers only serves to mask the truth.
[Our district correspondents contributed to this report]