Lamiya, a proud part of NASA's James Webb Space Telescope team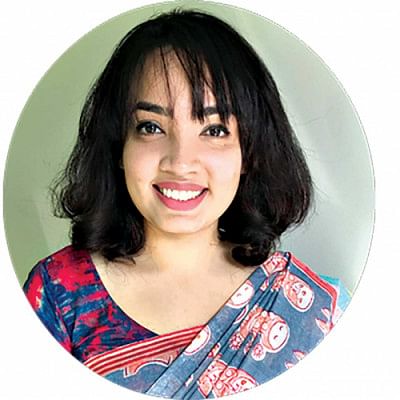 Lamiya Ashraf Mowla, a Bangladeshi-born astrophysicist, is a proud part of NASA's James Webb Space Telescope team.
The telescope yesterday produced the deepest and sharpest image of the universe to date.
The image of far-flung galaxies as they were 13 billion years ago promises to reshape our understanding of the dawn of the universe. 
US President Joe Biden, who unveiled the image at a White House event, called the moment "historic" and said it provided "a new window into the history of our universe".
Lamiya is one of the over 1,000 astronomers working with the James Webb Space Telescope (JWST) project. 
"This joy is incomparable and I cannot be happier. We will now start analysing the data to find more details of the galaxies as more pictures will be released soon," she told The Daily Star over the phone yesterday.  
Lamiya has been working with the Canadian team on the JWST since 2020.
"I have developed the analysis pipeline to study the structures of the galaxies," she said while explaining her role in the project.   
A graduate in astrophysics from Wellesley College, Lamiya completed her PhD from Yale University before working with Dunlap Institute for Astronomy and Astrophysics in Canada as a fellow in 2020. 
The young scientist said she initially planned a different career path for herself, but everything changed with one single telescope. 
"I was admitted to Wellesley College and in the very first semester, I found a telescope on campus. The moment I put my eye on that telescope, [I knew] my destiny changed forever."
Lamiya completed her O and A level exams from Willes Little Flower School and College. She then flew to the USA to major in neuroscience.
"I wanted to study neuroscience because I was curious to know how the brain works," she said.
"[But] I always looked for logic, and physics is all about logic." 
Asked whether other Bangladeshis are involved in the team, she said, "In the 15-member Canadian team, I am the only Bangladeshi. But some 1,000 astronomers [from different countries] are working on the project. I would be surprised if I don't find any other Bangladeshi."
As a scientist, she said Bangladeshi students should give more emphasis on research and practical knowledge.
"We stress on learning by rote, which is dangerous. We have to come out of this practice. Universities should stress on research and the government must come forward to create scope for it." 
She further said students should be encouraged to ask questions. "The more questions they ask, the more they will learn." 
Lamiya said she had been trying to bring some small telescopes to a private university in Bangladesh but could not due to "red tape". 
"The government should create an environment so that this sort of assistance can be easily accessible in Bangladesh. If the government creates an environment that promotes research, students would not leave the country." 
Regarding women in science, she said Bangladeshi female students are ready to take up the challenge. 
"I am very proud of female students of the country. What our country needs is an environment conducive enough for them to flourish."
She credited her mother for her long journey. 
"My mother is my inspiration and nothing could have been achieved without her support."