Mystic images of the universe unveiled by James Webb Space Telescope
See the birth and death of stars and groupings of galaxies in this new batch of images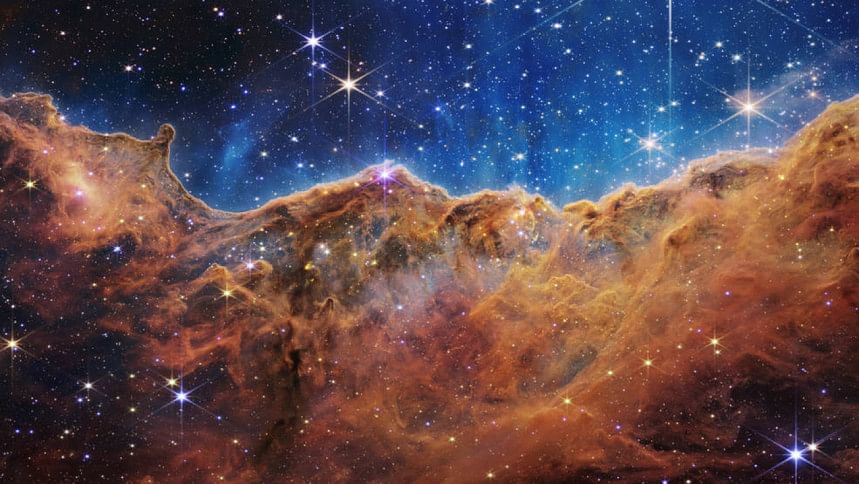 NASA has recently unveiled a new batch of full-colour images taken by the largest and most powerful space telescope, James Webb Space Telescope.
These images primarily consist of Stephen Quintet, a group of five galaxies; NGC 3324, a star-forming region in the Carina Nebula; NGC 3132 or Southern Ring Nebula, a planetary nebula of dying stars; and new details about the exoplanet WASP-96 b in the most detailed exoplanet spectrum to date. 
Stephan's Quintet
This image shows previously unseen details of the group of five galaxies known as Stephan's Quintet. 
Covering one-fifth of the moon's diameter, this is the largest photo compiled by James Webb as of yet. 
This mosaic image consists of over 150 million pixels from nearly 1,000 image files attached together - forming one giant look into this galactic grouping. 
The grouping of these five galaxies shed light on how interaction between galaxies lead to formation of new stars. Now, scientists can also find new information on how gas is distributed in distant galaxies.
NASA claims that this image further shows "outflows driven by a black hole in Stephan's Quintet in a level of detail never seen before". 
According to the official report by the company, closely connected groups of galaxies such as these were more common back when the universe was in its early stages. The excessive amount of heat generated among interplanetary bodies likely fueled powerful black holes back then.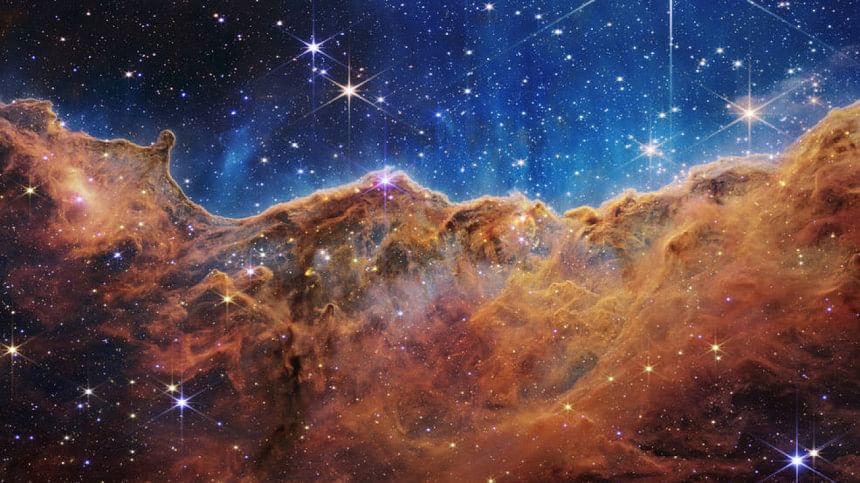 NGC 3323 - Carina Nebula
This image shows the edge of a young star-forming region named NGC 3323, situated in the Carina Nebula. James Webb's NIRCam was successful in detecting never-before-seen regions of star birth.
The tallest peaks of these "valleys" of glittering stars, aptly named the Cosmic Cliffs, are about 7-light years high. 
According to NASA, this "mountainous" area was shaped from the nebula by ultraviolet radiation and stellar winds from massive, hot young stars located in the centre of the bubble - which is situated above the area shown in this image. 
This glittering landscape of star birth showcases James Webb's ability to see through cosmic dust and detect rapid phases of star formation that are otherwise near impossible to capture.
Taking such an image was possible due to Webb's "extreme sensitivity, spatial resolution and imaging capability".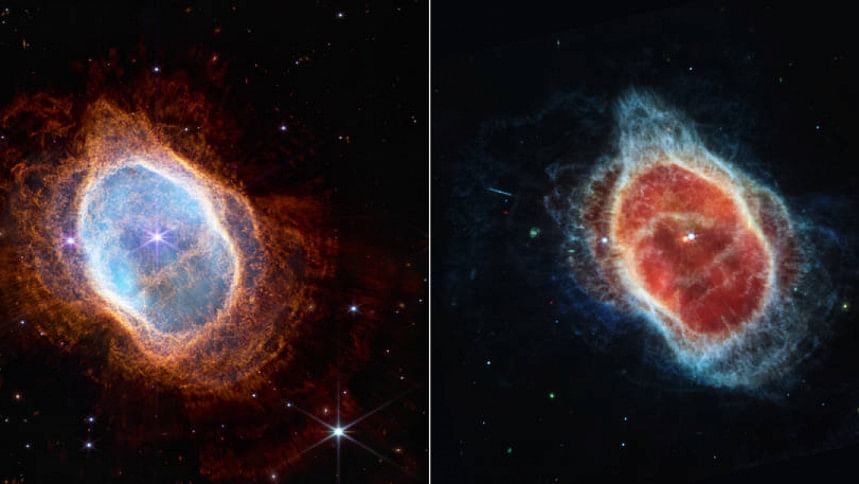 NGC 3132 / Southern Ring Nebula
Taken by two cameras aboard James Webb, this image shows a planetary nebula named NGC 3132, also known as the Southern Ring Nebula. 
Situated approximately 2,500 light-years away from Earth, this nebula consists of gas and dust, with the dimmer star at its centre sending out rings of particles in all directions for thousands of years. 
Thanks to James Webb, we now have a more detailed look of the Southern Ring Nebula and how it is covered in shells of gas and dust that were released from dying stars. 
This image also shows a large number of distant galaxies in the background. According to NASA, most of the multi-coloured points of light in this image are indeed distant galaxies.
NASA hopes to find further information on the birth, death and transformation of stars following these images.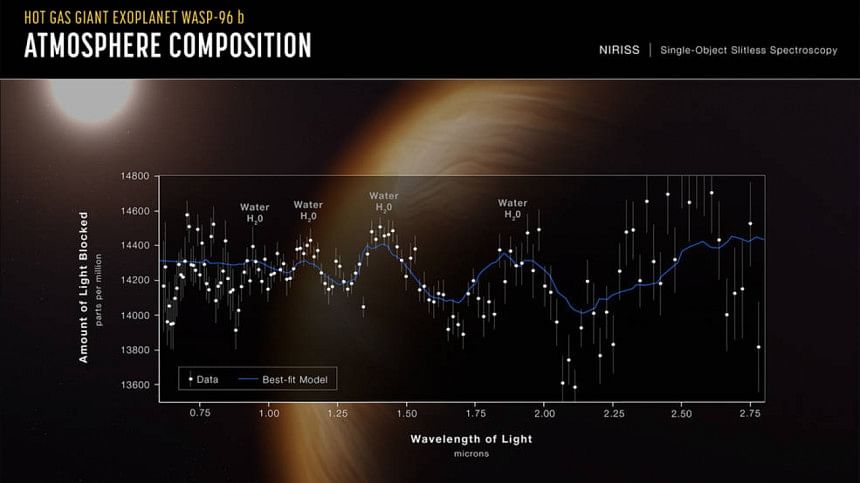 WASP-96 b
This image shows detailed measurement of starlight filtering through the atmosphere of a giant hot and puffy gaseous exoplanet called WASP -96 b, situated outside our solar system. 
This spectrum of light contains information regarding the constitution of a planetary atmosphere 1,150 light years away from us.
Interestingly, this atmosphere also shows a distinct signature of water. NASA is hopeful of finding potentially habitable planets in the near future.
NASA states that this observation reveals "the presence of specific gas molecules based on tiny decreases in the brightness of precise colours of light". 
James Webb has also been able to find traces of haze and clouds that were previously undetected on this exoplanet. 
To note, the Hubble Space Telescope has been able to analyse a number of exoplanet atmospheres in the past two decades. It was also successful in the first detection of exoplanetary water in 2013. However, James Webb's more detailed observation has unveiled even more in a much lesser time span.
With these discoveries, NASA plans on sharing new information regarding interplantery bodies and star formation in the coming days.