Boro Katra, Chhoto Katra: Dhaka's key historic sites in ruins
We have been demanding government's effective measures to evict illegal occupiers and preserve the two ancient structures. But no visible steps have been taken so far.
Dhaka city's two ancient structures -- Boro Katra and Chhoto Katra -- are at the verge of extinction due to rampant encroachment in absence of government measures to preserve those.
The situation has turned so worse that now the establishments are almost invisible from a short distance, as several other concrete structures have been erected.
The occupiers now claim ownership of the ancient establishments and its adjacent lands, though historians and researchers refuted their claim.
The establishments are Waqf estates, which are owned by the government. The occupiers have encroached the area illegally over the years, said researchers.
Now, the government bodies concerned are saying that they are planning to acquire the lands to protect the establishments.
Boro Katra was built during the regime of Mughal prince Shah Shuja, and Chhoto Katra was constructed by Mughal Subahdar Shaista Khan.
The Department of Archaeology on December 21, 1989, announced the structures as "Protected Archaeological Site".
In 2020, Rajuk declared the two structures as "Traditional Special Establishments".
The existing rules prohibit any kind of expansion, exclusion and change of such archaeological sites. Even, no permanent establishment can be constructed on their premises or adjacent areas.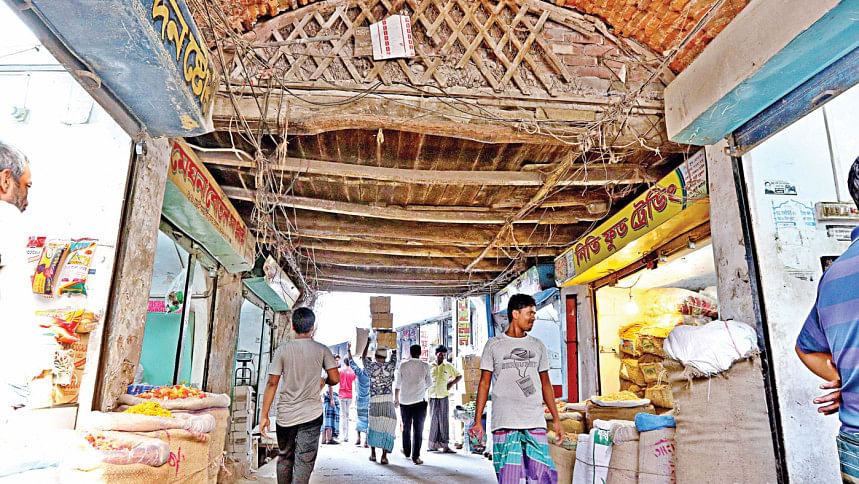 However, defying the rules, occupiers have constructed many structures inside the premises of the two establishments and its adjacent lands.
Researchers said Boro Katra and Chhoto Katra are parts of national history, culture and archaeology. So, the government must take steps to protect them.
There are four historical palaces on the bank of the Buriganga river.
Ahsan Manzil, which was built by Nawab Khwaja Abdul Ghani in 1872 for the family's official residence and zamindar office. The government in 1992 took over the palace and made into a museum.
Another palace, Ruplal House, was built during the era of East India Company. Recently, Dhaka South City Corporation (DSCC) took initiative for its maintenance.
The rest two are Boro Katra and Chhoto Katra, which are decaying day by day, as the government is yet to take any steps to preserve them.
Multiple palaces were constructed on the bank of Buriganga during Mughal and Nawabi era. But most have already been obliterated, according to historians. 
Some of those historical structures are the palace of Subahdar Islam Khan at Islampur, the palace of Subahdar Shaista Khan at Mitford Hospital area, the palace of Fakhrul Shiar at Lalbagh's Posta area and the palace of Nawab Hossain Uddin Khan in Nawabganj area.
"Katra" is a Persian word that means caravanserai or roadside inn. Multiple katra were constructed during Mughal and Nawabi era in Dhaka. Of these, Boro Katra and Chhoto Katra are mentionable, according to historians.
Boro Katra is located at a point in between Buriganga river and Chawkbazar. Mughal prince Shah Shuja constructed it for his official residence. After construction, the prince did not want to use it as residence, which is why the palace had turned into an inn.
Within a gap of around one and half years, Subahdar Shaista Khan constructed Chhoto Katra in Swarighat area of Chawkbazar.
Chhoto Katra's structural design was almost similar to Boro Katra, said architect Prof Abu Sayeed M Ahmed.
During a recent visit there, it was seen that some parts of this palace have already faded away with time, while another large part was illegally occupied. Local traders have set up multiple concrete structures inside the premises.
Both Boro Katra and Chhoto Katra are located under Ward-30 of DSCC.
Talking to The Daily Star, the ward's councillor Mohammad Erfan Salim claimed that neither Boro Katra nor Chhoto Katra are heritage buildings, rather those are private properties.
The two  buildings have many parts. Each of them has separate owners. Even, several clashes took place in the past, following feuds over ownership.
If the government wants to preserve the buildings, it must conduct thorough land survey in this area and must have court's verdict, he said.
However, historian Prof Muntassir Mamoon claimed that Boro Katra and Chhoto Katra are Waqf estates and none can claim ownership of such properties.
"We have been demanding government's effective measures to evict illegal occupiers and preserve the two ancient structures. But no visible steps have been taken so far," he said.
Researcher Hashem Sufi said at least 250 people have kept Boro Katra and Chhoto Katra occupied and are now claiming ownership of its different parts.
The government should follow strategies applied in the case of preserving Ahsan Manzil.
Firstly, the government must acquire Boro Katra and Chhoto Katra by paying due money to the occupiers. After making it vacant, the government should initiate renovation works for preserving it, said Sufi.
Contacted, State Minister for Cultural Affairs KM Khalid said they have plans to preserve Boro Katra and Chhoto Katra. But he could not give details as to when and how the work will proceed.
Rakhi Roy, Dhaka regional director of Department of Archaeology, said they have already taken initiative to relocate those who are staying there, and to acquire the land.
Then, measures will be taken to renovate and preserve the structures, she added. However, she also could not give any time-frame of when the works would start.
Contacted, Rajuk Chairman ABM Amin Ullah Nuri said he would look into the matter immediately and take necessary measures.
DSCC Mayor Sheikh Fazle Noor Taposh could not be contacted over phone, despite repeated attempts.
[Tarun Sarkar is a freelance journalist and researcher]