C-section deliveries: Eightfold increase in 14 years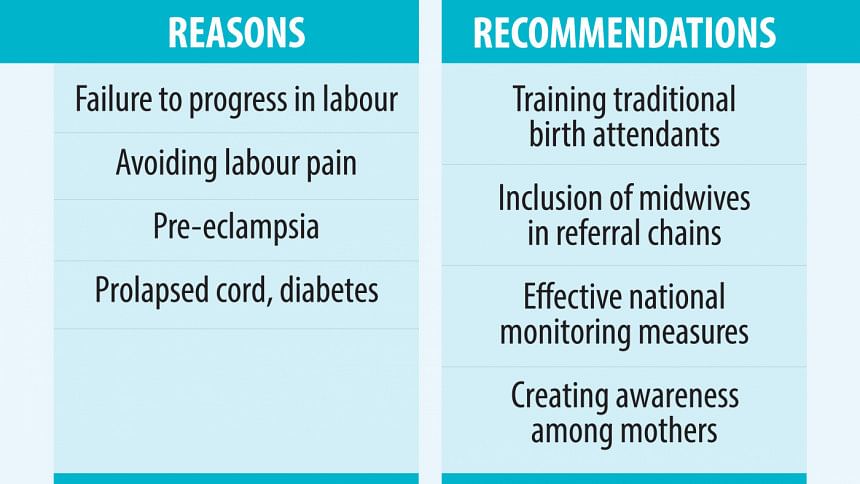 The rate of caesarian deliveries has increased almost eight-fold in Bangladesh. In 2004, the rate stood at four percent. However, a recent analysis revealed that the rate was found to be 33 percent in 2017-18.
World Health Organization's recommendations suggest the rate should not cross 15 percent of the total birth deliveries.
Dr Md Abdur Razzaque Sarker, research fellow, Bangladesh Institute of Development Studies (BIDS), presented the analysis, titled "Massive boom of Cesarean delivery (C-section) in Bangladesh: A household level analysis (2004-2018)", at a seminar organised by BIDS at its conference centre yesterday.
He analysed the data from the five most recent Bangladesh Demographic and Health Surveys (BDHS) from 2004 and 2018.
Bangladesh exceeds the standards set by its neighbours as well, in this regard. The rate of caesarean delivery was found to be 22 percent in India (2019-2021), 22 percent in Pakistan (2017-2018), 16 percent in Nepal (2016) and 17 percent in Myanmar (2015-16).
Although C-sections are a regular occurrence among Bangladeshi urban mothers (12 percent in 2004 and 44 percent in 2017-18), rural mothers have also been increasingly availing this service.
In 2004, only two percent of rural women gave birth through C-sections, which jumped to 29 percent in 2017-18, The annual increase of the rate stood at 21 percent with rural mothers, while for urban mothers, it stood at 10 percent.
The percentage is higher in private and NGO-based facilities, at 83.70 and 43.90 percent respectively, compared to public facilities.
A total of 27,328 ever-married women aged 15 to 49 years, who had a live birth in the two years preceding the survey were included in the study.
The interviewed women reported malpresentation, failure to progress in labour, convenience, avoiding labour pain, pre-eclampsia, prolapsed cord, diabetes and a few other factors, for which they choose to go for the caesarian section.
Dr Razzaque also analysed the overall out-of-pocket cost for C-section delivery, which was found to be Tk 20,000 in Bangladesh.
"The average out-of-pocket cost of C-section delivery was highest in private facilities (Tk 21,506) than public facilities (Tk 13,622), while about Tk 16,860 was needed for those who received the services from NGO facilities," he said.
Mothers with obesity were almost three times more likely to have a C-section than those women of normal weight.
On the other hand, mothers who had optimal antenatal care visits (4 and above) were 6.91 times more likely to avail of C-section deliveries, than mothers who had none.
In addition, mothers with stronger educational backgrounds were 2.87 times more likely to have C-section deliveries, compared to mothers with no formal education.
Mothers from a higher-income background were also found to be more likely to avail of C-section services compared to those belonging to lower-income groups.
According to Dr Razzaque, the authorities should implement effective national monitoring measures to put restrictions on the rising number of caesarean deliveries.
Naripokkho founding member Shireen Huq also joined the seminar virtually and suggested that the training for the traditional birth attendants or midwives should be resumed and they must be included in the referral chain.
According to Shireen, the idea of 100 percent institutional delivery is a wrong move from the government, which was influenced by international organisations.
"It resulted in the exclusion of trained midwives from the referral chain," she added.
BIDS Director General Dr Binayak Sen moderated the seminar and highlighted the importance to find out if the increase in C-section deliveries in private facilities is a result of malpractice or not, through the study.
"The media can also play an important role in creating awareness among women so that before the delivery, they can decide whether they actually require the caesarean section or not," he added.