Digital birth registration: New system brings forth new hassles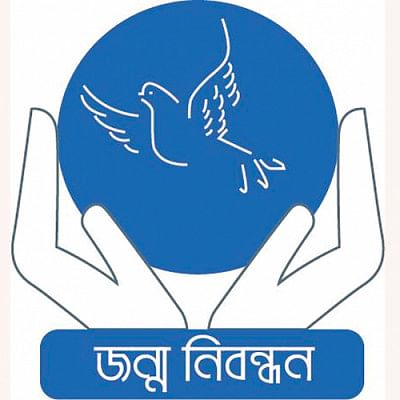 If you don't have a 17-digit birth registration certificate, get ready for a complex and stressful task to obtain one.
You just cannot do without it because having this certificate is now mandatory for every individual to be entitled for over a dozen citizen services.
Sharmin Islam and her husband have 16-digit certificates. But when Sharmin tried to fill in an application form online for her daughter's birth certificate last month, their numbers were not accepted as the valid ones must be of 17 digits.
She needed the certificate to get her daughter admitted to a school.
"No educational institution will enroll my daughter without a birth registration certificate. Now, my husband and I are desperately trying to get our birth registration certificates. Having those is a prerequisite for getting our daughter's certificate," Sharmin told The Daily Star recently.
The government made registration of birth online mandatory since January 1 last year to avail 18 citizen services, including enrolment in educational institutions, registration for secondary school certificate exams, applying for passport, and driving licence.
Besides, children aged 12 and above, who are entitled to Covid-19 vaccine, also require a digital birth registration certificate.
However, thousands of people like Sharmin are suffering delays due to the slow and complicated delivery process of the vital document.
"The new application system has been designed in a way that it will not accept any birth registration number which is less than 17 digits," said Sharmin.
She alleged that a group of opportunist staffers are profiting from this chaotic situation.
The birth register portal now logs around one lakh applications every day.
Visiting some regional offices of Dhaka north and south city corporations recently, this correspondent found many brokers promising people prompt delivery of the certificate in exchange for money.
In front of Khilgaon regional office of Dhaka South City Corporation (DSCC), a city resident gave Tk 7,000 to a middleman to get three birth certificates within a week.
"If you don't use these brokers, the city corporation staffers would ask for a lot of documents and find 'errors' in all those. To avoid such harassment, I had to spend the money," he said requesting anonymity.
The certificate delivery receipt mentions a date 15 days from submitting of related documents. But people have to wait for over a month to get it.
The application process to get a 17-digit certificate is so complex that many often make mistakes and are compelled to go for a time-consuming and expensive correction procedure.
For instance, rickshaw puller Abdul Gafur from Rayer Bazaar slum cannot apply for his certificate as staffers refused to accept "slum area" as a permanent address.
"According to my national ID card, my permanent address is 15, Madhubazar [Rayer Bazaar slum]. But they asked me to go to my village and get a citizenship certificate from the local union parishad," said Gafur while waiting in front of the DSCC zonal office in Azimpur.
He said his village in Kurigram's Razibpur union was devoured by the Brahmaputra due to erosion in the river a long ago.
"I have been living in the capital's Madhubazar area for nearly two decades. All my children are born here. It's ridiculous that I cannot get my birth certificate just for my address despite having my NID," added Gafur.
Banesa Begum produced her citizenship certificate. But her application was rejected on the ground that the citizenship certificate did not mention her husband's name.
Like Gafur, she was also asked to go back to her village and get that document corrected.
"I produced my NID card which has my husband's name printed in it but they did not accept it. They said I must have the citizenship certificate corrected to get a birth certificate," said Banesa.
Correcting information in the birth certificate is even more complicated.
Touhid Ur Rahman, a private company employee, wanted to correct her daughter's date of birth. But officials refused to comply saying that the correction option in the server was disabled at that moment (last month).
He then filed an application with the Dhaka district commissioner's office stating that he wanted to cancel his daughter's birth registration and file an application for a new one.
"Almost a month has passed since then, but I'm yet to get any response. The delay is putting my daughter's admission to a school in jeopardy," said Rahman.
Shahadat Hossain (not his real name) and his wife applied for birth registration certificates at the DNCC zonal office at Karwan Bazar a couple of months ago. They refused to hire a broker and completed their applications diligently.
On the delivery date, Shahadat noticed that his mother's name was wrongly spelt in the printed certificate although the spelling was correct online.
In her wife's certificate, the name of her mother was wrongly spelt both in print and online.
"I think they misspelled the names deliberately as we followed the due process without hiring a broker. Now we shall have to face difficulties to get those names corrected."
Md Mahbubul Alam, councillor of DSCC ward-1, said hundreds of people apply for birth registration certificates in his ward every day as there were several renowned educational institutions in Khilgaon area.
"They are suffering gravely because of a lack of coordination between city corporation officials and the office of the registrar general of birth and death registration."
Md Sajjad Hossain, councillor of DNCC ward-2, echoed Mahbubul's views.
Mustakim Billah Faruqui, immediate past registrar general, said they were receiving at least 100,000 applications for birth registration every day.
"We cannot deny that people are facing some difficulties as many of them have to apply for birth registration online despite having certificates prepared manually. But once the online registration is done, the entire nation will benefit. This would enable us to deliver all types of citizen services quickly and efficiently. So, we should encourage our citizens to apply for the digital birth registration certificate as soon as possible," he said.
"Birth registration is the vital legal step to identify a citizen's name and nationality. It is the first recognition from the state which certifies that this child is our citizen. We are asking all to complete birth registration immediately after the birth of a child," said Mustakim.
Regarding lengthy, complicated process, the former registrar general said their manpower was very limited. "We are trying to involve public representatives in the process to speed it up. We are hoping that the situation will be stable within next six months."
Denying allegations of irregularities, he said since applications are filed online and people need to submit some documents, there is no scope of irregularities.