Nightmare on Rokeya Sarani: Poor maintenance, construction to blame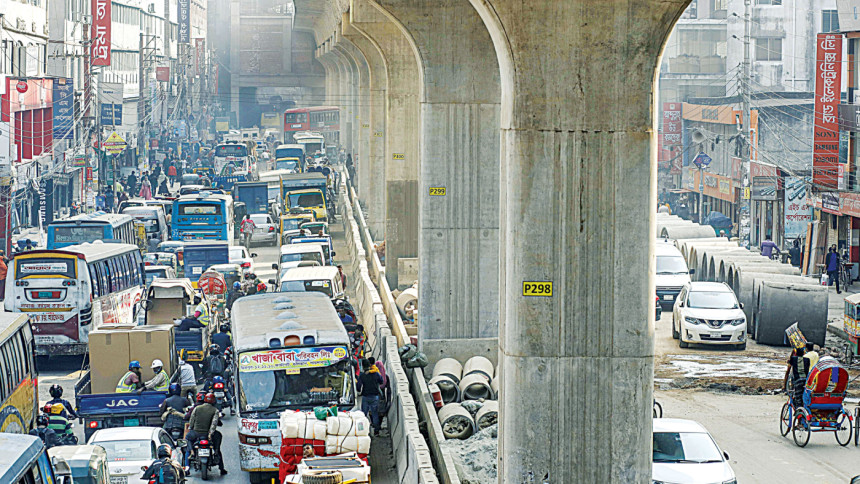 Large potholes, contraflow lanes, overflowing drains and long tailbacks make the commute through the capital's Begum Rokeya Sarani an exercise in patience.
The situation has been more or less the same since the construction of metro rail began in 2016.
On rainy days, the large potholes get covered in muddy water, making it harder for motorists to avoid them.
The authorities do not seem too keen on repairing the road. Besides, no traffic police can be seen on the road between Mirpur 10 and Agargaon most of the time.
For the last couple of months, long tailbacks are often caused by the around one-and-a-half kilometer contraflow between Taltola and Kazipara. Sometimes it takes over half an hour to travel the distance in a vehicle.
The absence of traffic police means vehicles and rickshaws park on the road and buses pick up and drop passengers completely blocking traffic flow.
"The number of trips we could make have halved, thanks to the state of Rokeya Sarani," said Jibon, driver of a Mirpur Link Paribahan bus.
Hasan, driver of a Bikalpa Paribahan bus, said the road wouldn't be in this state if VIPs were using it.
DNCC and Metro rail are pointing fingers at each other.
Shawkat Mahmud, superintendent engineer of Drainage circle of Dhaka North City Corporation, said the metro rail authority requested the corporation not to work on its underground sewer pipes.
Asked why the city corporation does not repair the road in places where it is done working on the drainage, Shawkat said he is taking note of the issue and will take necessary measures.
MAN Siddique, managing director of Dhaka Mass Transit Company Limited which is implementing the Metro Rail project, said he had received complaints from the mayor of DNCC.
He said, "At this moment, the city corporation is not allowing us to do any work on the road. After the corporation finishes the work we will fix it."
Asked why they do not repair the road where the city corporation is not working, MAN Siddique said, "I will order repairs if any potholes are found on the road where the city corporation is not working."