Blogging in Bangladesh: Caught between a rock and a hard place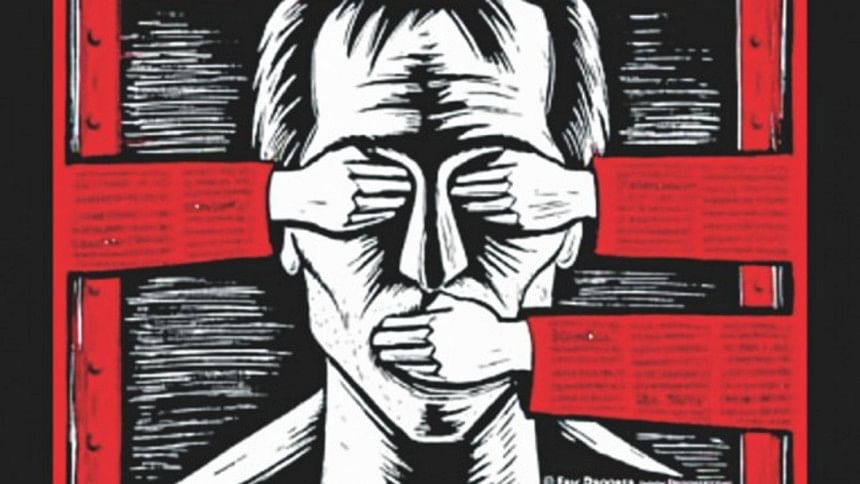 Rajesh Paul no longer writes blogs like he used to even four years ago.
An active blogger for more than 15 years, he would write on socio-political and historical issues in several Bangla blogs including his own, arguing against prejudice and religious intolerance with an intention to intellectually engage and persuade.
But things started to change in 2013 when a spate of fatal attacks and killings of secular bloggers and online activists prompted most of the bloggers like Rajesh to steer away from writing on "sensitive issues". He too came under attack twice, but he narrowly managed to survive.
The gaps between his blog posts began to lengthen. Before he could get back to his previous rhythm, there came the amendment of the Information and Communication Technology (ICT) Act, which was being widely used to persecute and harass critical writers, bloggers and journalists.
"On one hand, there was a fear of being the target of machete attacks while there were laws like the ICT Act. We were sandwiched in between. So, I had to stop blogging the way I used to because I have a family and I need to go out of home," Rajesh told The Daily Star.
He said many of the bloggers left the country after the attacks targeting bloggers and freethinkers, while others either stopped writing or reduced the number of write-ups out of fear either of getting killed or being in prison.
The situation has changed over the years as incidents of attacks and killings of freethinkers and bloggers by suspected Islamic militants have decreased significantly thanks to anti-militant crackdowns by the law enforcing agencies. However, bloggers fear that the space for freedom of expression has been shrunk due to various legislations like the Digital Security Act.
Bangla blogging is relatively new in Bangladesh with the first Bangla language community blog site named 'somewhereinblog' established in 2005. More platforms came up after some Bangla-speaking youths worked together virtually from different parts of the world to develop Bangla input systems, Bangla fonts and phonetic Bangla keyboards, making it easier for Internet users to blog in Bangla.
From 2005 onwards till 2013, the blogosphere in Bangladesh became vibrant as many started writing on socio-political analyses, beliefs, history of anti-liberation forces, civil rights, and social justice, or simply jotting down their own thoughts and personal stories. Bloggers chose the blog as a platform to practise freedom of speech.
Then came 2013, the year when people of the country saw arguably the most significant outcome of blog-centric activism. It was the time when a small group of secular bloggers and online activists acted as the key drivers of a massive protest movement -- the Shahbagh Movement -- demanding death penalties for war criminals of the 1971 Liberation War and an outright ban on religious politics.
Sadly, it was also the year when bloggers were targeted in massive hate campaigns, jailed and even killed. To fight back, the Islamist parties resorted to counter-demonstrations and thereby begun a systematic campaign to malign and brand the key bloggers as anti-Muslim and atheists. What followed were attacks and killings by machete-wielding militants with a motive, as police investigation revealed, to muzzle their secular voice and freethinking.
At least 10 freethinkers, bloggers and LGBT activists were killed across the country. However, none of the families of those killed have gotten complete justice. Of the cases, the trial courts concerned have so far delivered judgements in cases filed for killing six bloggers, while the High Court gave verdict in one case. Trial proceedings of the remaining three murder cases are now with the lower courts.
Bloggers and activists said the state did not take adequate measures after the killings, and therefore many bloggers left the country, feeling threatened.
"It was a frightening time for us. Just think about our situation -- our write-ups were getting us killed. Many bloggers took a pause while some left the country for safety," said Rajesh.
Echoing a similar view, Omi Rahman Pial, a secular blogger, said the purpose of those killings were to inflict fear among bloggers and activists and to stop the Shahbagh Movement. Unfortunately, the evil forces succeeded in doing so, he said.
He also said the families of the bloggers and freethinkers who were killed are yet to get justice because the trial processes are moving slowly.
"We even have to see with surprise that some accused in the blogger murder case escaped from the court. So, it is quite clear that the issue of attacks and murders of bloggers and justice has not been the government's priority," Pial added.
Although the murders and the delays in the trial process frustrated the bloggers, they are equally worried over the shrinking space for freedom of expression in Bangladesh due to various legislations like the ICT Act and the Digital Security Act.
Since its enactment in 2006, there were no charges under Section 57 of the ICT Act until 2013, when four bloggers were arrested for alleged incitement of religious hatred. Amended in October 2013, the law was widely used to arrest and prosecute individuals for expressing their views online.
In the face of severe criticism, the government in 2017 announced that Section 57 would be removed as a new Digital Security Act (DSA) was in the pipeline. And the DSA also faced opposition before it was passed in parliament in 2018 with human rights activists and organisations and journalists criticising it as a threat to freedom of expression. The DSA has served as a weapon for the government and ruling partymen to muzzle critics and stymie their freedom of expression, especially in the cyberspace.
The killing of several bloggers and the subsequent restriction imposed on writing shrunk the space for freedom of expression, bloggers said.
Besides, the government blocked several blog sites in the face of controversy in Bangladesh, which also had an impact.
Arif Jebtik, a former blogger, said that during the Shahbagh Movement in 2013, many realised that the youth in the country have huge power, and they could unitedly organise and lead a movement through writing on the internet.
But two things happened then -- fundamentalists sought to suppress bloggers by killing, attacking or threatening them while the government, instead of protecting the bloggers, formulated laws with an attempt to prevent them from writing.
"On one hand, bloggers were arrested arbitrarily while laws were enacted on the other. Moreover, the government did not take any action to stop the attacks on the bloggers and freethinkers, which eventually encouraged the fundamentalists," he said.
"These factors literally destroyed the Bangla blogging community. A huge number of Bangla community bloggers have left the country and those who stayed back resorted to self-censorship and do not write blogs," Arif said.
"The vacuum that was created due to bloggers leaving the country could be filled by next generation bloggers. But they are not encouraged in blogging due to a sense of insecurity and various laws," he added.
[This reporting has been supported by the International Press Institute's project on fighting attacks on journalists in South Asia]