Ban on single-use plastic: No visible step to enforce HC order
Microplastics enter food chain, put consumers' health at risk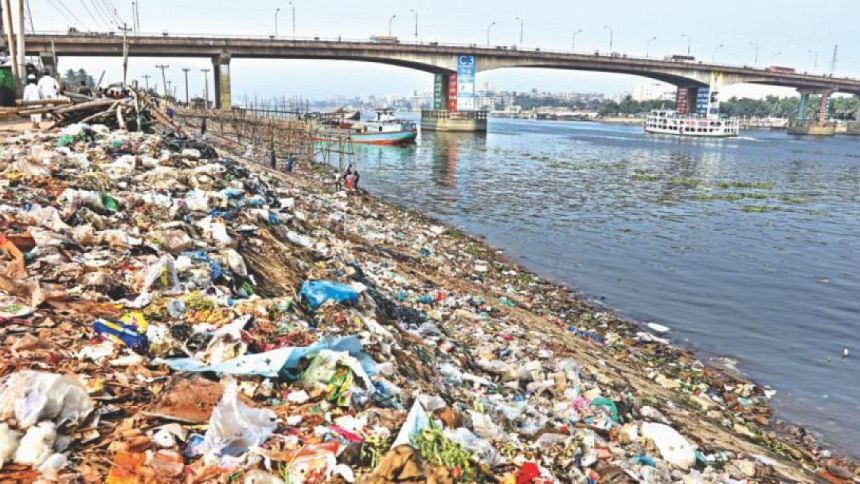 Three and a half years into the High Court order to ban single-use plastic products in the coastal districts, there has been no visible progress towards implementation.
Every day large quantities of single-use plastic items are released into the rivers or dumped along the shorelines, which eventually flow into the Bay of Bengal.
Scientists and environmental activists say that single-use plastic items, when released into the rivers or the sea, affects biodiversity and hurt the fish and mammal populations, and all marine life.
The HC order, issued in January 2020 in response to a writ petition filed by Bangladesh Environment Lawyers Association (BELA), tasked the Department of Environment with enforcing the ban by 2021.
The government department in 2021 launched a three-year project through a gazette notification to phase out single-use plastic items in 12 coastal districts (Bagerhat, Barguna, Bhola, Chattogram, Cox's Bazar, Feni, Khulna, Lakkhipur, Noakhali, Patuakhali, Pirojpur and Satkhira) and eight areas of Chattogram.
"Apparently the Department of Environment has issued the notification just to avoid being held in contempt of court. But practically nothing has happened in the field," BELA Chief Executive Syeda Rizwana Hasan told The Daily Star.
Controlling the use of single-use plastic and managing the plastic waste properly is the only solution, said Ahmad Kamruzzaman Majumder, dean at the faculty of science, Stamford University Bangladesh.
"The government has to implement the High Court order properly," he said.
If plastic items go into the rivers and the sea, Majumder stressed, they may turn into microplastics, which eventually enter the food chain, putting consumers' health at high risk.
Even if it does not flow into the waters, it will pollute the soil, hamper the growth of plants and resist water recharging of the ground water, he added.
According to a World Bank study, Bangladesh's annual per capita plastic consumption in urban areas tripled to 9.0 kg in 2020 from 3.0 kg in 2005.
Consumption of packaging materials (plastic bags, etc.) increased fivefold from 2005 to 2020. Only 31 percent of 977,000 tonnes of plastic, consumed in 2020, were recycled. Single-use plastic items like shopping bags and wrappers are more mismanaged than other plastic items, says the WB study published in 2021.
Single-use plastic items pile up on coastlines and cram canals in Chattogram, Patuakhali, Khulna and Cox's Bazar.
The Chaktai canal in Chattogram has been choked by many types of single-use plastic packets, water and soft drink bottles, and empty packets of biscuits and chips. The canal is connected to the Karnaphuli, the port city's lifeline, reports our Chattogram correspondent.
Situation of other canals in the port city is not much different. Moderate or heavy rainfall, as a result, causes the streets in the port city to be flooded.
Chittagong University of Engineering and Technology Prof Swapan Kumar Palit of civil engineering department said that the main cause of waterlogging in the port city is the use of canals as dumping zones.
Mia Mahmudul Hoque, deputy director of the DoE Chattogram City unit, told The Daily Star that actions can be taken against polythene manufacturers as the Environment Protection Act has specific instructions to stop the production and use of polythene.
"But we are not able to implement the High Court order as there are no specific instructions in the law about how to take action against single-use plastic," he pointed out.
Five aspirants are vying for the upcoming mayoral election in Cox's Bazar, a municipality particularly vulnerable to environmental pollution.
All of them are using plastic-coated election posters. Thousands of laminated posters for both mayoral and councillor posts are hanging from ropes stretched overhead between poles or buildings, reports our Cox's Bazar correspondent.
The HC directive is completely ignored in Cox's Bazar and single-use plastic products are used here in larger quantities than in any other district across the country, said Ibrahim Khalil Mamun, chief executive of Youth Environment Society (YES), an organisation that works against environmental degradation in Cox's Bazar.
Around 130 tonnes of waste are produced in Cox's Bazar during the peak season every day while it is around 80 tonnes during off-season, said Kabir Hossain, conservancy officer of Cox's Bazar municipality.
In Kuakata, a beach town in Patuakhali, about 23 kgs of non-biodegradable waste accumulate on the beach daily, reveals Blue-Guard, a voluntary youth organisation that works within the fishing community.
In 2022, the organisation removed 1093 kgs of plastic waste from the beach for four hours every month for a total of 48 hours a year. These wastes included plastic bottles, polythene bags, chips, Chanachur-biscuit wrappers, tin shells, abandoned fishermen's nets, Manik, a member of the blueguard, said.
Contacted, Kazi Saifuddin, assistant director of Patuakhali Department of Environment, said, "We are discouraging the use of plastic and polythene. Locally we are not giving license for the production of polythene or plastic products."
Also, under the existing law, punitive measures are being taken by conducting mobile courts against polythene in local hotels and restaurants. However, adequate operations cannot be carried out due to manpower shortage, he added.
In Khulna, 25 to 30 tonnes of plastic waste are generated every day. Only 10 to 15 percent of this amount is single-use plastic and around 60 percent of it remains uncollected in the city, said Abdul Aziz, chief conservancy officer of Khulna City Corporation.
"All of this uncollected waste ends up in the drainage channels and water bodies, and ultimately, into the sea," he said.
"Single-use plastic products are our main concern nowadays. It is not possible to recycle them. It is also hard to collect them as they are dumped around the tea stall and grocery shops," he said adding there are around three thousand tea stalls only in Khulna city.
Professor Monirul Islam, who teaches at the Department of Fisheries, Dhaka university, said, "If ban on single-use plastic items is not implemented, they will go into the Bay of Bengal flowing through the rivers, and even into the deep sea, which will seriously hamper marine life."
Many fishermen use plastic nets and dump them into the river, which is also a very worrisome matter for the fisheries sector, he stressed.
Dr Abdul Hamid, director general of the DoE, could not be reached for comments after repeated attempts.
(Our Correspondents from Cox's Bazar, Chattogram, Patuakhali and Khulna contributed to this story)