Human Trafficking: Families' wait for justice gets longer
CID probe has no headway over the death or disappearance of 21 fortune seekers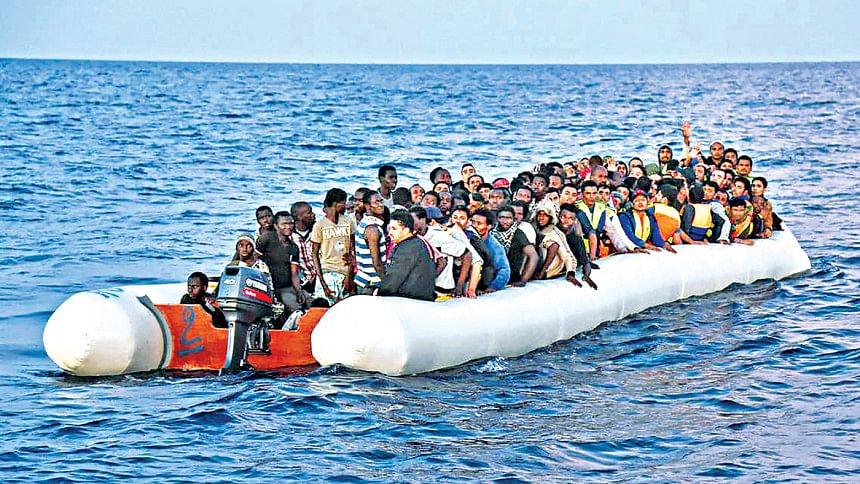 Justice remains elusive for 21 fortune seekers, who either died or went missing after being trafficked abroad, as investigators could not collect any evidence in around one and a half years since filing of the cases.
Family members of the victims -- all from Sylhet -- filed nine cases between May 2019 and March last year.
Five of those nine cases were filed over the death of Bangladeshi fortune seekers in one of the deadliest boat disasters in the Mediterranean Sea on the night of May 9, 2019. It left as many as 71 people, many of whom Bangladesh nationals, dead off the Tunisian coast.
Complainants of four other cases could only say their loved ones went to European countries like Greece, Spain, Turkey, and Malta and then went missing.
Investigators of the Criminal Investigation Department (CID) said collecting evidence had been the main challenge as they found no information about the recovery of the bodies or any circumstantial evidence.
"We wrote to our embassies in the countries concerned requesting information as to whether those countries or any other agencies have any records about the victims, but we did not get any reply," a CID investigator said with frustration.
Sixteen survivors narrated to the media the perilous journey they were forced to take and how the victims drowned one by one.
Family members said traffickers took between Tk 8 lakh and Tk 10 lakh from each job seeker.
They filed the cases on receiving news of deaths of their near ones or after failing to contact them for a long time.
The cases were filed with Bianibazar, Jalalabad, Biswanath, Golapganj, Borolekha, and Goainghat, and Kotwali police stations in Sylhet.
The CID investigator said they wrote to the Interpol recently seeking information about the capsize and the trafficked victims, but to no avail.
Currently, CID is investigating at least 110 human trafficking cases, including the nine in question that has no headway despite all-out efforts, the officer added, requesting anonymity.
Saidur Rahman Khan, Special Superintendent of CID's Serious Crime unit, said they were yet to resolve several cases as the victims could not be traced.
"Investigations are still underway," he told The Daily Star.
According to a criminal law expert, it is difficult to prove charges in these cases without concrete evidence.
"If the investigators and the prosecution fail to produce hard evidence, it is highly likely there will be no conviction," Supreme Court lawyer Khurshid Alam Khan told The Daily Star.
Khurshid, also editor of Dhaka Law Reports (DLR), said, "It is possible to prove the charges against the accused even if the victims cannot be found. In that case it needs strong circumstantial evidence."
He suggested formation of a separate investigation agency and appointing special prosecutors to deal with cases involving human trafficking, money laundering, and suspicious transaction as these crimes are often interlinked.
With law enforcers struggling to get information about the victims, reports of fortune seekers perishing in boat capsize in the Mediterranean continue to pour in.
Quoting International Organisation for Migration (IOM), international news agencies reported that around 500 migrants died in the central Mediterranean route in the first four months of this year.
Last year, more than 2,200 people perished at sea, IOM said in a report in March this year.
BROKEN HOPES
The Daily Star has spoken to families of six victims and they all wait for justice, but with shattered hopes. 
One of the cases was filed by the mother of Abu Sufian, who remains traceless since he last spoke to his mother from Libya in December 2018.
Hasna Begum, mother of Sufian from Noagaon village in Bianibazar, said local manpower broker Motiur Rahman offered a job for her 18-year-old son in Italy.
Despite financial hardships, she gave Tk 8.5 lakh to the broker. She had to borrow heavily and sell whatever little properties she had to collect the money, in the hope that one day her son would be able to change their fortune.
"My son called me from Libya on December 22, 2018, exactly seven months and 22 days after he left home," Hasna told The Daily Star by phone.
"'Amma, I will fly to Italy today. Keep me in your prayers' -- this was the last thing he ever told me... Since then there is no trace of him," said the grieving mother.
Three days after the conversation with her son, she called Motiur to know her son's whereabouts, but Motiur only said Sufian would call her. "But my son never called again."
She called Motiur three days later again, only to find her number blocked.
Finally, she sued Motiur and his wife Mahbuba, who allegedly received parts of the contract money from her, in December in 2019.
CID records show Sufian was killed in a boat capsize in the Mediterranean Sea near Tunisia coast.
Sabbir Khalid is another trafficking victim. His elder brother Shahnaj Mia filed a case with Jalalabad police in October 2019 against seven people.
"The only information we got from Billal, who survived the boat capsize, is that my brother drowned in front of his eyes," he said.