What are the symptoms of Nipah virus and is it contagious?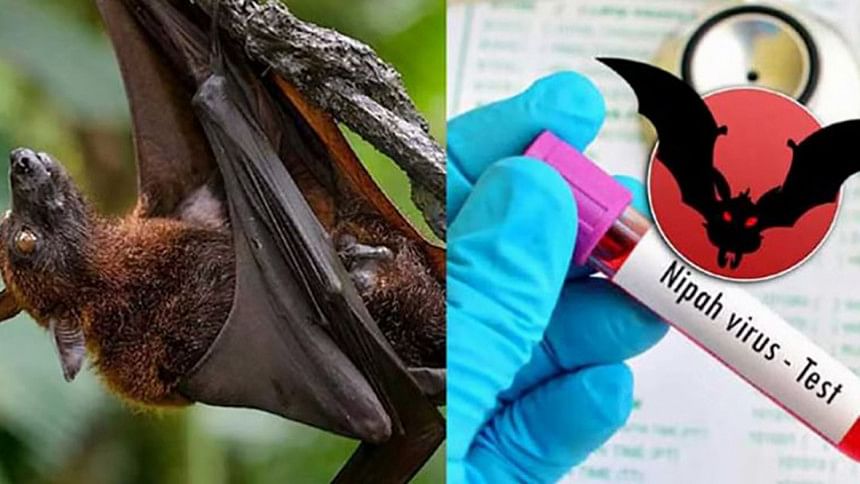 Each winter, Bangladesh grapples with the spread of Nipah virus owing to consumption of raw date juice. This year, five people out of eight infected with the virus have died so far.
The government has also stepped up awareness campaign in this regard. A special unit, equipped with ICU, has been prepared at the Infectious Disease Hospital in the capital's Mohakhali. The health minister revealed the information yesterday at a press conference at his Secretariat office.
So what exactly is Nipah virus (NiV), what are its symptoms and what can you do if you or a loved one gets infected?
What is Nipah virus?
The infection is a zoonotic illness that is transmitted to people from animals and can also be transmitted through contaminated food or directly from person to person, according to the World Health Organization (WHO).
It can result in a number of illnesses, ranging from subclinical infections with no symptoms to deadly encephalitis and acute respiratory disorders. Some animals can get life-threatening infections from the virus.
The virus was first detected in 1999 following an outbreak of disease in pigs and people in Malaysia and Singapore.
Where does Nipah virus spread from?
The consumption of fruits or fruit products (such as raw date palm juice) contaminated with the urine or saliva from infected fruit bats are the likeliest sources of the virus in both Bangladesh and India.
What are the symptoms?
According to IEDCR, infected people initially develop symptoms such as fever, headaches, myalgia (muscle pain), vomiting and sore throat.
An undetected patient can fall into a coma within 24 to 48 hours of contracting the virus.
According to Centers for Disease Control Prevention (CDC), severe symptoms may include disorientation, drowsiness, or confusion, seizures, coma and brain swelling (encephalitis).
Transmission of Nipah virus
According to CDC, Nipah virus can spread to people through direct contact with infected animals, such as bats or pigs, or their body fluids, consuming food products that have been contaminated by body fluids of infected animals or close contact with a person infected with NiV or their body fluids (including nasal or respiratory droplets, urine, or blood).
What are Bangladesh experts saying?
Health Minister Zahid Maleque: There are no drugs or vaccines for Nipah virus infection. The primary treatment for humans is supportive care, similar to the treatment for Covid-19.
IEDCR Director Prof Tahmina Shirin: We don't know much about this deadly virus yet. So far, we know that it has around 71 percent fatality rate and raw date juice is the main source of contracting it. So, we must refrain from consuming it.
Prevention
There is no vaccine available against the Nipah virus yet. So, as winter approaches, scientists every year issue cautions and recommend preventive measures for people to stay safe from the infection.
Some general measures to stay safe from the disease are:
1. Practice handwashing regularly with soap and water
2. Avoid contact with bats
3. Avoid areas where bats are known to roost
4. Avoid eating or drinking products that could be contaminated by bats, such as raw date palm sap, raw fruit, or fruit that is found on the ground
5. Avoid contact with the blood or body fluids of any person known to be infected with NiV