Joint cooperation between Bangladesh, Maldives for security in Indian Ocean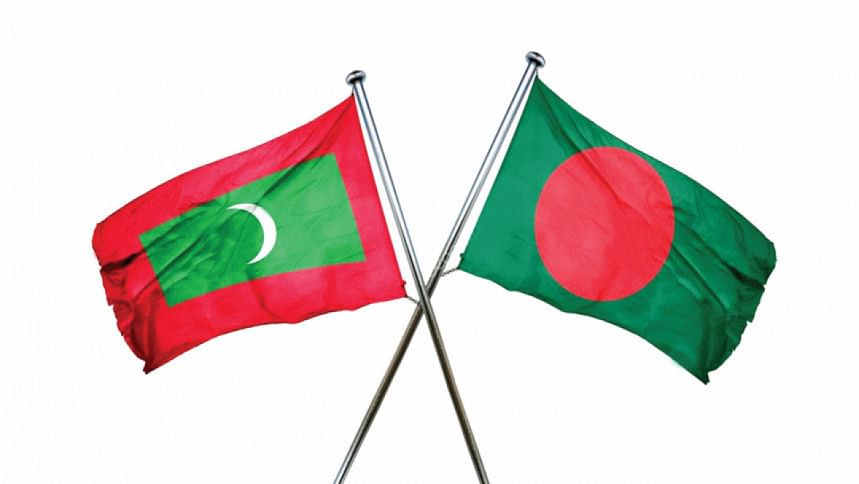 Bangladesh and the Maldives have agreed to address and counter the threats posed by organised crimes, piracy, narcotic, and human trafficking, through multilateral and regional for a, including Indian Ocean Rim Association (IORA), in the quest of attaining security, stability and peace in the Indian Ocean region.
Prime Minister Sheikh Hasina and President of the Maldives Ibrahim Mohamed Solih agreed on the importance of working together bilaterally, regionally and internationally in combating the rising menace of terrorism, violent extremism and radicalization, according to a joint communiqué issued on Thursday.
Both leaders emphasised that the regional organisations such as South Asian Association for Regional Cooperation has an important role to play in promoting regional cooperation in many areas, particularly in combating the ongoing Covid-19 pandemic.
The Bangladesh side highlighted that the country has assumed the Chairmanship of IORA for the first time, since October 2021 and sought the support of the Maldives for working together towards greater maritime safety and security in the Indian Ocean Region.
President Solih congratulated Bangladesh and assured it of Maldives' cooperation in this regard.
Solih thanked Sheikh Hasina for the generous gift of military vehicles, acknowledging the goodwill and friendship extended to the Maldives by the government of Bangladesh.
President Solih reaffirmed Maldives' support to Bangladesh on the issue of the Forcibly Displaced Myanmar nationals.
The President added that the Maldives continues to condemn in the strongest terms, the atrocities committed against the Rohingya Muslim community in Myanmar and remain in solidarity with the Rohingya people.
Solih further commended Prime Minister Sheikh Hasina and the government of Bangladesh for graciously hosting the displaced Rohingya community, offering them protection and shelter, and her efforts to facilitate their peaceful and dignified repatriation to their home country.
President Solih and Prime Minister Hasina reiterated their commitment to promoting and protecting human rights in all fora.
They also agreed to extend all possible support to the candidacies floated by either country in various international organisations including the United Nations. Both leaders reiterated their commitment to promote human rights.
At the invitation of President Solih, Prime Minister Sheikh Hasina is now on a state visit to the Maldives from December 22-23, says the joint communiqué shared by the Ministry of Foreign Affairs.
Sheikh Hasina is accompanied by a high-level delegation, including Foreign Minister Dr AK Abdul Momen, Expatriates' Welfare and Overseas Employment Minister Imran Ahmad, Health and Family Welfare Minister Zahid Maleque and senior officials of the government of Bangladesh. Prime Minister Sheikh Hasina was accorded a ceremonial welcome in Malé.