Indian army chief here on a 5-day visit
To meet the prime minister today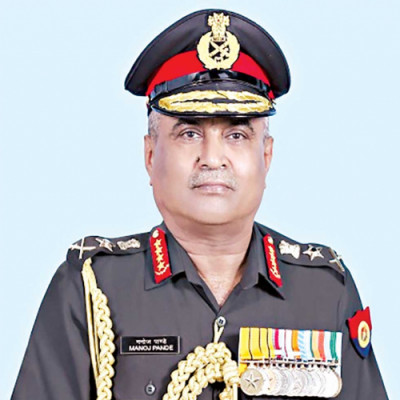 Indian army chief General Manoj Pande yesterday lauded Bangladesh Army's leadership and overall high standards.
The visiting general attended an event at the Army Headquarters in Dhaka Cantonment. He received a briefing on Bangladesh Army's war preparedness, training, role in maintaining global peace and overall administrative structure, according to a statement of the Inter-Services Public Relations Directorate (ISPR).
A three-member Indian delegation, led by its chief of army staff, arrived in Dhaka on Sunday at the invitation of the Bangladesh Army chief.
This is General Manoj's first foreign trip after he took charge as the Indian army chief early May. He is accompanied by his spouse, Archana Pande.
Yesterday, the Indian army chief also paid a courtesy call on his Bangladeshi counterpart, General SM Shafiuddin Ahmed, at the Army Headquarters in Dhaka Cantonment.
At the meet, they discussed various issues related to the good relations between the armed forces of the two countries and future cooperation.
In the afternoon, General Manoj paid homage to the memory of the martyrs of Bangladesh's Liberation War by laying a wreath at Shikha Anirban in Dhaka Cantonment.
He also called on Prime Minister's Security Adviser Maj Gen (retd) Tarique Ahmed Siddique, the chiefs of Bangladesh Navy and Bangladesh Air Force.
The Indian delegation visited Bangabandhu Memorial Museum in Dhanmondi and paid tributes to Father of the Nation Bangabandhu Sheikh Mujibur Rahman.
The Indian army chief is scheduled to call on Prime Minister Sheikh Hasina today.
The delegation will leave Bangladesh on July 21.
The visit of the Indian army chief is expected to further strengthen the close ties between the armed forces of the two countries, the ISPR statement said.