Hasina, Modi to inaugurate Rampal plant from India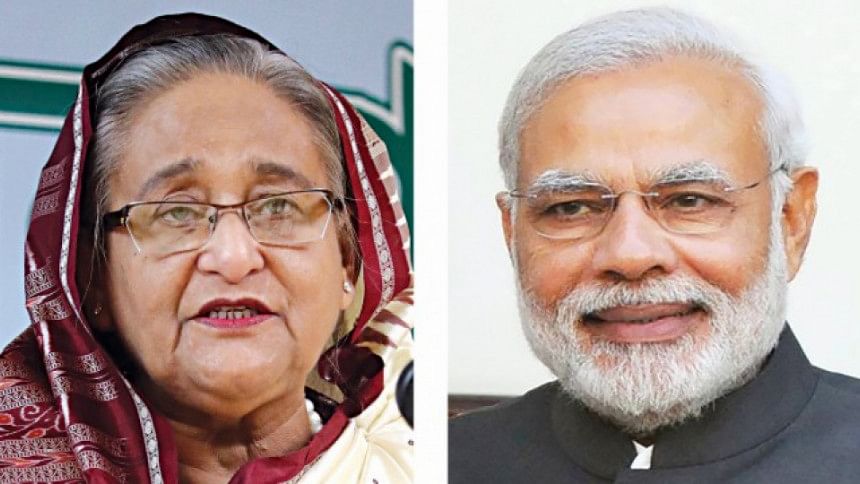 Prime Minister Sheikh Hasina and her Indian counterpart Narendra Modi are expected to jointly inaugurate the Rampal power station during the former's visit to India in September, reported The Hindustan Times yesterday.
The power station, which has been named Maitree Super Thermal Power Station, is being constructed by the Bangladesh-India Friendship Power Company, a 50:50 joint venture between the Bangladesh Power Development Board and National Thermal Power Corporation for $1.5 billion.
It will be the largest power plant in Bangladesh.
The coal-fired power plant, which is located on 1,834 acres of land 14 kilometres north of the Sundarbans, has two units with a capacity to produce about 660 megawatts of electricity each.
The Modi government is according the utmost importance on Hasina's visit, expected any time between September 5 and 7, the Indian daily reported.
Before PM Hasina arrives in Delhi, trial runs between Kolkata-Chattogram-Mongla ports for India-Bangladesh trade will begin, posting a new chapter in the bilateral ties.
The first vessel from Kolkata is expected to reach Mongla Port on the Pashur River on August 5, carrying 16 tons of iron pipes in a container with destination Meghalaya using the Tamabil-Dwaki border points and 8.5 tons of pre-foam in another container for Assam using the Birbirbazaar-Srimantpur border points, the Indian daily reported.
This exercise will create cheaper and alternative routes for India to reach its northeast region while at the same time carrying export-import containers for Bangladesh, the daily reports.
Prime Minister Hasina last visited India in 2019. Last year, Modi as well as then Indian President Ram Nath Kovind visited Bangladesh, coinciding with the golden jubilee of the country's 1971 independence and birth centenary celebrations of Father of the Nation Bangabandhu Sheikh Mujibur Rahman.
Foreign Minister AK Abdul Momen visited New Delhi in late June to hold a joint consultative commission meeting with his Indian counterpart S Jaishankar when he proposed the timeline of Hasina's visit to Delhi.
He then told the media that Dhaka and New Delhi decided to implement the bilateral decisions ahead of Hasina's India visit while Dhaka expected the much-awaited Joint River Commission (JRC) meeting to be held by then.
Over the last 50 years, especially in the last two decades, the relationship between Bangladesh and India has improved significantly. The two close neighbours settled the border and maritime disputes.
Bangladesh implemented its zero-tolerance policy by not sheltering any insurgents on its soil for creating violence in India's northeastern states.
The connectivity between India and Bangladesh also improved significantly in all modes – land, river and railways.
Bangladesh is eager to improve the relationship in water sharing and basin-wide river management aspects, while also bringing the deaths at the borders to zero.