China for Bangladesh polls as per constitution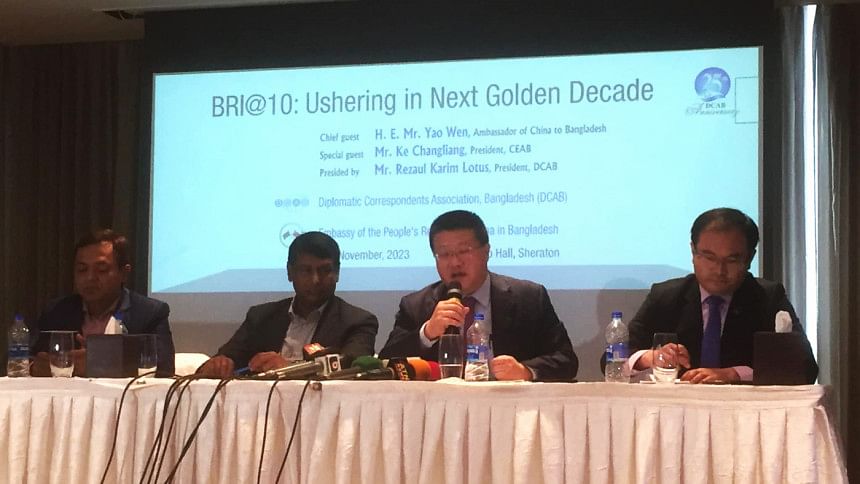 China wants Bangladesh's elections to be held as per the constitution, and the relevant parties resolve their differences and maintain political and social stability, said Chinese Ambassador to Bangladesh Yao Wen.
He said elections are internal affairs of Bangladesh and China will not interfere in the matter. It will continue its cooperation with Bangladesh.
Wen was addressing an event titled "BRI@10: Ushering in Next Golden Decade" at a city hotel jointly organised by the Diplomatic Correspondents Association, Bangladesh, (DCAB) and the Chinese embassy yesterday.
"Elections in all countries are internal and our policy is very clear. We hope the elections will be conducted as per the constitution, and after the elections, there will be stability, life will return to normal and our cooperation will continue," he said.
"China sincerely hopes that all stakeholders in Bangladesh would take the fundamental interests of the people into full consideration, properly resolve their differences, and jointly maintain political and social stability."
Asked about dialogue between political parties for resolving the current crisis, the Chinese envoy said it was not for a foreign ambassador to comment on that, rather the answer lies with the relevant parties.
"We hope the Chinese people and property will be protected. So far, we feel safe," Wen said in reply to a question if the Chinese businesses and people feel safe here amid the blockade.
"The future of Bangladesh shall be determined by the people of Bangladesh. China is full of confidence about the better future of Bangladesh as well as China-Bangladesh relations," he said.
Asked how China can help Bangladesh that faces a shortage of foreign currency reserves, Wen said if Bangladesh wants, China will support Bangladesh towards this end.
The ambassador said it was not a problem faced only by Bangladesh, but the whole world. However, compared to other Asian neighbours, Bangladesh still stands out in terms of financial stability.
"So definitely that is our expectation that next year the situation will turn better," he said.
Responding to a query about how Bangladesh can reduce the trade gap with China, the envoy said they are discussing the possibility of a free-trade agreement between the two countries. The China-Bangladesh bilateral trade is close to $28 billion, but Bangladesh exports products to China worth less than $1 billion a year.
He laid emphasis on boosting Bangladesh's exports through product diversification.
On the Palestine issue, Wen said the UN should play its due role in resolving the question of Palestine. The UN Security Council needs to shoulder responsibilities for this, build international consensus as quickly as possible, and take real measures to that end.
"Israel has the right to statehood, so does Palestine. The answer to the question is the two-state solution and an independent state of Palestine."
Chinese Enterprises Association Bangladesh President Ke Changliang made a presentation highlighting the Chinese projects and funding in Bangladesh.
DCAB President Rezaul Karim Lotus and General Secretary Emrul Kayesh also spoke.