Report on office timings: 2 journos attacked by BMDA staffers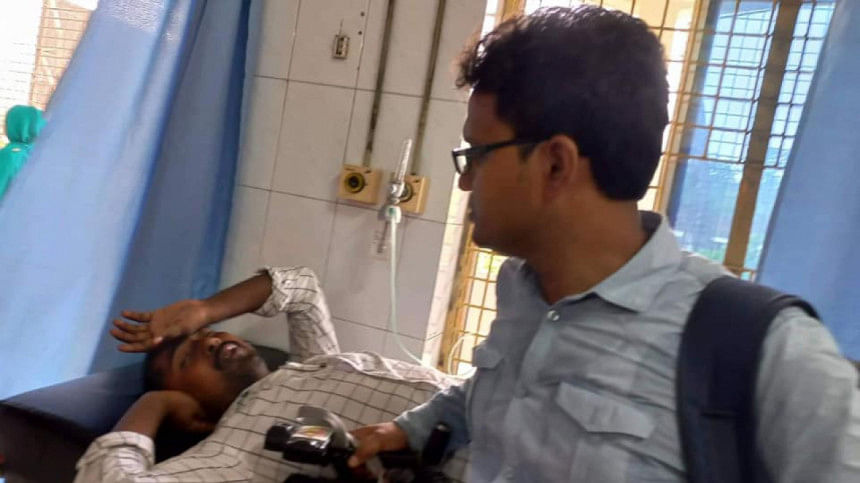 Two journalists were assaulted by staffers of Barind Multipurpose Development Authority yesterday for reporting on how some government employees were coming to work later than stipulated in the new office timings -- 8:00am to 3:00pm.
Outraged by the assault, journalists under the banner of Rajshahi Union of Journalists and Television Reporters Association surrounded the BMDA office around 10:30am. Hours later, two BMDA employees were suspended.
Md Rubel Islam, cameraperson of ATN News, and Bulbul Habib, a reporter for ATN News and The Business Standard, came under attack when they went to the BMDA premises and started broadcasting live around 8:30am.
It all began when BMDA Executive Director Abdur Rashid entered the office half an hour late. As the journalists went to talk to him, an infuriated Rashid began rebuking them and asked why they entered the premises without permission.
At one point, Rashid hit Bulbul, pushed him aside and asked him to leave the compound.
Minutes after Rashid went inside his office, at least 20 staffers, led by Jiban Ahmed, general secretary of the BMDA Employees Union, swooped on the reporters.
They beat Rubel with a blunt weapon, tried to strangle Bulbul and drove him out of the compound, and damaged the television camera.
Rubel was admitted to Rajshahi Medical College Hospital with a cut lip and bleeding ear, hospital sources said.
Around 3:30pm, BMDA Chairman Akter Jahan, who was also late for work, announced the suspension of two -- storekeeper Jiban Ahmed and driver Abdus Sobur -- for taking part in the attack. He said a probe team was asked to identify the other attackers and submit a report in three days.
The protest was withdrawn after the announcement.
Meanwhile, Bulbul filed a case with Rajpara Police Station against 17 BMDA staffers, including Executive Director Abdur Rashid, in this regard.