Journalist assaulted by coaching, hotel staff in Rajshahi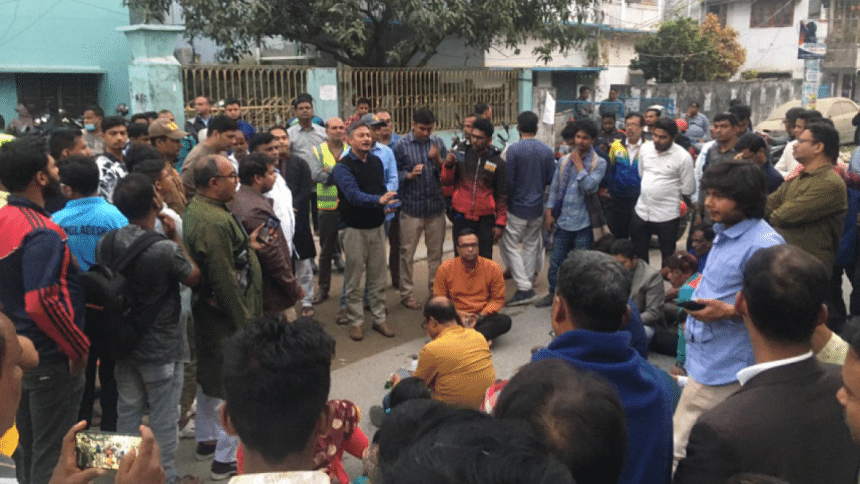 A journalist was allegedly confined to a hotel room and assaulted by employees of a coaching centre in Rajshahi city yesterday.
It happened around noon when Anisuzzaman, a senior reporter of Dainik Ittefaq, was taking photos at an event of Jibon Biology Coaching Centre at the auditorium of Hotel X.
The event was organised for the 10th grader girls of the coaching centre.
While he was taking the photos, several employees of the hotel and the coaching centre branded him as a fake journalist and assaulted him, even though he showed them his identity card, Anisuzzaman later told reporters. 
"I fell to the ground after one of them kicked me. They then took me to a room and hit me again," he said.
Another journalist who was present at the hotel at the time called senior reporters in Rajshahi and told them what was happening.
Local journalist leaders and police arrived at the hotel in less than an hour and freed the victim.
Anisuzzaman said he went to the event because he was working on a report on alleged tax evasion by the coaching centre.
Local journalists later demonstrated in front of the hotel.
Some reporters also demonstrated in front of Rajpara Police Station alleging that the police refused to record a case over the matter.
Contacted, Jibon Kumar Ghosh, founder of the coaching centre, refused to make a comment on the matter.
Mainul Islam Tipu, a sales executive at Hotel X, said, "The girls' parents got angry when a journalist took photos. The hotel security then took him to another room. There was no incident of violence."