'I don't need anything else'
Says Shams's mother after the Prothom Alo reporter returns home from jail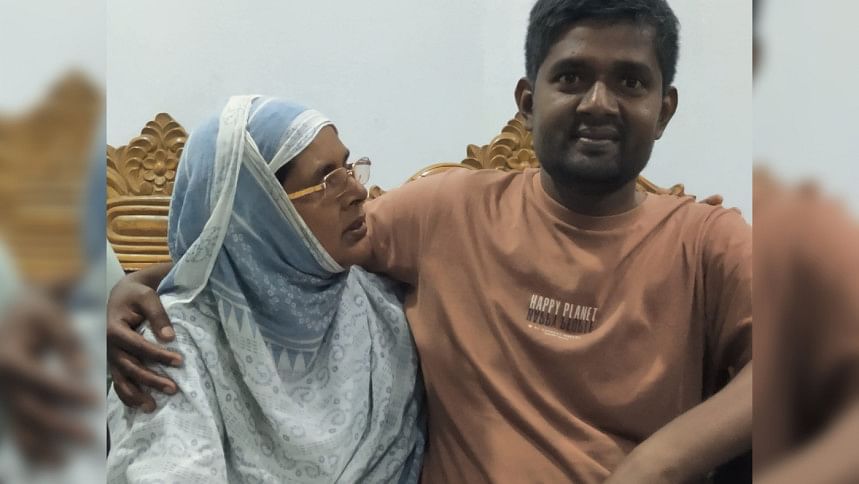 After spending five days in jail, Prothom Alo reporter Samsuzzaman Shams was welcomed home by his mother in Dautia village in Dhaka's Dhamrai.
"Now that I have my only son back, I don't need anything else. I am at a loss for words to describe how I feel," said an emotional Karimon Nessa.
In the 2016 Holey Artisan attack, she lost her other son Rabiul Karim, who was an assistant commissioner of police.
Umme Salma, widow of Rabiul, earlier told The Daily Star that Karimon almost stopped eating after Shams was picked up from his home. "She cries all the time. Shams is all she has."
On his return home, Shams also received a warm welcome from his friends, family, coworkers, and neighbours.
He expressed his gratitude to journalists and friends who supported him, saying, "I could only return because of everyone's support. I will continue with journalism. I will fight the lawsuit against me through the legal process."
While posting on social media a report written by Shams on March 26, the Independence Day, Prothom Alo made a "card" with a quote from a labourer named Zakir Hossain. Though the card contained Zakir's quote, it had the photo of an adolescent boy taken from behind.
The mistake was noticed within 17 minutes, and the card was removed. Besides, corrections were made to the report and the news was again published online mentioning the corrections.
Around 4:00am on March 29, Shams was picked up by law enforcers in plainclothes, hours after he was sued under the DSA.
Apart from Shams, Prothom Alo Editor and Publisher Matiur Rahman, an unnamed photographer, and unnamed others were accused later in another case filed under the DSA.