Haji Salim surrenders in court, sent to jail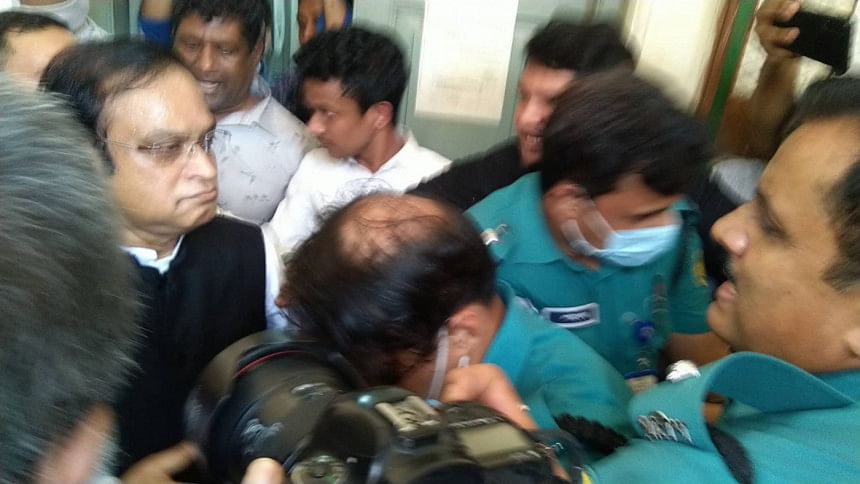 Dhaka-7 lawmaker MP Haji Mohammad Salim, who was sentenced for 10 years in a corruption case filed in 2008, surrendered in a court this afternoon.
He surrendered before the court of Judge Shahidul Islam of Dhaka Special Judge's Court-7 at 3:22pm and sought bail in the case, our court correspondent reports.
He submitted two other petitions: one for providing him proper treatment and the other to provide him first class division facilities in jail.
The prosecution opposed the bail petition but raised no objection on the two other petitions.
The court rejected Haji Salim's bail petition and sent him to jail.
Earlier on February 10 this year, the High Court released the full text of a verdict directing Salim to surrender to the trial court in 30 days in connection with the case.
The HC on March 9 last year upheld a lower court's verdict where Salim was sentenced to 10 years in prison in a corruption case filed by the Anti-Corruption Commission during the military-backed caretaker government in 2007.
It also upheld a fine of Tk 10 lakh imposed on the lawmaker from Dhaka-7 for amassing wealth worth Tk 14.65 crore beyond known sources of his income.
The HC, however, scrapped another part of the lower court's judgement delivered in 2008 which handed three years' imprisonment to Salim for concealing information about his wealth to the ACC.
On April 27, 2008, the Special Judge's Court-7 of Dhaka convicted Haji Salim and sentenced him to a total 13 years' imprisonment over two separate charges brought in the corruption case.
The court also sentenced his wife for abetting her husband's crime and keeping the ill-gotten wealth in her possession.
Salim and his wife Gulshan Ara were tried in absentia.