Digital security act: Sued at 17, JnU student in jail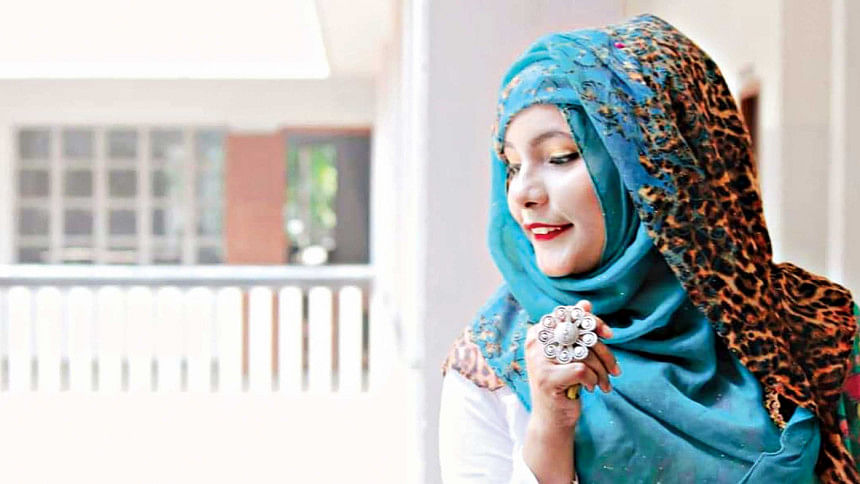 Sued as an adult when she was actually 17 in 2020, a Jagannath University student has been languishing in jail under the Digital Security Act for almost a month.
Her crime was hosting a Facebook webinar where a guest speaker made contentious remarks. 
The student has already been denied bail thrice by a Dhaka court, the last being on September 15, when Dhaka Cyber Tribunal Judge Mohammad Ash Shams Jaglul Hossain rejected her petition.
Khadijatul Kubra, a student of political science at Jagannath University, was arrested on August 27 after police pressed charges against her in two cases filed two years ago.
The Kalabagan and New Market police themselves filed the cases on October 11 and October 19, 2020.
It was only when the police submitted the charge sheet and the court issued an arrest warrant that this issue came to light.
Khadija's sister Monira said, "We were completely taken aback. None of us knew there were police cases filed against her … They showed up at our house in Mirpur at 9:30pm at night and took her away."
She added, "She was 17 years old when the cases were filed. They needed to let her parents know, but they did not do so."
According to her National ID card and academic documents, Khadija was 17 in 2020.
However, both police cases show her to be an adult – she was shown 19 in one and 22 in another.
The other accused in both cases was the guest speaker on Khadija's webinar – Major (Retd) Delwar Hossain, a retired army officer with a large social media following for his shows where current events and politics are discussed.
Delwar, who is abroad now, was sued on similar charges before.
Both the cases have almost identical language, despite being filed a week apart with two separate police stations by two different officers.
Both stated that Khadija was "trying to cloud the existing political situation", "involve the general public in anti-government activities", and "impact the reputation of Bangladesh in the international world".
They also stated that the accused were trying to "bring down the legitimate government of Bangladesh" and were "insulting the Prime Minister, government agencies, and important people of the state".
The first information reports also accused them of spreading hatred among people of different classes and communities.
"The accused are utilising their friends and relatives to spread their content on social media and it is mandatory to take legal action against them to maintain law and order," the cases said.
The video, based on which such allegations surfaced, shows Khadija, the host, asking pre-scripted questions like "What is your opinion on the current deterioration in law and order and social degradation?", "How important is student politics?" and "Do you think BNP is failing to play its role as the opposition?"
According to the Criminal Investigation Department of police's forensic laboratory report, they took issue with her guest speaker's responses.
The responses, which the CID pointed out as incendiary, include calling the government "fascist", claiming that a public uprising is needed to install a patriotic government, claiming that all law enforcers pander to foreign agendas, among others.
The YouTube video has roughly 11 thousand views and was only broadcast through Delwar's handle.
Meanwhile, sub-inspector Mohammad Arif Hossain of Kalabagan police, who sued Khadija, does not even remember filing the case.
"I don't remember what incident you are talking about … I don't think I ever sued a Jagannath student," he said, even though the whole FIR was written in first person.
The charge sheet of the New Market case stated that "multiple raids were conducted to arrest Khadijatul Kubra but since she was absconding, she could not be arrested."
However, her sister Monira said, "She had been home the whole time. She used to go to university, come home and tutor children."
Khadija, who has kidney stones, is now spending days in prison without any medication.
"Our father works in a house in Kuwait, we had to struggle very hard for our education. She was always the better student and even managed to get into a university, while I go to a degree college.
"My sister's dreams cannot end here."