BCL leader detained for posing with pistol-like object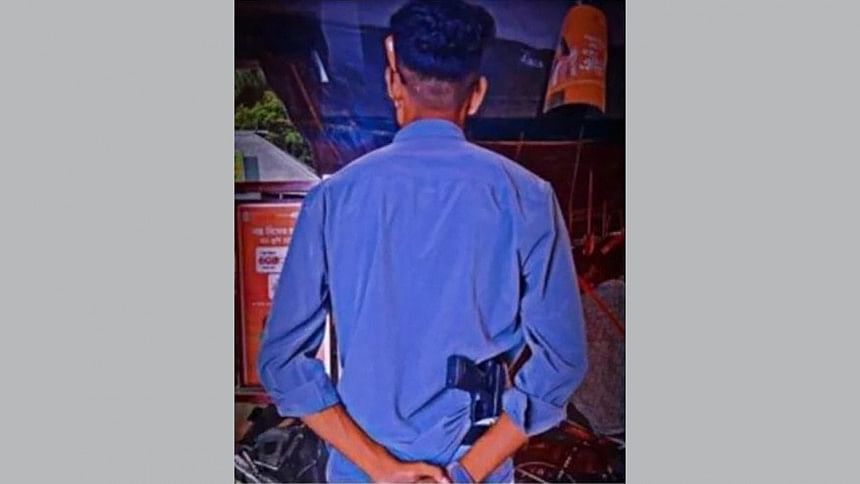 Police today detained a Bangladesh Chhatra League leader who posted a photo on his Facebook page with a pistol-like object in his waist on Thursday.
The detainee, Subhradev Singh, 25, of Rishipara in Boalmari municipality, is the organising secretary of Boalmari upazila unit Chhatra League, reports our Faridpur correspondent.
Abdul Wahab, officer-in-charge of Boalmari Police Station, said they held the BCL leader in municipality area for quizzing him. "We would investigate if the pistol is real or toy."
Locals said Subhradev wearing a blue dress uploaded a photo on his Facebook account "Subhradev Singh". In the photo, he can be seen from behind with a black pistol-like object is his right waist. Later, he removed the post when it caused controversy.
Before being detained, Subhradev told the Daily Star said he bought this toy pistol for his nephew from a fair and then posted it on Facebook page. Many people made negative comments.
He added, "Actually I did a mistake."
Syed Mortuza Ali, president of Boalmari upazila unit BCL, said, "Whether it is a toy pistol or not, it is not right to publish it on social media. It has created controversy. We will not accept this responsibility as an organisation. Boalmari upazila Chhatra League will hold an emergency meeting and take organisational steps in this regard."
OC Wahab said, "We are interrogating Subhradev. Legal action will be taken against him after the interrogation."