Abducted Abroad: Desperations of father trying to free son in Iraq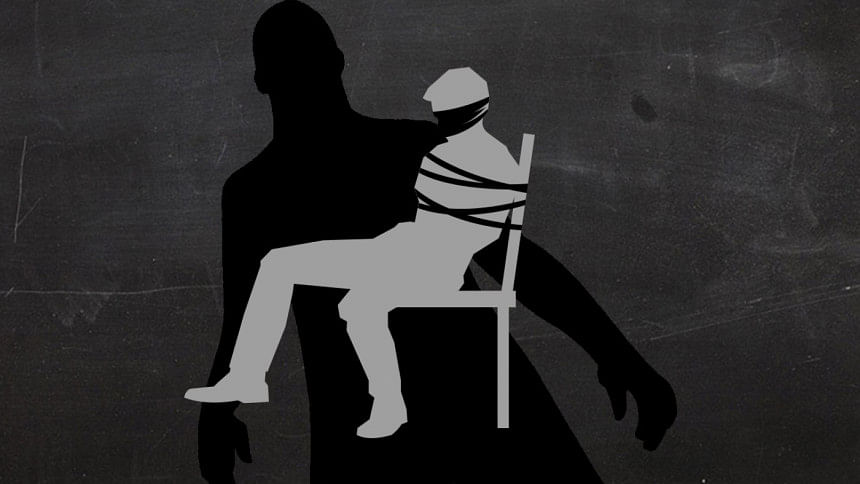 Around 9:00am on August 3, Badal Mia was selling fish on a pavement  in the capital's Karwan Bazar when he received a video message on imo messaging app.  
As soon as he opened the message, he saw his son 22-year-old  Abdullah Haque Rabbi, an expatriate in Iraq, lying on a floor with his  hands and legs in shackles. Rabbi looked extremely weak, he was begging  for water. 
Moments later, Badal received a video call on imo and he saw an unknown  youth on the mobile screen. The youth told him that they abducted his  son and that they want Tk 10 lakh for his release. He threatened to  burn Rabbi alive if the money was not paid.
Badal told the abductors that he did not have the money but he could manage around Tk 5 lakh, to which the abductors  agreed.
A few minutes later, the abductors sent Badal a message on the app,  providing him with an account number at a private bank in  Khilgaon. Badal was asked to deposit the money immediately.
Taking loans from relatives and selling land, Badal deposited the money on August 5, two days after getting  the video call.
However, Rabbi is still traceless. 
Recently, the father filed a case with Hatirjheel Police Station over the matter.
Talking to The Daily Star yesterday, Badal said Rabbi is the eldest  of his three children. He went to Iraq in December 2017 through the  legal channel and was working at a restaurant in Kurdistan.
The restaurant got closed amid the pandemic and Rabbi along with others there became unemployed.
"On July 25 this year, Rabbi met three youths in Iraq, including one  named Shihab. They lured my son with a promise of a lucrative job in  Europe. My son told me that they would take Tk 10 lakh from him only  after he gets the job in Europe," Badal said in the case document.
Contacted, Shohiddullah, deputy commissioner of police (Tejgaon  Division), told The Daily Star that they identified eight members of a  transnational human trafficking racket involved in the crime. 
Four of them are in Iraq, he said. They are Johrul Islam, 30, Habib  Fakir, 22, Ziaur Rahman, 25, of Faridpur, and Shihab Uddin, 23, of  Sunamganj.
"We are investigating the case. We have communicated with the  National Central Bureau at the police headquarters to take action  against the culprits and rescue the victim," the DC added.
THE MONEY TRAIL
Talking about how the ransom was channeled, investigators said Johrul called a youth named Rony over phone and  asked him to give him a bank account number. Rony lives in Faridpur. He  and Johrul are from the same village.
Rony gave Johrul the account details of his sister-in-law Shahnaz Begum. It is the same account where the ransom money was  deposited.
Shihab, tortured Rabbi and demanded the Tk 10 lakh from Badal. 
Shahnaz, a nurse at Rajarbagh's Prashanti Hospital, went to the bank  on August 9 and transferred Tk 5 lakh to another account of a bank in  Faridpur, investigators said examining CCTV footage of the bank in  Khilgaon and citing bank officials.
The next day, Rony went to the bank in Faridpur and transferred Tk 2.60  lakh to Johrul's account with another private bank. Rony withdrew the  remaining Tk 2.40 lakh.
Rony then gave Tk 1 lakh to Johrul's cousin Murad Fakir, 24. Of the  money, Murad gave Tk 90,000 to Johrul's wife Atia Sultana Nipa.  Investigators said, adding Murad, who was in Iraq, came to Bangladesh a  month ago.
Investigators said Rony gave Tk 1 lakh to expat Ziaur Rahman's  father Lal Mia and Tk 30,000 to Habib's father Younus Fakir. Rony sent  Tk 3,000 to Shahnaz via mobile banking services and kept Tk 7,000.
Of the Tk 2.60 lakh deposited to Johrul's account, Tk 2.06 lakh was  transferred to one AH Rubel's bank account in Habiganj, Sylhet,  according to investigators.
Hafiz Al Faruq, additional deputy commissioner of Tejgaon police,  told The Daily Star that they arrested Rony and Shahnaz in this  connection and were looking for Nipa and Murad.
"The arrestees gave us vital information about the racket. They were  involved in similar crimes before. We are verifying the information and  will arrest everyone involved in this," he said.