Floods reach Rangpur: Experts fear heavy losses in fish, cattle and agriculture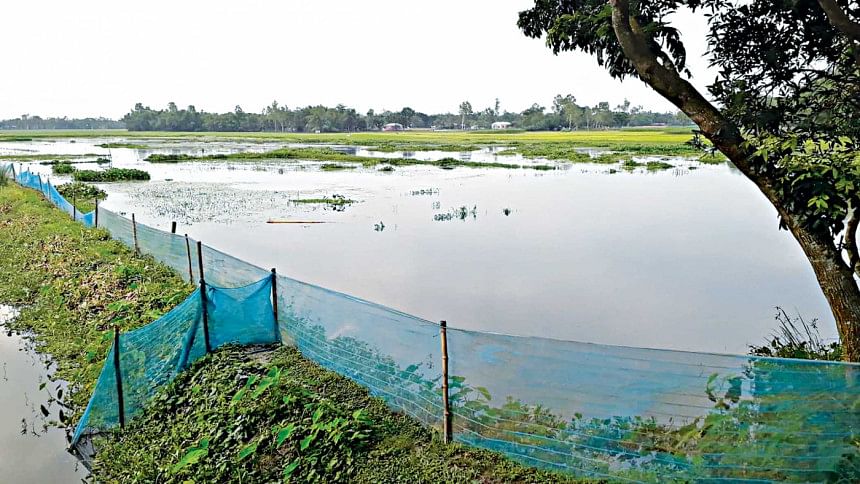 The recent floods in northern Bangladesh are now affecting farmers in five districts of the greater Rangpur region as significant amounts of land in the economically disadvantaged area have gone underwater.
Local fish and cattle farmers are the worst affected but growers of agricultural products are suffering all the same.
Losses in the agricultural sector are lesser though as there are no major crops in the field at this time, according to officials of the Department of Agricultural Extension (DAE) in Rangpur.
Rising water levels in all rivers, including Brahmaputra, Teesta, Dharla, Dudkumar and Ghagat, in Rangpur, Lalmonirhat, Kurigram, Nilphamari and Gaibandha have resulted in the inundation of vast swathes of land, they said.
The flooding is a major concern for people in these districts as the agricultural, fish and cattle farming sectors play significant roles in the local economy as these districts lack heavy industries.
The situation is particularly bleak in Kurigram, Gaibandha, Lalmonirhat and Rangpur.
Fish farmers got the worst of it with the sector registering losses of Tk 4.65 crore so far. However, the situation could be manageable if there is no more rainfall ahead, according to officials of the fisheries department.
Officials of the fisheries department say that there are around 1.30 lakh commercial fish farmers in the five affected districts.
A couple of days ago, the number of affected ponds stood at 1,050 while the number of affected farmers was around 900, they said, adding that up to Tk 2 crore worth of fish had been lost by that time.
However, these figures have since doubled and the losses will continue to rise as long as the flooding persists.
As per data available from the fisheries department, fishes in 1,920 commercial ponds in the affected districts have been washed away by the recent floods as of Wednesday.
This includes around 320 tonnes of different fish and roughly 55 lakh fish fry, ramping up losses of Tk 4.65 crore as of Wednesday.
Monzurul Islam, assistant director of the Department of Fisheries in Rangpur, said all-out steps have been taken to prevent further losses.
"Erecting enclosures with fishing nets is the best way to the protect fishponds and so, we are advising farmers accordingly," he added.
Kurigram is the worst affected as fish of more than 1,000 ponds have been washed away.
Islam went on to say that the fisheries department is preparing a database on affected fish farmers in the five districts.
Hasan Ali of Begamganj union in Kurigram's Ulipur upazila said all the fish in his one-acre pond have been claimed by the flood, leading to losses of about Tk 2 lakh.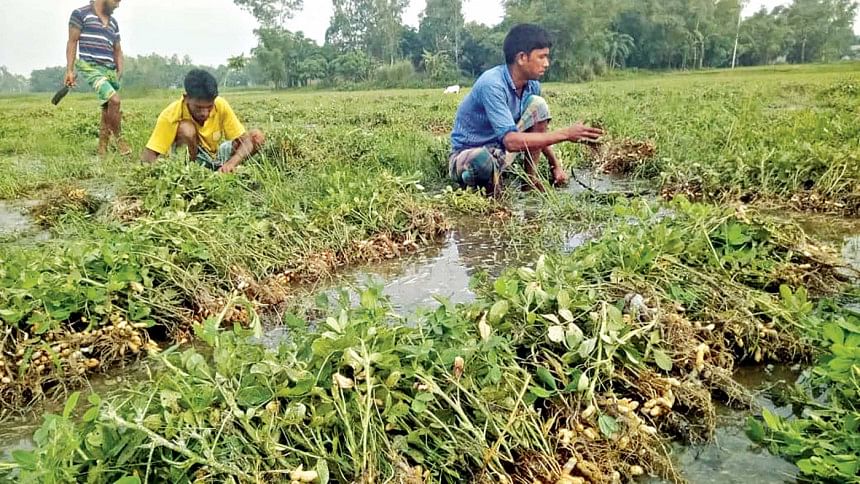 "I don't know how I can recover from such losses," he added.
The local livestock industry is likely to suffer similar losses as the pre-existing cattle feed crisis in the affected districts has deepened due to the current situation, according to officials of the District Livestock Office (DLO) in Rangpur.
Cattle feed, such as grass and paddy residue, worth Tk 24 lakh has been damaged by the floods in the affected districts. Besides, around 51,000 cows, 871 buffaloes, 27,000 goats and 5,500 sheep have been are directly affected by the flood as their farms have gone underwater.
In addition, around 1.5 lakh hens and ducks have also been displaced by flooding. Dr Md Abu Sayeed, deputy director of the divisional DLO in Rangpur, said around 98 unions across the region have been affected.
"We formed a medical team to provide treatment for cattle," he added.
Along with fish and cattle farms, vast amounts of arable land in the five districts have become inundated by floodwater.
Mahbubur Rahman, deputy director of the divisional DAE in Rangpur, said his office is still ascertaining the total losses caused by flooding this year.
However, he claimed the industry's losses would be less compared to other sectors as there are no major crops in the fields.
Still, around 20,000 hectares of land remain underwater at present, he said, adding that the upcoming Aman paddy sowing season may be delayed if the flood situation prolongs.
The floods have not spared banana plantations in Lalmonirhat either.
Nur Mohammad spent Tk 1.5 lakh to plant around 800 banana trees on four bighas of land in the Dharla River basin of Char Falimari in Mogholhat union of Lalmonirhat sadar upazila.
He had hoped to sell the bananas for Tk 5-6 lakh but his dreams were broken when his orchard became submerged.
Mohammad told the Daily Star that floods usually occur in July but as they arrived earlier this year, farmers like him in char areas are suffering heavy losses.
Kabul Mia, a banana grower in the same char, said his banana trees are now rotting in the damp conditions. Last year, he earned Tk 4 lakh by cultivating bananas but this year, he will not be able to even raise the capital invested.
Rafiqul Islam, a banana farmer in Char Gorokamandal area of the Dharla River basin, said the malbhog variety of banana is mainly produced in char areas of the Mogholhat, Kulaghat and Barbari unions in Lalmonirhat sadar upazila, Naodanga and Shimulbari unions of Phulbari upazila, and Holokhan union of Kurigram sadar upazila.
There are about 100 banana orchards in the region that range from two to eight acres in size.
It costs Tk 150-200 to plant each banana tree, which sell for between Tk 500 and Tk 800. Up to 650 banana trees can be planted on each acre of land, which will produce the fruit within a year.
"Banana growers have been affected by early floods this year as trees are rotting before the fruit can mature," Islam said.