Contract farming takes over poultry industry
Big companies allegedly control prices, force marginal poultry farmers to comply with their conditions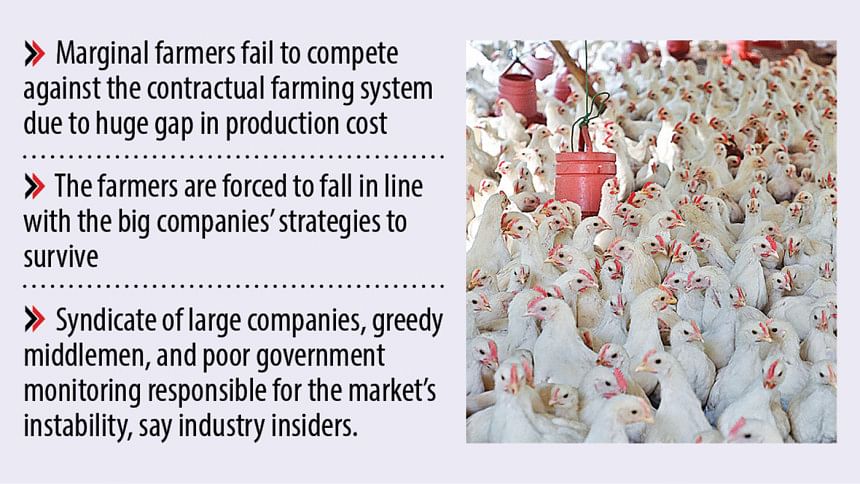 In the last week of March, marginal poultry farmer Delowar Hossain bought nearly 4,000 one-day-old Sonali chicks from a large poultry company. After rearing them for 40 days, when he tried selling them, he found it shockingly difficult to recover his production cost, let alone make any profit.
He bought the chicks for Tk 64 each and by the time they had been ready for sale, his production cost stood at Tk 262 per kg chicken. But the market price was Tk 215 per kg at that time.
Marginal poultry farmers like Delowar are incurring losses due to increasing production costs, which they often find to be higher than the market price.
Big poultry farms control prices and they often lower the market price to increase profit and force marginal farmers to fall in line with their business strategies, according to Bangladesh Poultry Association (BPA).
A syndicate of large poultry farms, greedy middlemen, and poor government monitoring are responsible for the market's instability, said BPA President Sumon Howlader.
The current market situation has driven nearly two-thirds of marginal farmers out of business. There were nearly 1.6 lakh marginal poultry farmers in the country. Only 60-65 thousand of them are now in business, said Sumon.
The BPA held a human chain at the Jatiya Press Club on Saturday, protesting price manipulation by big companies. It said that consumers are also suffering as they have to buy poultry meat at a higher price due to such manipulation. It also demanded a rational fixing of prices of poultry feed and chicks.
Representatives of large companies, however, denied the existence of any syndicate that controls market prices. They said market prices are determined by demand and supply.
The production cost in this business mainly comprises the costs incurred to buy one-day-old chicks (DOCs) and poultry feed.
Marginal farmers have to buy both items from large farms because the latter have a monopoly over the production of these. That's why it is easy for large farms to hike the prices of these products with the help of middlemen, said Sumon.
"In the absence of proper government monitoring, dealers hiked the price of chicks and feed ahead of the last Eid. As a result, marginal farmers, who made comparatively large investments targeting the Eid market, were deprived of the profit they deserved," said Sumon.
The production cost, however, is not high under the model of contract farming that the big companies practise, alleges Sumon.
In the contract farming system, the company and farmers sign a deal and the company delivers the chicks, the feed and the medicine for free. In return, farmers rear the chicks and receive a profit of Tk 10-12 for every kg chicken.
This model significantly drops production costs and ensures that big companies make profits even when market prices drop. But marginal farmers cannot replicate this model as they have to buy chicks and feed from the same companies or their dealers at higher prices.
At the end of the day, small farmers cannot compete as large companies often sell chickens at a price lower than the small farmers' production cost, said Sumon.
Dhaka School of Economics Director Jahangir Alam Khan said, "The country's poultry market is very unstable. By the time the government intervenes to bring stability, the syndicate has pocketed a huge sum."
Poultry feed plays a key role in the increase of production costs for marginal farmers.
Maize and soybean meal are the main constituents of poultry feed ingredients. Even though maize is grown in Bangladesh, companies have to import maize and soybean to meet the growing demand for feed.
According to data collected by BPA, in 2021, the price of maize was Tk 28 per kg and the chicken feed price was Tk 50 per kg. Maize price was the same in 2022 but the companies hiked the feed price to Tk 54 per kg.
In February this year, the feed price rose to Tk 74.8 per kg when the maize price was Tk 38-39 per kg. In March, the maize price dropped to Tk 24 per kg but the feed price remained unchanged.
Only recently, the feed price has been reduced by an insignificant Tk 1.5 per kg.
Kazi Zahidul Hasan, founder and managing director of Kazi Farms, said there is no "syndicate" manipulating the prices of DOCs.
"When broiler prices are low in the market, farmers buy fewer chicks to avoid losses. This results in falling DOC prices. When broiler prices are attractively high, there is a mad rush among farmers to buy chicks. This causes the DOC prices to skyrocket," he said.
As for the price of feed, he said feed prices are dependent on several factors including the prices of ingredients, electricity and diesel, ocean freights, and the value of dollars.
"Severe inflationary pressures can be seen all over the world since the beginning of the war in Ukraine. Prices of all items have gone up substantially. This is the reason behind the huge feed price escalation," he said.
Paragon Group Managing Director Moshiur Rahman said small and big farms have been blaming each other for more than a year now.
"I don't have much to say regarding this," said Moshiur, also president of Bangladesh Poultry Industries Central Council.
Over the years the poultry industry has grown exponentially in Bangladesh. In May 2020, the Embassy of the Netherlands in Bangladesh published a report titled "Poultry Sector Study Bangladesh". It estimated that about 3.7 billion euros was invested in the poultry sector in 2019 and about 899 million broiler, Sonali, layer and native chickens were produced that year.
Approximately seven million tonnes of chicken feed were produced in 2019. The broiler feed market is expected to produce 2.3 million tonnes of feed in 2025, reads the study.
The study also said dealers sell DOCs and feed to farmers on credit while they get discounted prices from feed producers and they have strong negotiation power over feed prices.
According to the National Poultry Development Policy 2008 (NPDP 2008), proper technical assistance will be given to marginal and poor farmers so that they can earn through poultry farming. It tasks the Department of Livestock Services (DLS) with monitoring the poultry markets, dispelling anomalies, reducing the influence of dealers, and protecting marginal farmers.
However, BPA leaders alleged that the DLS is extending support to big companies.
Referring to a draft amendment to the NPDP 2008, Sumon said, "The draft policy lends validity to contract farming, without addressing the issues arising from it."
Contacted, DLS Director General Emdadul Haque Talukder said there is a difference between production cost and selling price. "We're working to reduce the gap so that intermediaries cannot take advantage of it. We've already succeeded in minimising the gap to some extent," he said, adding that the DLS is working to protect the interest of both consumers and producers.
When his attention was drawn to the problems faced by marginal farmers, he said poultry is a rising industry and that the DLS is working to address all anomalies plaguing the sector.
BPA leaders also said that there are many instances in which farmers complying with contract farming incurred losses and were legally harassed.
Mahmudur Rahman Akash, a poultry farmer of Jhenidah, is facing a Tk 50 lakh lawsuit filed by a large company.
About eight months ago, he entered into a contract with the company, for which he had to sign a blank cheque which did not mention any date.
The Daily Star has obtained a copy of the contract which contains 35 conditions, most of which serve the interests of the company.
"They gave me 2,500 chicks. About 500 of them died of a disease. As they did not provide me with the required medicine on time, I declined to continue farming with them," he said.
After that, the company filed the case. "In the case, they showed me as their business partner, whereas I was only involved in contract farming," he added.
About 10,000 farmers and dealers, mostly from Bogura, Joypurhat and Jhenidah are facing cases related to blank cheques, said BPA leaders.
"There needs to be strong monitoring and support by the government to protect marginal farmers from losses," said Prof Anwarul Haque Beg of the Department of Poultry Science at Sher-e-Bangla Agricultural University, who is also involved in the amendment of the National Poultry Development Policy 2008.
Jahangir said the relevant government department should monitor and check price manipulation but it is not doing so.
He suggested that the government provide loans at simple interest rates to small farmers. "This will rein in the dominance of the big companies," he said.