Rajshahi Division
Bad weather hampering Boro harvest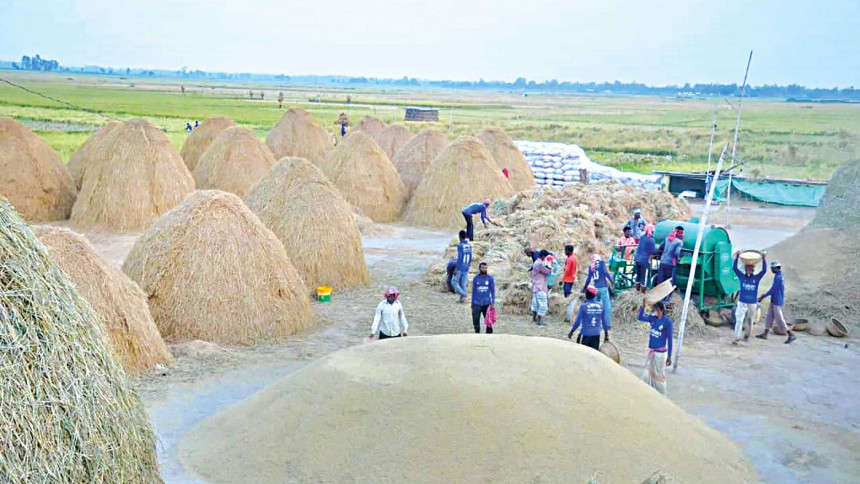 Rice yield is likely to dwindle to some extent in eight districts of Rajshahi division during this Boro season due to bad weather during the harvest period, officials and farmers said.
Good weather persisted during the sowing and cultivation period, but the storms and rains started partially damaging crops in many areas since the harvest began in mid-April.
Department of Agricultural Extension (DAE) which warned farmers of more storms till the end of May is also another reason for crop damage in storms.
Farmers cannot harvest Boro paddy before the storms as many of them cultivate additional crops before the proper sowing period of Boro paddy. This leads to crop damage, they said.
Such as farmers in Rajshahi cultivate potatoes before boro and mustard in the Chalan beel areas covering Natore, Pabna and Sirajganj districts, delaying the boro cultivation, they said.
The DAE has recorded a yield of 3.99 tonnes of rice per hectare as they accounted for a harvest of 31 per cent of 8,20,981 hectares of boro land till Tuesday in Rajshahi and Bogura regions in the division.
The yield was 0.27 tonnes per hectare less than last year's yield of 4.26 tonnes per hectare, DAE officials said.
"The total yield will rise after the harvest of hybrid and high yielding varieties of paddy completes," Mohammad Khayer Uddin Mollah, acting additional director of Rajshahi DAE said.
He admitted there are chances for declining yield this year.
According to growers and DAE officials, farmers of Chalan Beel usually harvest paddy early.
This year when the DAE is asking farmers to harvest early, farmers of plain lands are facing a labour crisis as most farm labourers were visiting Chalan Beel and other low-lying areas where the harvest starts early.
The farm labourers would return home to join the harvest of their respective districts later.
During a visit to Chalan Beel areas of Satpukuria village in Natore recently, this correspondent found that most farmers already harvested their crops.
They were seen engaged in separating paddy from sheaves, stacking piles of straws, and boiling paddy for making rice.
They would survive the upcoming monsoon with the rice while they would sell the rest.
DAE officials said Boro paddy was cultivated on some 33,000 hectares of land in Chalan Beel areas.
In the three upazilas of Shingra, Boraigram and Gurudaspur, some 86 per cent harvest was completed, but in Sirajganj and Pabna districts, the harvest barely went beyond 35 per cent, DAE officials said.
Hossain Ali Lebu, a farmer, said he suffered a loss of Tk two lakh as he gathered 200 maunds less paddy this season from 30 bighas of his boro lands.
"Storms lashed my paddy sheaves to the ground," he said, adding "This loss is appearing big as cultivation costs have risen with an increase of diesel price".
He further added that he delayed boro cultivation after harvesting mustard.
However, Md Jewel, another farmer, said he managed a good yield on his 150 bighas of land.
"Good weather helped me," he said, adding that he got 20 maunds per bigha yield from local varieties while the hybrid varieties fetched him a yield of 25 to 35 maunds.